I had pork chile verde at a Mexican restaurant a few months ago, and I have dreamed about making it at home ever since! The pork could probably be fried in a skillet in bite size pieces, if you wanted to go that route instead of cooking it in a crock pot. That would save some time. This pork tomatillo stew recipe serves 8 people.
This post may contain affiliate links. This means if you click on a link and purchase something, I may earn a small commission from it. In the footer of this page is my full disclosure policy.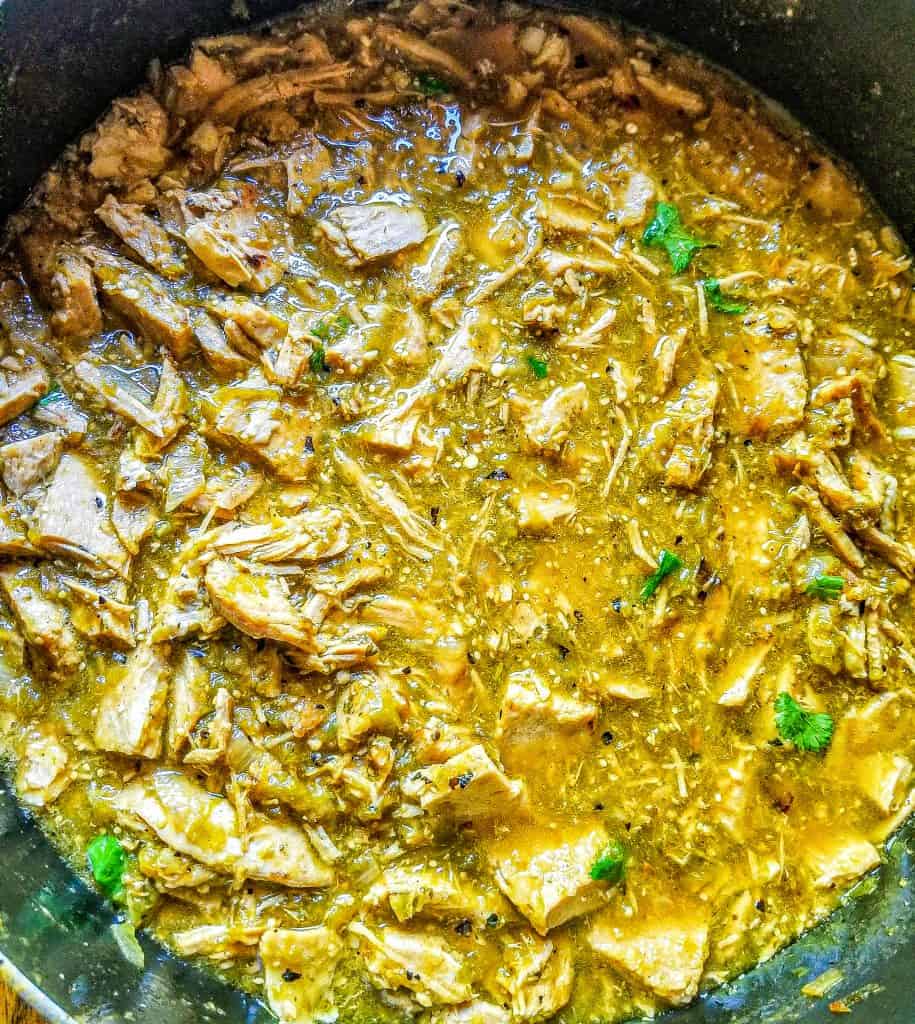 Chile Verde Ingredients:
Pork loin - the meat for the recipe
Salt and pepper - to season the savory dish
Tomatillos - these make the green part for this verde dish, they are a green tomato
Jalapenos - provides spice and some of the green color, you can also use serrano peppers
Chopped medium white onion - adds flavor
Garlic - for aromatic flavor
Chicken broth - makes up some of the liquid in the mixture
Garlic salt - to taste
Cilantro - adds the verde color and provides an excellent flavor
How to make excellent pork chile verde:
Cook the pork - for this recipe I used a crock pot. If you do not have a crock pot, you can fry your pork loin in the skillet. This would also cut down on time. If you do not have a crock pot or need a new crock pot, I use a Brentwood 4.5 Quart Slow Cooker. This fits enough to cook for about 3-4 people. It is not super big to where it does not fit in the cupboard, but not super small either as it still can cook food for a few people. They also come in all sorts of colors! Mine is blue, but I could not find it available on Amazon to link it here, so red will have to do.
Make verde sauce

- cut shucked tomatillos in half and broil them on a 9 x 13 baking tray lined with aluminum foil. Aluminum foil is necessary to ensure the juices do not stain your pan. Broil them until they are charred. Then, transfer them to the blender/food processor and puree until smooth.

Put all flavors together - fry garlic and onion in a large deep dish pot with the pork loin. Add in mixture from blender. Let pork chile verde simmer for about 2 hours to blend flavors.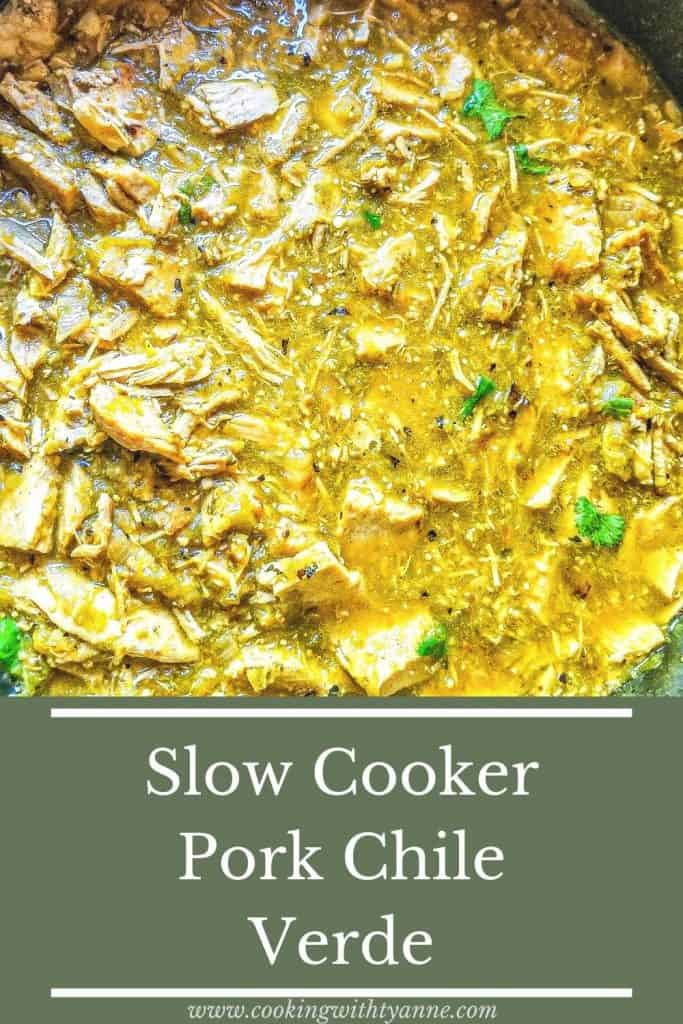 FAQ and Tips
What is chili verde?
Chili verde is a dish that is made out of New Mexican green chilies. This recipe uses a slow cooked pork loin and has directions from made from scratch roasted tomatillo mixture with jalapenos because I am allergic to typical green chilies. Verde means green in Spanish, and with or without green chilies, the mixture is still green!
What to serve with chile verde pork:
You can serve this chili verde soup over rice. I would recommend plain white or brown rice. I would not make the rice anything fancy because the pork verde mixture will go over top of it and mask whatever flavors you put into the rice. Simple rice will also save you time! Some people also like to eat pork chile verde in a tortilla shell with their rice and make it into a pork chile verde burrito/taco. That is also how it is typically served in restaurants. I typically just eat it without the tortilla shell when I am at home though.
Toppings to put on pork chile verde:
I like to put the usual Mexican toppings on. Toppings I use include, sour cream, salsa, guacamole, cheese, etc. You can also put black or refried beans on it, pico de gallo, jalapenos, more cilantro, etc.
How to store green pork chili:
fridge-store this in an air tight container in the refrigerator for up to one week
freezer-this green chili pork can be a freezer meal! Follow directions as normal and convert meal from pan into a freezer safe container (preferably aluminum) with a lid. Once cool, place in the freezer for up to one month. To serve again, bake in the oven until heated throughout.
Check out my other Mexican dishes:
Recipe
Pork Chile Verde
This green pork chili is made on the stove, but the pork can either be cooked in slow cooker or on the stove as well. This recipe for pork chile verde takes about 6 hours to make if going the slow cooker pork chile verde route.
Ingredients
3

lbs

pork loin

salt and pepper to season

1 ½

lbs

of tomatillos

3

jalapenos

½

chopped medium white onion

3

tablespoon

garlic.

1 ½

cup

chicken broth

garlic salt to season

½

cup

cilantro
Instructions
Spray crock pot with nonstick spray and put place pork loin in it. Rub loin with salt and pepper. Cook on high for about 3-4 hours or until the internal temperature reads 145 degrees.

During the last hour of cooking, begin making the chili verde sauce. Remove the tomatillo shells and wash off the tomatillos. Cut them in half horizontally and place on a tin foiled pan with the cut side facing down. Broil them for about 5 minutes. Transfer them to a blender (skin and all), add jalapenos, and blend until mixture is almost smooth.

When the pork is done, remove from crock pot and place on a plate. Let cool a little bit so that you can touch it when you cut it. Cut into bite size pieces. Place in a deep dish skillet with 3 tablespoon olive oil. Add white onion and garlic. When onion turns translucent, pour in the blender mixture. Add in chicken broth. Season with garlic salt and cilantro leaves. Let simmer on low-medium heat covered for about 2 hours. Taste test before serving the pork chile verde to see if it needs more garlic, salt, pepper, etc. Serve over rice.
Nutrition
---
All information presented on this site is intended for informational purposes only. Nutritional facts listed are a rough estimate and should only be followed as a general idea.