These Air Fryer Donuts remind me of making donuts from biscuits in kindergarten! This is a super easy air fryer donuts from biscuits recipe. Kids would love to help make this! You can also use frosting as the second picture shows if you want them to be less messy. These donuts with biscuits should take only 20 minutes to make and serves about 8 people.
This post may contain affiliate links. This means if you click on a link and purchase something, I may earn a small commission from it. In the footer of this page is my full disclosure policy.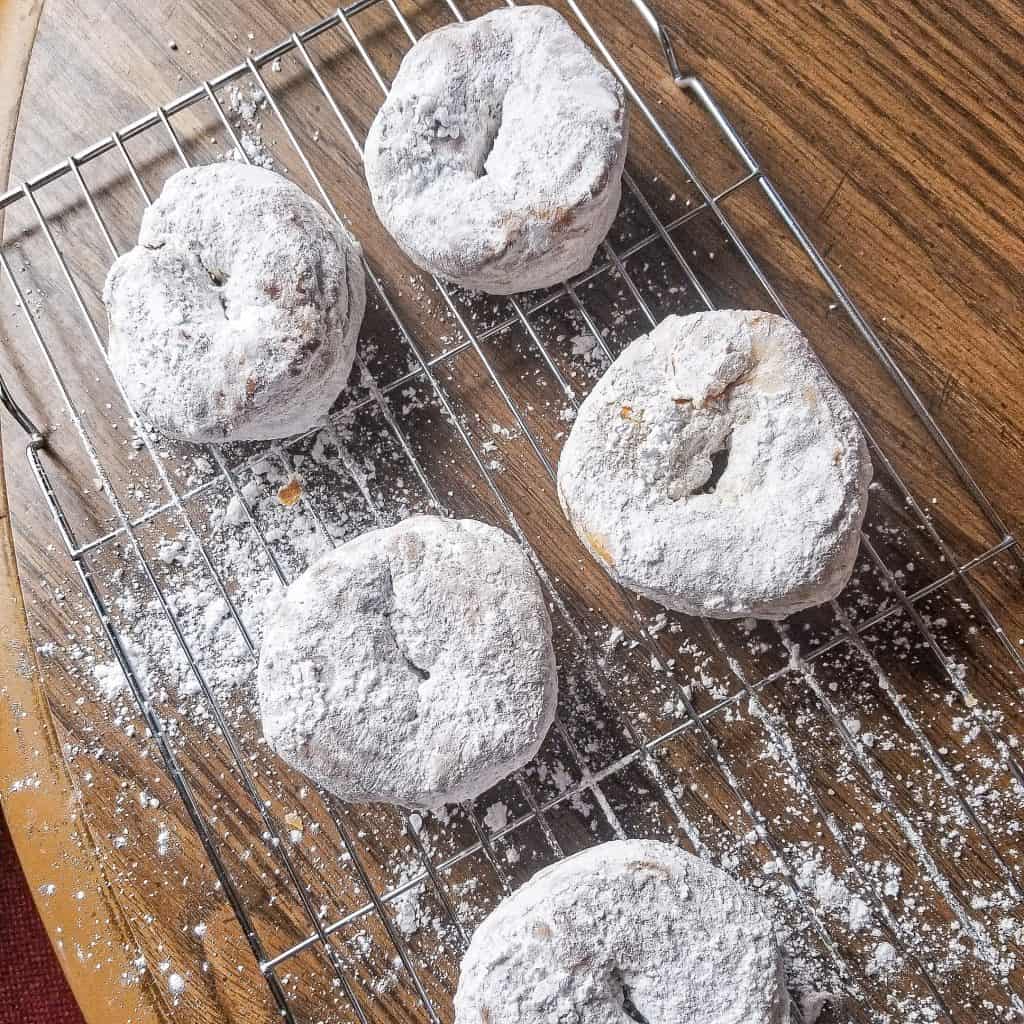 Favorite ingredients to use for these air fryer biscuit donuts:
Biscuits - the store bought tube of biscuits found in the refrigerated aisle
Butter - tub or stick butter work here
Powdered sugar - provides sweetness
How to make donuts in the air fryer:
make a hole in the center of the biscuit-this will give it a donut shape. As you can see in the picture, mine ended up looking more like a slit because I did not make my hole big enough. If you wanted to cut the center hole out and make a donut hole instead of just making a hole with you finger, that could be an option. Fry your donut holes separately and you have more dessert to go around! Try not to flatten the donuts. They do rise while cooking, but keeping them as close to normal biscuit size as possible will have them krispy kreme donut thickness!
air fry your biscuits-I like to flip my biscuits over halfway through air frying, and brush the new side on top with melted butter. I find that by adding a lot of butter, it makes it taste more like a donut as air fried donuts can sometimes taste more like a biscuit if there isn't enough fat and sweets.
shake in powdered sugar-I used a brown paper bag to put my powdered sugar in to shake the donuts in it. Air fried biscuits with powdered sugar tastes great. You could use a plate and press the donuts into the plate, but it might not stick as well that way. Another option would be to add cinnamon and make these into cinnamon powdered sugar donuts.
if wanting frosting-instead of powdered sugar, let the air fried donuts cool a bit after coming out of the air fryer, and dip in frosting
drying rack to cool-this kind of makes a mess because some powdered sugar does fall off between the cracks of the rack (you could place a paper towel below to collect the excess powdered sugar), but it does help the air fried donuts dry.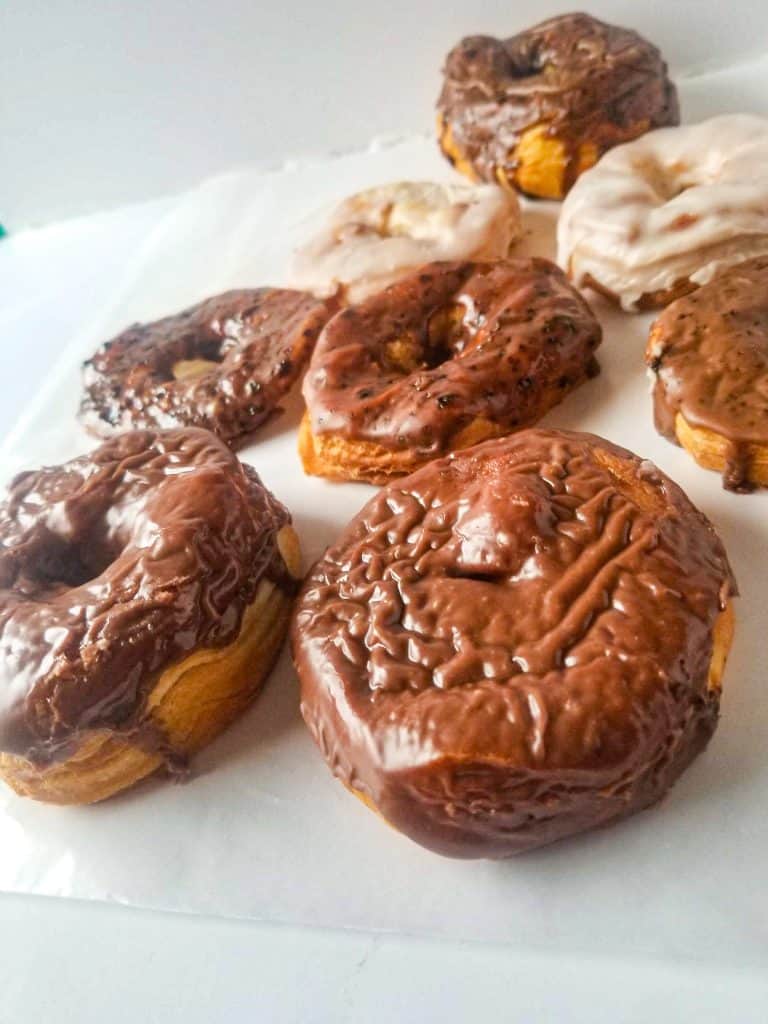 Tips and Recipe Notes
How to cut donuts:
Since this recipe uses biscuits, they are already in a circular shape. No need for a biscuit cutter! You can use a knife to cut the donut holes or you can use a frosting tip for a more uniformed look
Air fryer or Deep Fryer?
I just got my air fryer when I first thought of making this air fried donuts recipe as an adult since the last time I made them before was when I was 6. These donuts work well in both air fryer or deep fryer! Not using a deep fryer helps cut down on the grease, plus it is a lot easier to clean up. Just have to throw the basket in the dishwasher when using the air fryer.
I like to use the Ninja Air Fryer. It has a 4 quart basket, so it is a nice size for making anything you like! There are several desserts you can make in an air fryer. It can fit up to 4 biscuits at a time and turn them into donuts. You only have make this recipe in two batches as opposed to the deep fryer that would to be made in probably 3 batches.
There is perks to deep frying these donuts from biscuits though. The deep fryer does add more of a dessert taste to the biscuit compared to the air fryer. Even a small deep fryer would work for this donuts from biscuits since they don't cook for very long and you can do 2 at a time.
How to store air fried donuts:
room temp-store the powdered sugar donuts in an air tight container at room temperature for about a week. If they do get hard, reheat in the microwave for 5-8 seconds until soft again. How long are donuts good for? Usually only for about 3-4 days. It is best to try to eat them as fast as possible or else the frosting starts to melt off.
freezer-I do not think these donuts would freeze very well. If you wanted to try, it go for it, but it is up to you.
How long do donuts last?
Donuts typically only last a few days because they don't have many preservatives in them and they are more sensitive to air than a cookie. They typically only last about 2 days room temp.
Check out my other easy air fryer recipes:
Recipe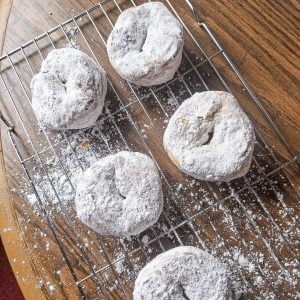 Air Fried Donuts Recipe
Air fryer biscuit donuts cut down on grease and clean up time by not using a deep fryer! These Air Fried Donuts are a quick dessert the whole family will love.
Ingredients
1 16.3

oz

can of original biscuits

2

tablespoon

melted butter

1

cup

powdered sugar
Instructions
Open canned biscuits and create a hole in the center of each biscuit with your fingers. I did not cut the centers out, but if you wanted to, you could cut out a circle and create the hole instead.

Place 3 biscuits in the air fryer tray at a time (or however many your air fryer fits). Air fry for 3 minutes at 350 degrees.

After the 3 minutes, flip biscuits over and brush some melted butter on top. Place back in air fryer for 2 minutes.

During the 2 minutes, pour the powdered sugar in the lunch sack.

After 2 minutes, take biscuits out of air fryer and brush again with butter on both sides. Place biscuits into the bag of powdered sugar and shake. Take out of bag, and place on a cooking rack to dry. Repeat with remaining biscuits. Serve your Air Fried Donuts warm or cold!
Nutrition
---
All information presented on this site is intended for informational purposes only. Nutritional facts listed are a rough estimate and should only be followed as a general idea.