I loved having italian sausage pizza in school as a kid. Some kids may not have liked it, but I definitely enjoyed it every time we had it. When comparing memories of my school pizza I started eating in 2005, it looks the same as school pizza from the 80s. This school square pizza recipe has stood the test of time. This recipe is an easier way to make school pizza, especially if you have leftover sausage in the fridge. Making school pizza at home is a great way to eat more of the pizza as well considering we were only allowed a slice or two in school. We can eat as many as we want at home! The pepper on top enhances the rectangle school pizza look we had as a kid.
This post may contain affiliate links. This means if you click on a link and purchase something, I may earn a small commission from it.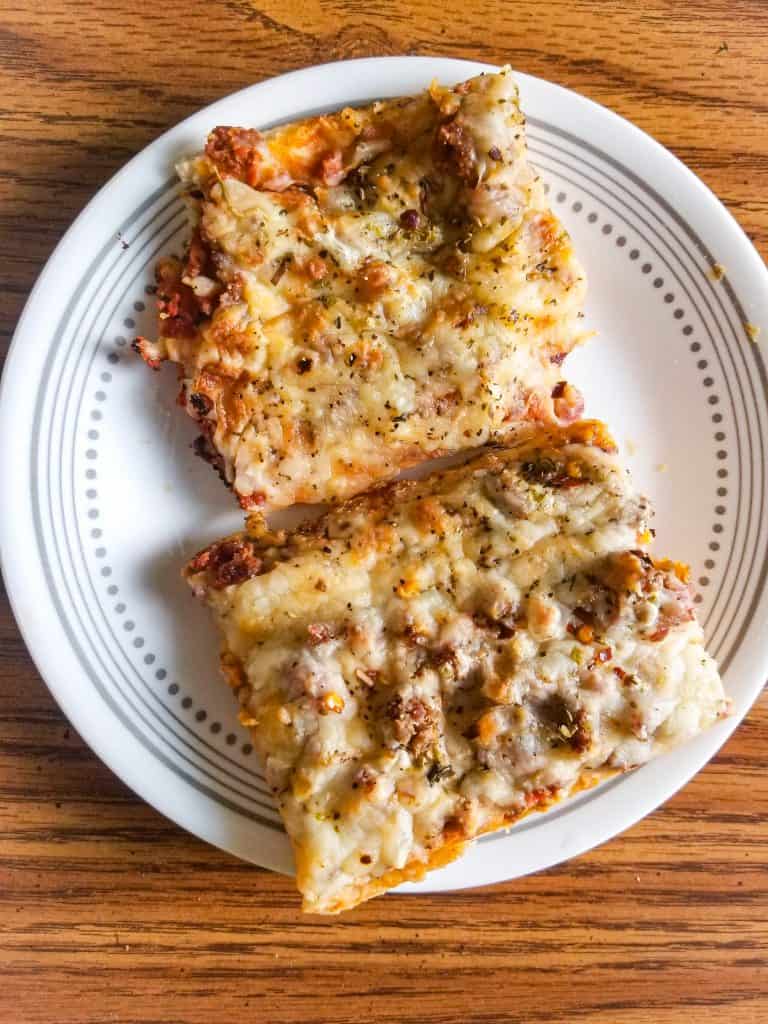 You will need a dough for this recipe. If you want to buy one, that works. If you want a homemade one click here.
Favorite ingredients to use for this easy sausage dinner recipe:
pizza dough mix-I used an off-brand because it was on sale. You can use any pizza crust kind you want.
sausage- I bought from a local farmer, which was very affordable, any sausage brand should work though. I prefer to use a milder Italian sausage for this recipe
marinara-makes a good sauce
mozzarella cheese-shredded, I like to shred my own
seasonings-adds more flavor to homemade sausage pizza
Variations of this sausage recipe:
more toppings-If you want to deviate from the standard, basic school pizza, you can add more toppings like spinach, artichokes, ham, bacon, peppers, etc. You can even add meat and make this a pepperoni and sausage pizza! Chicken or beef are great adds as well for additional protein
stuffed crust-You can make this pizza stuffed crust by adding string cheese to the crust. For more information on how to make stuffed crust pizza, click here.
vegetarian-you could make this recipe vegetarian by omitting the sausage. It would still have the pepper flakes for the homemade pizza look!
What to serve with old school pizza:
The first vegetable that popped into my mind when posed with this question is corn or beans. We always had corn or beans with our pizza growing up! Obviously, when I was a kid, the corn or beans went in the trash since I did not eat vegetables back then. As an adult, I have been throwing my corn and beans away a lot less often.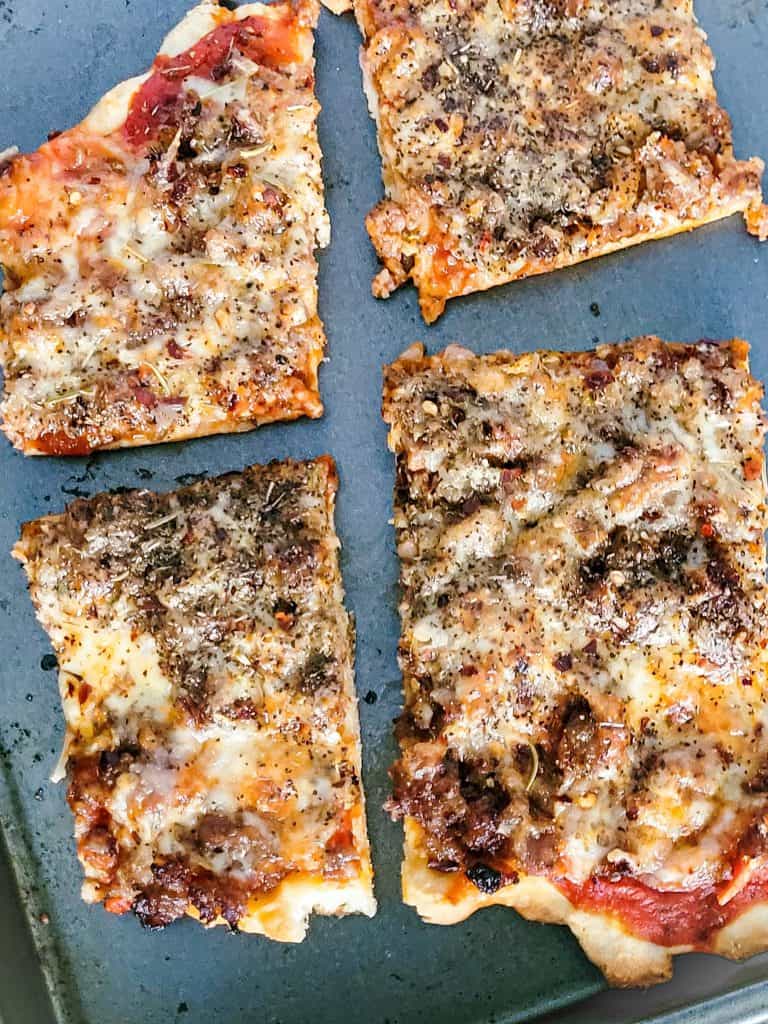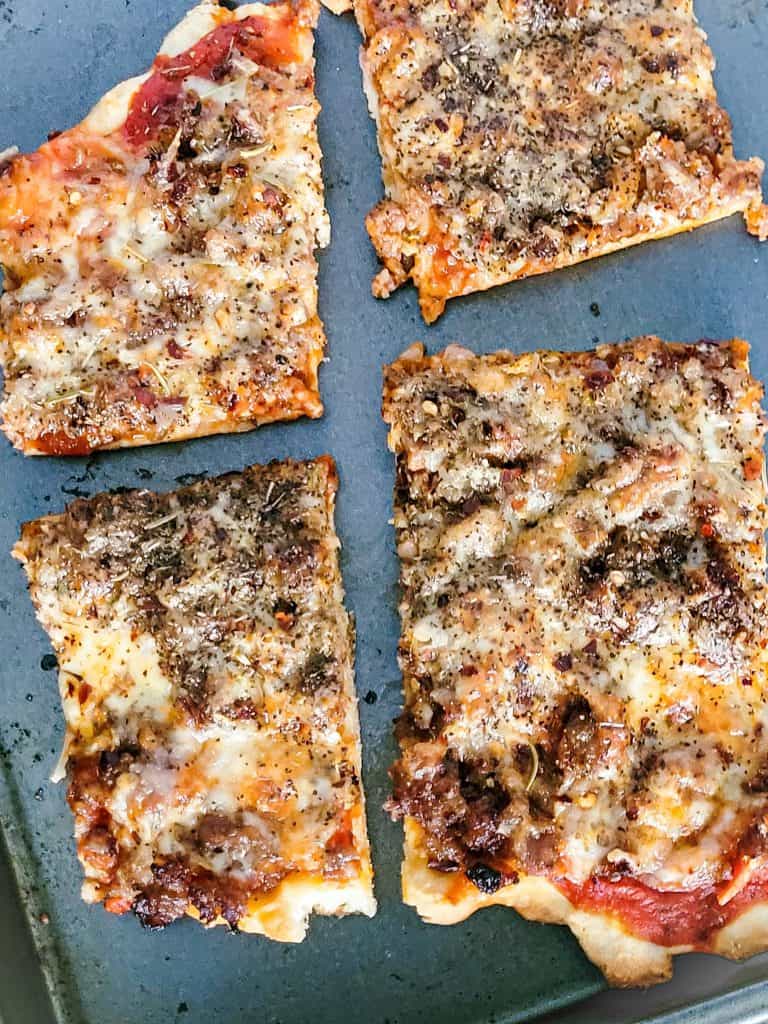 How to make Italian sausage pizza:
prebake dough-prebaking the dough is necessary for cooking it thoroughly. Adding toppings on raw dough could result in the dough not cooking properly so it is vital to prebake it.
cook toppings-in melted butter, cook garlic, onions, and leftover sausage together. This will allow the flavors to blend.
on prebaked dough, spread on toppings-spoon on the marinara sauce, the sausage garlic mixture, cheese, and seasonings. Bake again. Cut and serve.
How to store sausage pizza:
fridge-store leftover sausage pizza in an air tight container in the refrigerator for up to one week
freezer-I have not tried freezing this school pizza recipe. If you would like to freeze it, give it a try. Let me know how it goes!
Check out my other pizza recipes here: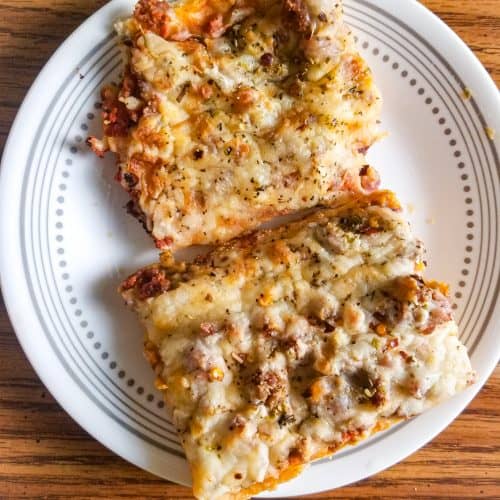 School Pizza Recipe
A take on old school pizzas! This easy dinner recipe is good if you have leftover sausage in your fridge.
Ingredients
Pizza dough mix or however you want to make your pizza dough

½

tablespoon

butter

¼

lb

of cooked sausage

crumbled

2

tablespoon

minced garlic

¼

cup

chopped onion

¼

cup

marinara sauce

2

cups

of mozzarella cheese

seasonings: red pepper flakes, pepper, Italian seasoning, oregano
Instructions
Precook pizza dough according to directions. My dough mix said 5-7 minutes at 400 degrees.

While pizza dough is precooking, melt butter in a small skillet on stove top. Add in garlic, onions, and cooked sausage to blend flavors.

When done with precooking pizza dough, remove from oven and spread marinara sauce across the pizza dough in an even coat. Using a spatula, sprinkle garlic/onion/sausage mixture across the sauce. Sprinkle cheese on top of mixture. Top of with seasonings in amounts of your choice. I added extra black pepper for looks as it reminds me the most of school pizza.

Finish cooking pizza according to directions of dough mix. My dough mix said 9-11 minutes. Cut and serve your Sausage Pizza.
---
All information presented on this site is intended for informational purposes only. Nutritional facts listed are a rough estimate and should only be followed as a general idea.