Peanut butter Easter eggs recipe is perfect for Easter! The recipe is designed to make jumbo peanut butter eggs, but you can separate out the dough into as many eggs as you want. The inside is a peanut butter fudge/peanut butter cheesecake mixture with a soft white chip outside that can be colorful if you chose! Multicolor or one color or no color are all options.
This post may contain affiliate links. This means if you click on a link and purchase something, I may earn a small commission from it.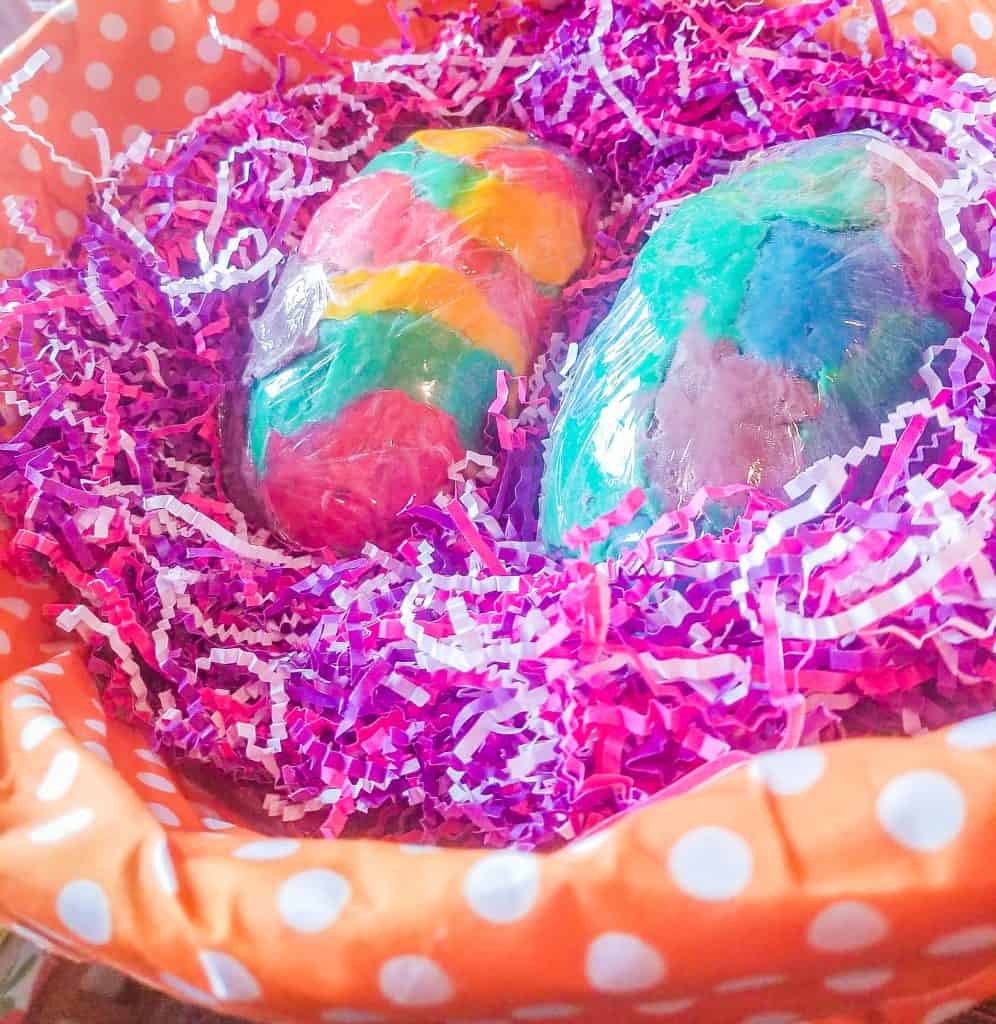 Special equipment for Easter recipe:
No special equipment needed since this recipe is how to make chocolate Easter eggs without a mould. You don't even have to worry about how to dip peanut butter eggs because the mixture resembles wax and is easily spreadable.
Can I make any part of the peanut butter cheesecake egg in advance?
Yes, you can make the entire recipe in advance, and store in the fridge up to a week a head of time.
Making the peanut butter fudge inside first and freezing it for a few weeks, and then put the colored topping on works as well.
Main ingredients for homemade Reese's peanut butter eggs:
cream cheese-this is what makes the inside like a cheesecake. It provides creaminess
peanut butter chips-adds extra flavor to the inside
peanut butter-makes the peanut butter flavor
powdered sugar-helps thicken the cheesecake mixture
white chips-allows us to color the outside of the egg
sweetened condensed milk-helps add flexibility to the melted white chips
Overview of how to make peanut butter fudge Easter eggs:
peanut butter inside-melt chips and add remaining cheesecake ingredients. Freeze in the shape of a ball until set.
colorful outside-melt chips and sweetened condensed milk, and separate out into small bowls. Add food coloring to bowls to color the melted chip mixture. Mold the food coloring white chip mixture over the frozen egg of peanut butter cheesecake. Let set for about an hour in the freezer. Serve in slices.
Variations of recipe for Reese's peanut butter Easter eggs:
chocolate instead of color on outside

you can use milk or dark chocolate with the sweetened condensed milk instead of white chips for a traditional Reese's flavor

more powdered sugar

I went a little light on my powdered sugar, you can add more if you want it more dense

one color

you can make the egg one color in a bowl instead of taking the time to separate out the melted white chips into 4 or so bowls

leave it white

you can make the peanut butter Easter egg look like a real egg by leaving it white, just omit the food coloring process

omit sweetened condensed milk

if you want a crunchy coating and just want to drizzle the white chocolate on, you can!

omit peanut butter chips

these chips just provide extra flavor, but you can use extra peanut butter instead

one large egg

instead of making two small eggs, don't separate the peanut butter mixture into 2 sections. Leave it whole and make a giant half of an egg shape.

3 or more eggs

instead of making this recipe into 2 Reese's white peanut butter Easter eggs like the directions say, you can separate out the mixture into as many eggs as you want!
Helpful Tips for making peanut butter eggs for Easter:
how to mold the egg

I did not make my 2 eggs very even. I just tried my best to shape them like half an egg with a spatula and knife.

one drop of food coloring at a time

I made the mistake of adding 3 drops of food coloring to each bowl instead of seeing what one drop looked like. It would look more like Easter colors if I did not go ham on the food coloring.

let thaw before cutting

the Easter eggs will be easier to cut into if you let them thaw in the fridge or room temp before cutting.
How to store easy peanut butter fudge:
fridge-store peatnut butter eggs in an air tight container in the refrigerator for up to one week.
freezer-this Easter dessert can be stored in the freezer for about a month.
Check out my other peanut butter recipes:
Recipe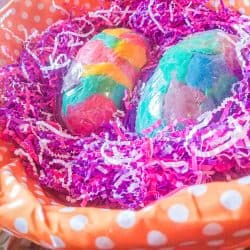 Peanut Butter Easter Egg
Peanut butter Easter egg for the peanut butter lovers! Homemade Reese's peanut butter eggs with colorful white chips is perfect for the holiday.
Ingredients
8

oz

cream cheese

⅓

cup

peanut butter chips

½

cup

peanut butter

½

tablespoon

vanilla

1 ½

cup

powdered sugar

¼

cup

sweetened condensed milk

1

cup

white baking chips
Instructions
In a large glass bowl, melt peanut butter chips in the microwave for 1 minute. Then, stir to see if it is melted. If it needs melted more, put back in microwave for 15 seconds at a time until fully melted.

Add cream cheese, peanut butter, and vanilla to melted peanut butter chips. Stir until well combined. Stir in powdered sugar until smooth throughout.

Separate the batter into 2 parts in the bowl (or how ever many eggs you are going to be making. The more eggs you make, the smaller they will be). On a baking tray with wax paper, shape each dough section into an egg shape. Try to make the edges even and smooth. Then, freeze egg shapes for about 30 minutes.

In the last 5 minutes of the 30 minutes, in a glass bowl (can be same one as before), melt the white chips and sweetened condensed milk in the microwave together for 1 minute. Then, stir to see if it is melted enough. If it needs melted more, put back in microwave for 15 seconds at a time until fully melted.

After the 30 minutes, remove peanut butter eggs from freezer. Using your fingers, mold the white chip mixture onto the eggs, in a thin layer (save some for coloring later). Once each egg has a layer of white, you can divide out the remaining white chip mixture into colors (so if you are using 5 colors, divide mixture into 5 bowls).

Using food coloring, color each bowl white chip mixture to the desired color. Then, using your fingers, mold each color onto the eggs. Freeze eggs for an additional hour to set. Cut into pieces and serve your Peanut Butter Easter Egg slices refrigerated or room temp!
---
All information presented on this site is intended for informational purposes only. Nutritional facts listed are a rough estimate and should only be followed as a general idea.