I wanted to make Chinese noodle soup using a recipe on Yummly since I had some leftover noodles. I ended up not having most of the ingredients that recipe required so I had to improvise. This noodle recipe was my creation. This Chinese soup is also how I learned that I like ramen noodles. I have been making variations of noodles using ramen ever since!
This is a very simple vegetarian Chinese soup recipe. It does not have a lot of ingredients. The cilantro is my favorite part!
This post may contain affiliate links. This means if you click on a link and purchase something, I may earn a small commission from it.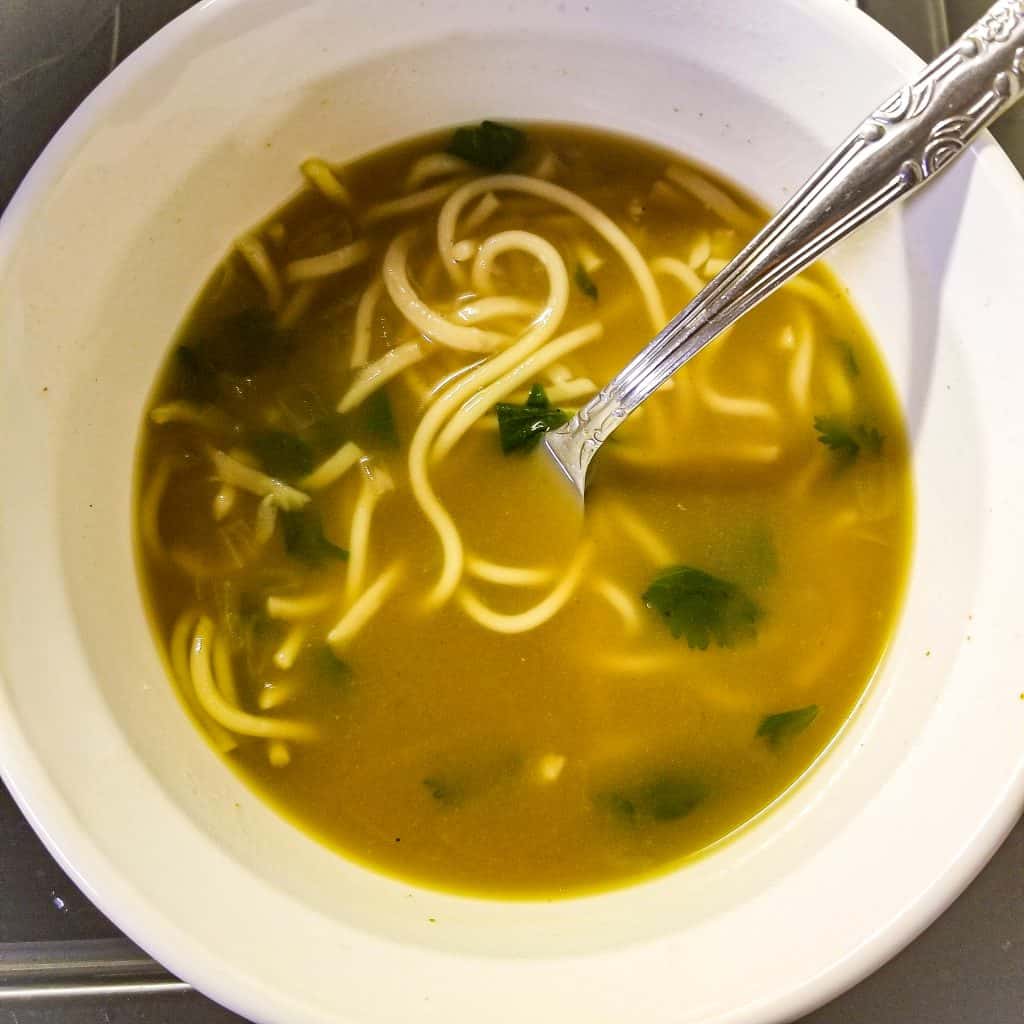 Favorite ingredients for this Asian soup recipe:
chicken stock-provides the broth base
ramen-the noodles, you can use egg noodles, angel hair pasta,
seasonings-adds flavor
Variations of this Chinese noodle soup:
protein-you can always add a protein such as a meat or tofu to your soup to up the nutrients. Boiled eggs are also a good option!
vegetables-adding vegetables such as carrots, celery, scallions, radishes, etc. If you want more of a vegetable ramen recipe, click here.
Can I make ramen in advance?
Yes! This recipe requires leftover noodles, so precooking the noodles and refrigerating them until it is time to add the rest of the ingredients, is a good idea. How to make Chinese noodle soup at home is pretty simple.
How to store this ramen soup:
fridge-store this Chinese recipe in an air tight container in the refrigerator for up to one week. You can even reheat this Chinese noodle soup for breakfast!
freezer-I have not tried freezing this soup before. If you want to try it, let me know how it goes!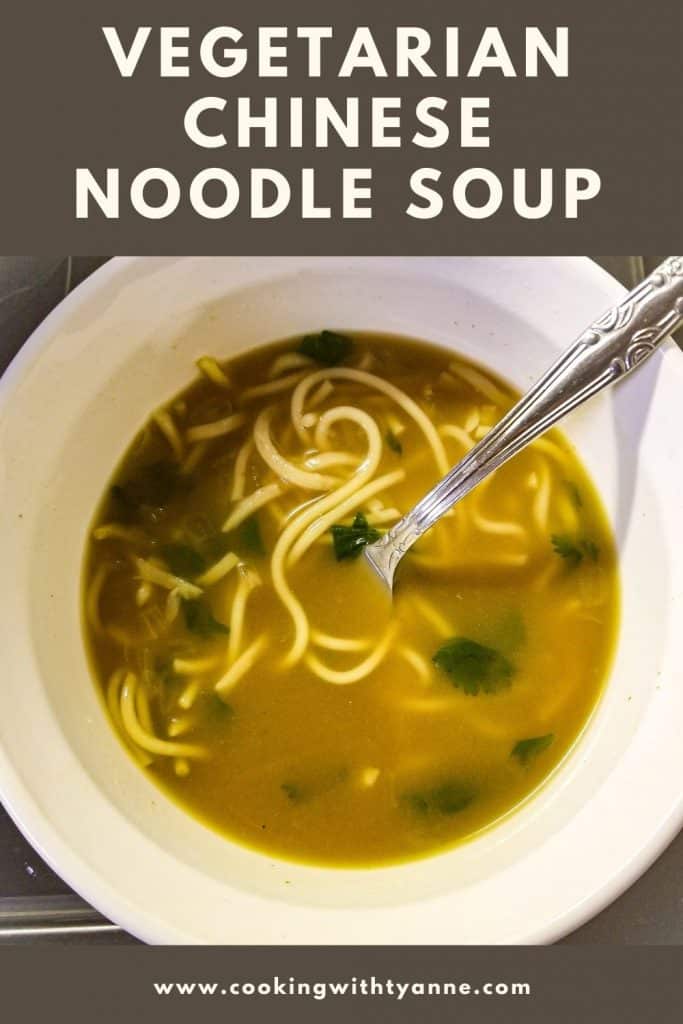 Serve Chinese Noodle Soup with:
Some options to go with soup before or during the meal are: Baked Crab Rangoons, Crock Pot General Tso Chicken, Shrimp Fried Rice, and Salt and Pepper Tofu.
Recipe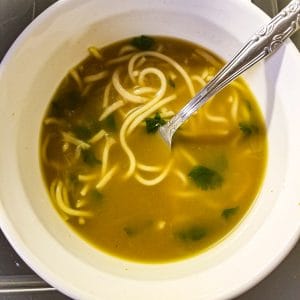 Chinese Noodle Soup
Vegetarian Chinese soup recipe that takes less than 15 minutes to make. Chicken broth, cilantro, garlic, and soy sauce are the main flavors that go with the ramen noodles!
Ingredients
4

cups

chicken or vegetable stock

½

medium onion, minced

¼

cup

cilantro

2

tablespoon

minced garlic

2

tablespoon

soy sauce

2

cups

cooked noodles-can be raman or angel hair

seasonings: salt, pepper, garlic salt, Cayenne pepper to taste
Instructions
Bring chicken stock to boil, and add in onion, garlic, soy sauce, and seasonings. Boil for about 5 minutes.

Turn down to medium heat, and add in the cooked noodles. Cook for about 10 minutes on low heat. Serve your Chinese Noodle Soup hot.
---
All information presented on this site is intended for informational purposes only. Nutritional facts listed are a rough estimate and should only be followed as a general idea.