Spinach alfredo pizza is not only healthy, but super tasty as well. Alfredo sauce, spinach, and cheese are all ingredients that go into a spinach alfredo pizza. Alfredo sauce is a white sauce that is made from butter, cream or milk, garlic powder, salt, and Parmesan cheese. It is often served on pasta dishes with a lot of fresh vegetables. Spinach is one of the most popular vegetables in the world. It grows best in temperate climates and has been eaten since ancient times as food or as medicine. Cheese on the other hand is a dairy product made from milk that has been left to clot for some time before being pressed into molds or wrapped in cloth or paper for storage. You can add pretty much any ingredient to acompany those main ingredients on top of your pizza!
This post may contain affiliate links. This means if you click on a link and purchase something, I may earn a small commission from it. In the footer of this page is my full disclosure policy.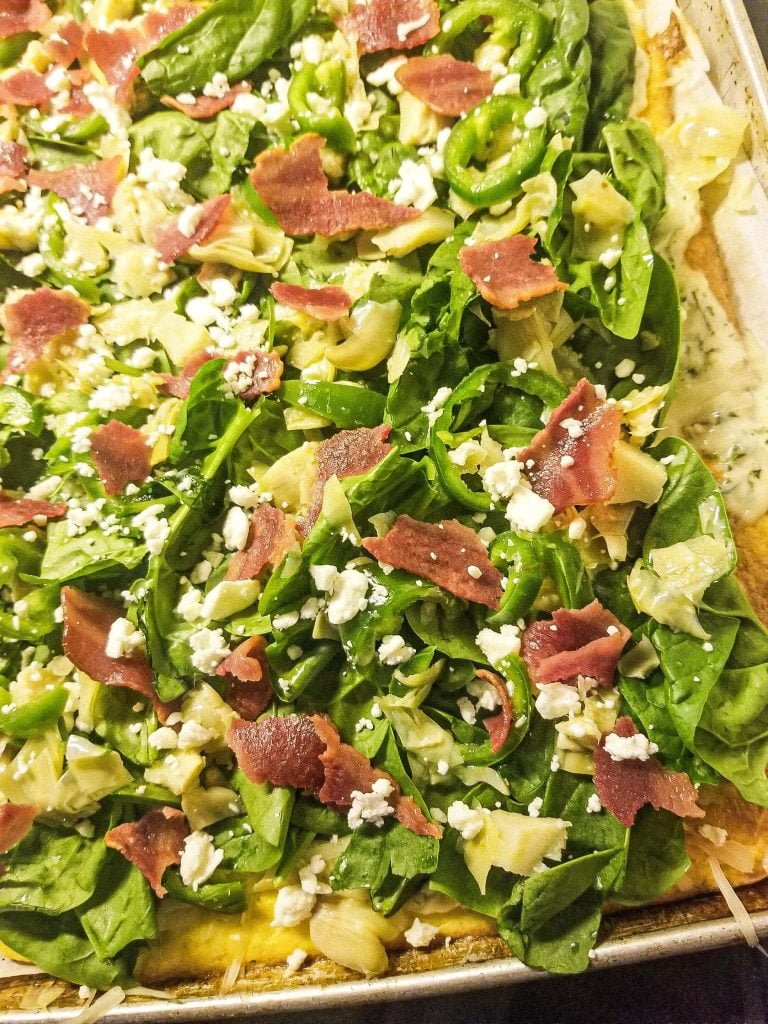 Sides to serve with spinach alfredo pizza with bacon:
French fries are always a great option for any baked dish! If you want something more healthy, a side salad would also tasty yummy.
Check out my other pizza recipes:
Spinach alfredo pizza toppings you can add:
more meat-you can make this into a chicken alfredo pizza if you want to add chicken for more protein. Additional meats would work as well such as beef or Prosciutto
additional veggies-spinach and tomato alfredo pizza would taste lovely or you could even add mushrooms, banana peppers, onions, green bell peppers, etc
drizzles-you can add a drizzle on top the pizza such as balsamic vinegar, buffalo sauce, ranch dressing, pesto, or olive oil for additional flavor
different cheeses-in the recipe I use feta and mozzarella cheese, but ricotta, fresh mozzarella, cheddar, swiss, etc would also be great options.
cook spinach-spinach wilts quite a bit while being fried. One of the easiest ways to eat more spinach is to fry it on the stove using olive oil or artichoke heart marinate. It wilts quite a bit and seems like you're hardly eating any of it, but it is just wilted! Spread fried spinach on top of your pizza to trick yourself into eating more vegetables.
What kind of crust would be best for spinach artichoke alfredo pizza?
In the picture, I used naan bread as a crust. Store bought tube refridgerated pizza crust can also be an option if you want to have a nice rectanglar pizza straight out of the tube without having to do much dough stretching.
Homemade dough would also work. There are no knead no rise dough options out there to save you time and money!
How to store spinach alfredo pizza with fresh spinach:
Store this pizza in the fridge in an air tight container for up to one week. The slices make great leftovers for lunch! I have not tried freezing this spinach alfredo pizza recipe. If you would like to try freezing it, let me know how it goes.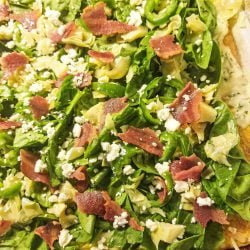 Spinach Alfredo Pizza
Super easy, healthy, homemade pizza.
Ingredients
pizza crust of your choice

1

cup

alfredo sauce

1 ½

cups

shredded mozzarella cheese

1

cup

spinach

½

cup

chopped artichokes

½

cup

cooked, crumbled bacon

½

cup

feta cheese

slices jalapenos
Instructions
Preheat oven according to your pizza dough package/recipe. Prebake dough.

When dough is done prebaking, add alfredo sauce and mozzarella on top. Then, add spinach, bacon, artichokes, feta, and jalapenos sprinkled evenly on top. Finish baking for about 5-8 minutes or until the cheese is melted. Cut and serve your spinach alfredo pizza hot!
---
All information presented on this site is intended for informational purposes only. Nutritional facts listed are a rough estimate and should only be followed as a general idea.