Iced chai tea latte from your favorite Starbucks coffee shop can now be made in your own home for a fraction of the cost! This chai tea latte recipe is made with chai concentrate, and can be made in 15 minutes! A drink that can be made ahead of time as well. Just add ice and go!
This post may contain affiliate links. This means if you click on a link and purchase something, I may earn a small commission from it. In the footer of this page is my full disclosure policy.


What is chai made of:
Chai concentrate - I usually buy the one on sale that looks the most tasty. It is usually some form of black tea in a jug.

White granulated sugar

and maple syrup - sweetener
Milk - I used whole milk, but you can substitute with other precents like 1%, 2%, or skim. Almond milk or soy would also work!
Cinnamon and caramom - I always use Tones or McCormick. If you want another cinnamon drink, I also have a recipe for eggnog milkshake.
FAQs
Does an iced chai tea latte have caffeine?
The amount of caffeine per serving your chai concentrate jug says is the amount of caffeine per drink. Your iced chai tea latte should be less than a cup of coffee.
What does a chai latte taste like?
Even though this recipe has tea in it, it hardly tastes like tea! It takes like a spiced cinnamon Carmel milk. That is the best way I can describe it. It doesn't have an aftertaste or anything!
Does an iced chai latte have coffee?
Despite that this is a popular Starbucks drink, no a chai latte does not have coffee in it.
If you are interested in my other Starbucks-knockoff drink, I do have a Iced Pineapple Matcha drink recipe.
Helpful tips for making chai:
taste test-always taste test after adding the spices! Feel free to adjust the spices to amounts that are personalized to you!
let cool after boiling-the boiling helps the flavors blend more than just mixing them all together. Since it is boiled, it is obviously hot coming off the stove. The amount of heat it has coming off the stove and mixing with ice would just make the drink very watery! It is essenial to allow for a cool down period after heating the chai concentrate on the stove.
Variations of iced chai latte:
decrease sugar content-having maple syrup and white sugar together might be a little much for some people. You can decrease either of the amounts for a lower sugar Starbucks ice chai tea latte recipe
increase sugar content-If you like a lot of sugar in your drinks, you can definitely increase the white sugar or maple syrup content.
more or less ice-I am a person who does not like a lot of ice in drinks, but if you like ice, you can always add your own amount!
use honey-if you do not have maple syrup (lets face it, it's expensive!), you can always substitute with honey instead.
different seasonings-if there is a seasoning you like in your tea drinks that I did not mention, you can always add them!
more or less milk-you can change the amount of milk depending on how strong you want your iced chai tea latte to taste. You can use hot milk and no ice if you don't want this to be an iced latte. You can also use a milk frother if you want frothed milk.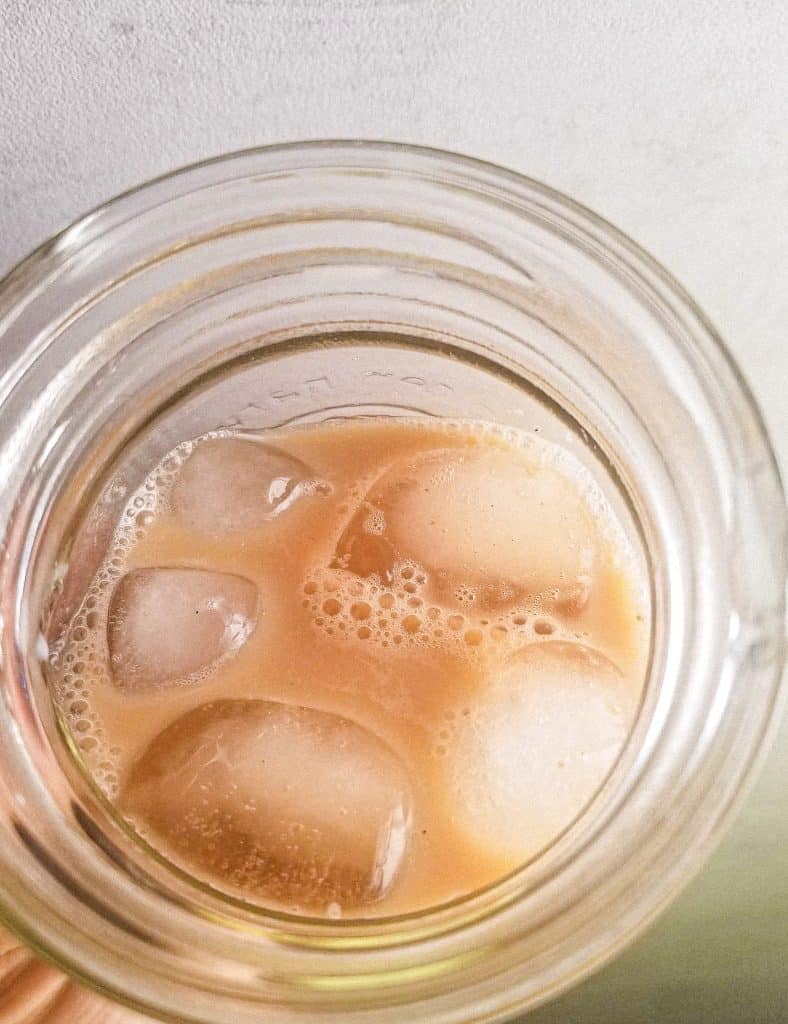 Can I make this recipe in advance?
Yes, I believe you can make the boiled part of the recipe in advance, and you can store it in the fridge in a sealed container. Then, stir it, dump this liquid into your cup of ice and milk when you are ready to assemble your drink.
You can also make the whole thing in advance without the ice cubes and store it in the fridge in a sealed cup. Then, just add the ice cubes when you are ready to drink your homemade chai tea latte!
How to store cup of chai:
If you have some of your drink leftover, store it in the fridge with a lid! The silicone lids I use come in 6 various sizes, and stretch to fit just about anything! They are clear as well, so you can see the food that is in the bowl without having to take the lid off.

I recommend removing the ice cubes before putting a drink in the fridge though. You do not want the ice cubes to get melted and make the drink watery! To remove the ice cubes, try using a spoon.
Recipe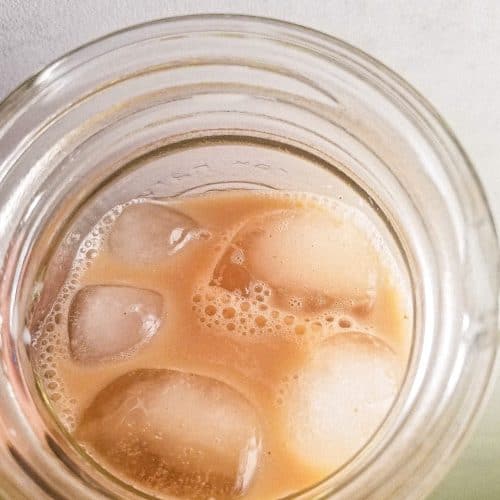 Iced Chai Tea Latte Recipe
Iced chai tea latte from Starbucks can now be made in your own home for a fraction of the cost! This chai tea latte recipe is made with chai concentrate, and can be made in 15 minutes!
Ingredients
2

tablespoon

maple syrup

2

tablespoon

sugar

½

cup

chai concentrate

ice

in amount of your chosing

1

cup

milk

cinnamon and caramom

to taste
Instructions
Over medium heat, heat maple syrup, sugar and chai concentrate together. Bring to a boil.

Once boiling, remove from heat. Let stand for about 10 minutes, to ensure the chai is cool enough to not melt the ice.

While waiting for the drink to cool, prepare your glass cup by adding in amounts of ice of your choosing and the milk

When sauce pan mixture is cool, pour into cup. Scrap out any remaining excess with spatula. Season with cinnamon and caramom to taste. Serve your Iced Chai Tea Latte cold!
Nutrition
Sodium:
115.64
mg
Sugar:
84
g
Calories:
428.87
kcal
Fat:
8.15
g
Protein:
9
g
Carbohydrates:
83
g
---
All information presented on this site is intended for informational purposes only. Nutritional facts listed are a rough estimate and should only be followed as a general idea.