Homemade spinach and artichoke ravioli filling is sure to be a hit for the homemade pasta lovers out there! I used the food network recipe for the dough. The whole process of making this ravioli took me 4 hours from start to finish. It would have saved me a bunch of time if I had a pasta machine. It only takes about 30 minutes to make the filling though! In the end, I think making homemade pasta is definitely something every pasta lover should try making at least once! I enjoyed it from start to finish, and I think it is interesting to see the work that goes into making pasta first hand.
This post may contain affiliate links. This means if you click on a link and purchase something, I may earn a small commission from it.
What to serve with spinach and artichoke ravioli?
I served this dish with marinara and pesto sauce as seen in the photos. Alfredo or a cream sauce would also taste delicious. For sides, I would recommend breadsticks or garlic bread.
Variations of spinach and ricotta ravioli filling:
add more vegetables-some people like mushrooms, squash, pumpkin in their ravioli
less garlic-you can always add less garlic if you think it is too strong of flavor
add meat-if making this a non vegetarian ravioli meal, sausage and chicken are good add ins if you cut them up finely before adding to the cheese mixture!
add seafood-lobster or crab can also be quite tasty
additional seasonings-this recipe is suitable for all tastes because it does not have very strong seasonings. If you would like it to be more flavorful, be sure to taste test and add any extra seasonings you see fit before stuffing your dough with this cheese ravioli filling.
Check out my other pasta recipes here:
Favorite ingredient brands to use for this spinach ravioli filling recipe:
*spinach-whatever kind is on sale
*artichoke hearts-Reese
*cream cheese-Philadelphia
*swiss, mozzarella, and parmesan cheese-Kraft
How to store homemade ravioli filling without ricotta:
When making this spinach and artichoke ravioli filling recipe ahead of time, I recommend storing it in an air tight container in the refrigerator until ready to assemble it in a dough.
Recipe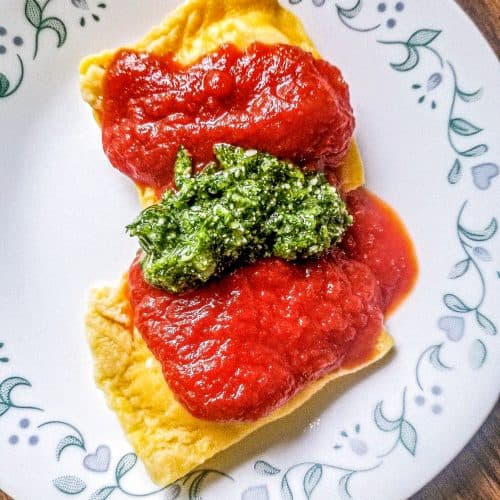 Spinach and Artichoke Ravioli Filling
Spinach and artichoke ravioli filling to go in your homemade ravioli dough!
Ingredients
¾

cup

of spinach

2

tablespoon

crushed garlic

7.5

oz

of artichoke hearts

chopped

8

oz

cream cheese

½

cup

shredded swiss cheese

½

cup

shredded mozzarella cheese

½

cup

Parmesan cheese

salt and pepper
Instructions
In a large skillet over medium heat, cook spinach, garlic, and artichokes over medium heat until spinach is a dark green color. Stir occasionally. Add cheeses, salt and pepper. Let cheese melt

Assemble with your dough and cook your ravioli according to your dough recipe.
---
All information presented on this site is intended for informational purposes only. Nutritional facts listed are a rough estimate and should only be followed as a general idea.