Breakfast nachos are so much easier to make than breakfast burritos! They are the perfect, easy morning breakfast for you and your family. Mexican nachos for breakfast are made with your favorite breakfast meats, eggs, cheese, and of course salt and pepper. Air fry the potatoes, scramble the eggs, and layer the meats; it really is just that easy!
This post may contain affiliate links. This means if you click on a link and purchase something, I may earn a small commission from it. In the footer of this page is my full disclosure policy.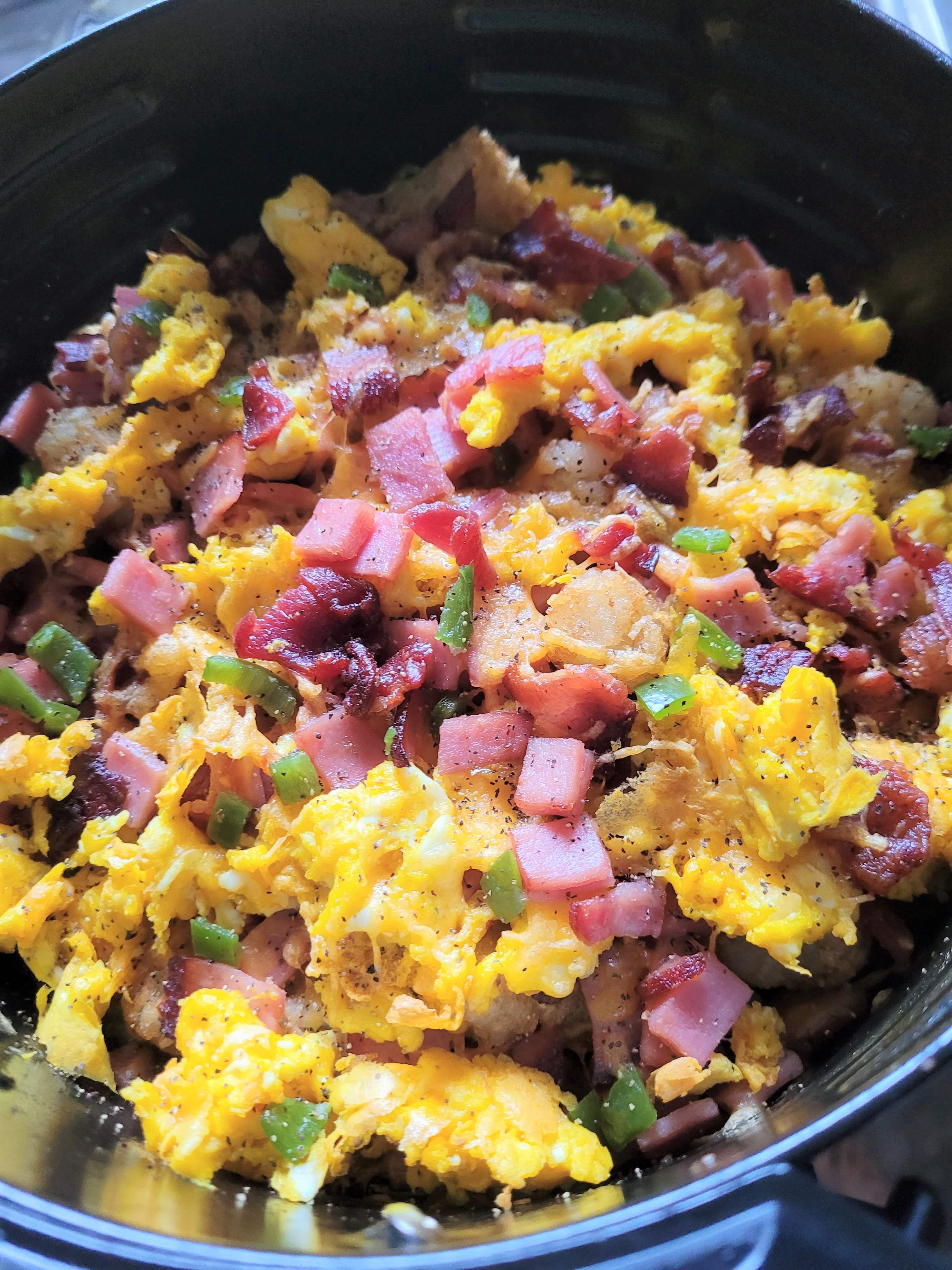 Breakfast Nacho Ingredients
Tater tots - the base instead of crispy tortilla chips we have tater tots because they are a breakfast food
Ham - provides smoky protein
Bacon - crispy protein
Green pepper - adds a pop of color and spice
Olive oil - lubricates the egg pan on the stove to prevent sticking
Eggs - adds protein and a breakfast flavor
Cheese - what makes breakfast nachos breakfast nachos
Salt and pepper - you can't make eggs without salt and pepper
How to Make Breakfast Nachos
Air fry tater tots - breakfast nachos with tater tots means that the tater tots need to be cooked first to ensure they get heated throughout.
Make eggs - make egg mixture in a pan over medium heat on the stove.
Layer nachos - alternate ham, bacon, cheese, eggs, and green peppers in the air fry and air fry until cheese is melted.
How to Prepare Ahead of Time:
Cook meat - precook the bacon and let it drain on paper towels to cut back on fat. Once cool, place in an air tight container in the fridge until you are ready to finish the recipe. This recipe is perfect if you are using little bits of leftovers too if you have leftover cooked bacon and ham.
Chop green peppers - precut green peppers so you don't have to do 3 things at once!
Precook tater tots - getting the tater tots cooked is what takes the most time when making easy breakfast nachos. If you fully cooked the tater tots the night before and then just had to air fry until crispy, it could cut down on 10 minutes of time.
Gather toppings - when the tater tots are air frying, gather your nacho toppings so you have them all ready to go. Common toppings include hot sauce, pico de gallo, fresh cilantro, sour cream, avocado, etc.
How to Make Scrambled Eggs
I like to start by cracking the eggs in a small bowl to make sure there are no shells in the pan. Once eggs are in bowl, beat them with a fork. Pour into a sprayed medium pan. Turn pan on medium heat.
When the pan is warmed up, the edges of the eggs will be firm. Using a rubber spatula, scrape the firm edges of the eggs up from the pan. This will prevent sticking. Keep stirring eggs around so that they can evenly cook. Add salt and pepper for seasoning. Cook until done to your liking.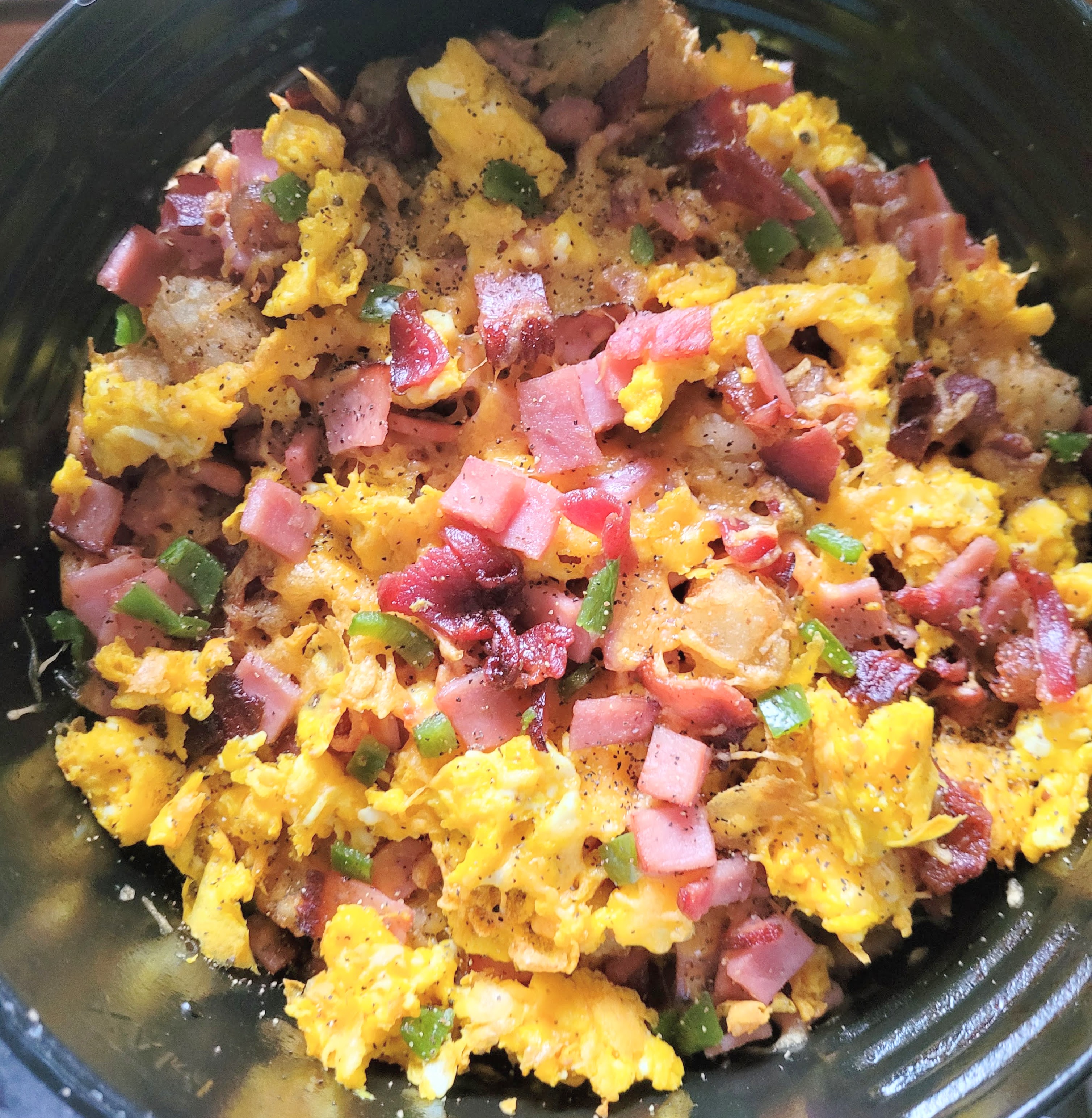 What is the best way to layer nachos?
Layering your breakfast nachos with all the goodies can be interesting. Since tater tots are our base, alternate cheese, meat, then eggs and repeat on top. This way we are alternating layer and can see all ingredients from the birds eye view.
Variations of Tater Tot Nachos:
Change eggs - you can make fried eggs too to put on top and break the yoke. Another option is deviled eggs if you really wanted.
Egg whites - use egg whites to cut down on cholesterol.
other meats - you can put breakfast sausage, chorizo, steak, turkey bacon, tofu scramble, etc on top.
Change potato - breakfast nachos with waffle fries and hash browns also make easy breakfast nachos!
Other cheeses - this recipe uses cheddar cheese, but you can use monterey jack, pepper jack, mozzarella, etc. The kind of cheese you use is up to you! If you can't decide on which cheese on nachos to use, put a little of each.
Seasonings - use any seasonings your heart desires for these ultimate breakfast nachos! Black pepper and salt is always my go to.
Omit eggs - you can make breakfast nachos with no eggs if you would like.
Use oven - instead of air frying, you can make breakfast nachos in the oven. Prepare the same way expect spray cooking spray on a rimmed baking sheet. Cook tater tots in the oven at 375 until they are crispy. Layer nacho toppings on top and bake until cheese melts.
Other Breakfast Favorites:
Recipe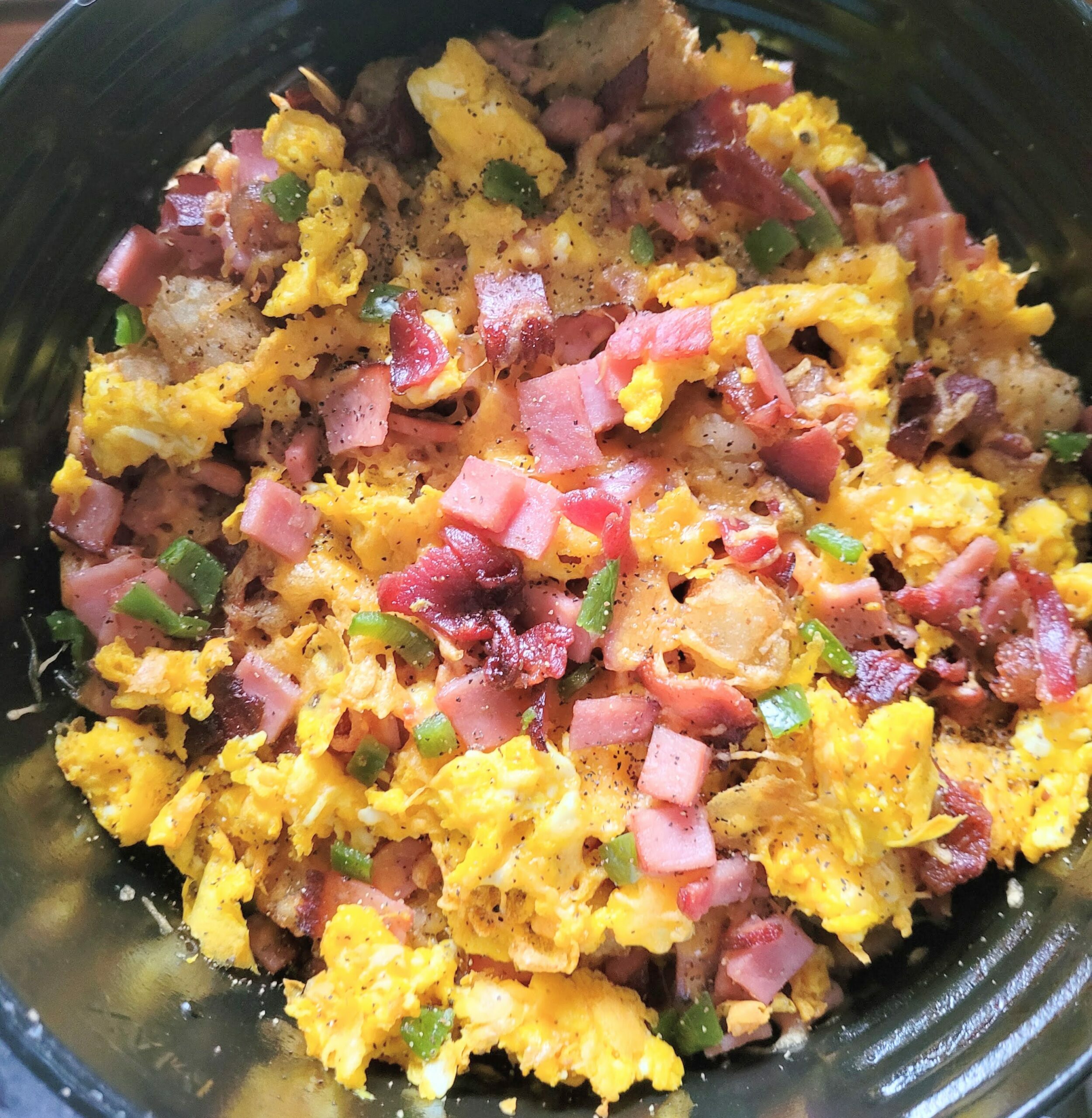 Breakfast Nachos in Air Fryer or Oven
Breakfast nachos are so much easier to make than breakfast burritos!
Ingredients
2 ½

cups

tater tots

1

cup

cooked ham

cherrywood smoked preferred

1

cup

cooked bacon

¼

cup

chopped green pepper

1

tablespoon

olive oil

2

eggs

1

cup

cheddar cheese

1

tablespoon

salt and pepper
Instructions
Spray air fryer with nonstick spray. Preheat air fryer to 350. Add tater tots. Air fry for 10 minutes.

While waiting for tater tots, pour olive oil into a medium pan over medium heat. Crack eggs into pan. Pour ¼ cup of the cheddar cheese in the eggs. Scramble the eggs with spatula until your desired tenderness.

When tater tots are done, layer ham, bacon, cheese, eggs, and green peppers on top. Air fry at 350 for 5 minutes to melt the cheese. Season with remaining salt and pepper. Serve with salsa and sour cream.

Cooking in oven: Cook tater tots according to the oven directions on the package. When done cooking, scoop tater tots close together so they are touching on the baking sheet. Add remaining toppings on top. Bake at 350 until cheese is melted.
---
All information presented on this site is intended for informational purposes only. Nutritional facts listed are a rough estimate and should only be followed as a general idea.