Cream cheese scrambled eggs make for some very fluffy eggs! They also taste great plain since they are very soft and cheesy. Your guests will wonder how you got them so soft! The secret ingredient for fluffy scrambled eggs is cream cheese. This scrambled eggs with cheese recipe serves around 4-5 people.
This post may contain affiliate links. This means if you click on a link and purchase something, I may earn a small commission from it.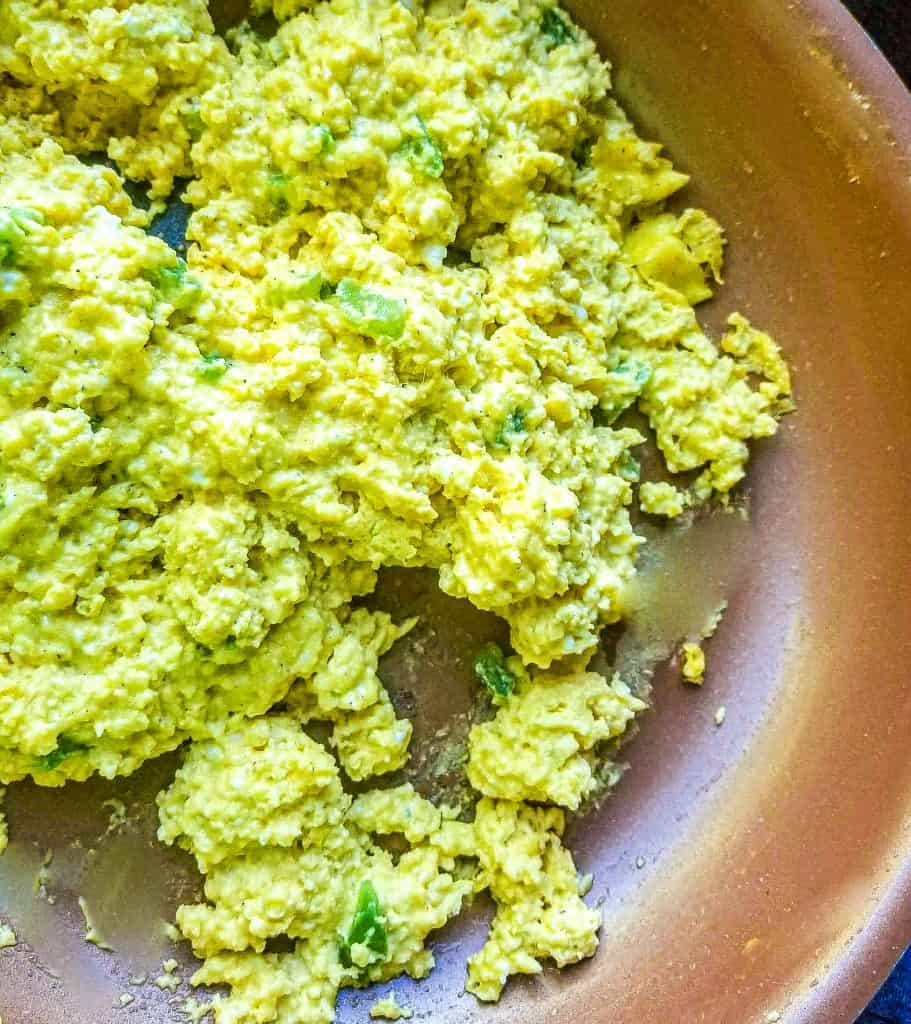 What do scrambled eggs with cream cheese taste like:
Traditional scrambled eggs have more of a hard coating and a soft center. They are chewy and easy to eat if you have a swallowing disorder. Adding cream cheese makes them even softer and melt in your mouth yummy!
Scrambled eggs ingredients:
Butter - Stick butter; I find stick butter easier to measure to cut
Eggs - farm fresh eggs or store bought eggs work here
Cream cheese - adds the creaminess
Marble jack cheese - Shredding your own makes it easier to melt
How to make the best soft scrambled eggs:
Fry green peppers - fry any vegetables you plan on using first to get the water contents out
Whisk with a real whisk- whisk together remaining ingredients. Using a fork is also an option but a whisk beats more air into the eggs making them soft and fluffy.
Cook eggs - pour eggs into skillet. Allow to sit a few second to allow curds to form. Stir around the skillet to evenly cook the eggs.
Serving suggestions for scrambled eggs with Philadelphia cream cheese:
These cream cheese soft scrambled eggs can be used for so many dishes! My favorite is breakfast burritos. They also taste great by themselves!
Add ins:
Add meat - you can add any sort of breakfast meat like bacon, ham, sausage, etc to add protein to your eggs! This might affect the texture depending on how crispy the meats are though
Different cheeses - any sort of cheese pairs well with eggs! Use whatever cheese you have on hand.
More veggies - if you are looking to add more vegetables, tomatoes, mushrooms, spinach, etc are great adds to eggs.
Bigger cream cheese chunks - this recipe is written for small pieces of cream cheese, but you can use bigger pieces if you want a heavier cream cheese flavor.
How to store cream cheese scrambled eggs:
Fridge - I personally do not like eating leftover eggs, but if you wanted to eat the soft scrambled eggs leftovers the next day, you can store them in an air tight container in the fridge. Reheat them in the microwave.
Check out my other lunch recipes:
Recipe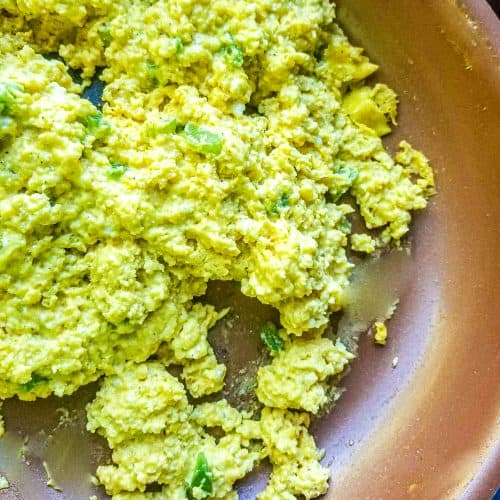 Cream Cheese Scrambled Eggs
Scrambled eggs with Philadelphia cream cheese make for some very fluffy eggs! These creamy scrambled eggs have a nice soft texture, not matter how overdone you make them!
Ingredients
2

tablespoon

butter

¼

cup

chopped green bell pepper

optional

6

eggs

4

oz

cream cheese

soft

1

cup

shredded marble jack cheese

Salt and Pepper
Instructions
Place butter in a large sauce pan over medium heat. If using bell pepper, place in pan with butter, cook until peppers turn a lighter color green. If not using bell pepper, just leave butter in pan to melt.

While peppers are cooking/when butter is melting, whisk together eggs and cream cheese in a large bowl. Stir in marble jack cheese and salt and pepper. Pour into the skillet with butter. Allow a couple seconds to allow cruds to form. Stir around to evenly cook the eggs. Cook until desired hardness. Serve the cream cheese scrambled eggs with toast and bacon or sausage!
Nutrition
---
All information presented on this site is intended for informational purposes only. Nutritional facts listed are a rough estimate and should only be followed as a general idea.