Avocado Black Bean Brownies
If you think these Avocado Black Bean Brownies taste like avocado (acts as butter) or black beans (acts as flour), you're wrong! If you want to read up about why you should make black bean brownies for health reasons, click here. This gluten free recipe tastes like an extremely soft brownie that has zero resemblance of anything healthy in it. These also cut like a dream, which really impressed me. They also turn out to be very dark in color. This black bean recipe makes an 8×8 baking dish.
This post may contain affiliate links. This means if you click on a link and purchase something, I may earn a small commission from it.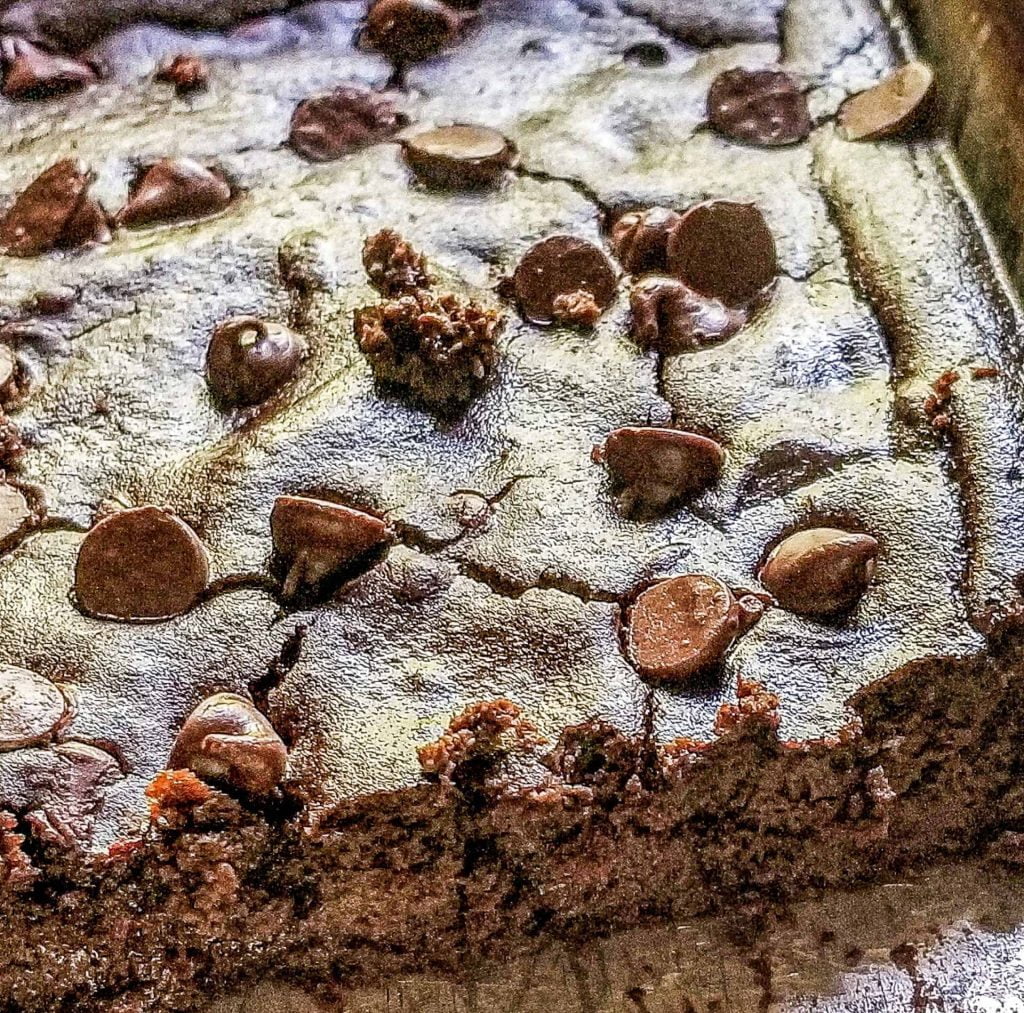 Check out my other brownie recipes here:
Variations of this healthy brownie recipe:
chocolate chips in only batter-if you do not want to save 1/2 cup chocolate chips for the topping, you can opt to just put them in the batter instead.
reduce chocolate chips-if you are trying to cut down on sugar content, you could take out 1/2 cup of chocolate chips or just omit them entirely.
9 x 13 baking dish-instead of an 8 x 8 baking dish, you could use a bigger one. You would just have to double the recipe if doing so.
Main ingredients to use for this black bean avocado dessert recipe:
black beans-traditional canned black beans
avocado-haas small, you can use large ones as well, however, I do not feel that they keep as long so I tend not to buy them. You would probably only need 1/3 of the avocado as well if going with the large route.
eggs-from my chickens, any eggs would work though
brown sugar-provides sweetness
cocoa powder-adds chocolate
baking powder-helps them rise
chocolate chips-Nestle or Hershey's
How to make excellent avocado black bean brownies:
ground black beans-this is a vital step to the beans becoming smooth enough in the brownie that you won't be able to taste them. I grind mine in a food processor.
add remaining ingredients to the food processor, except chocolate chips-it is important to use the food processor to combine the ingredients. This ensures that the avocado and black beans get ground enough together with the flour and other ingredients so that they do not taste like their original form.
stir in 1/2 of the chocolate chips-I put half my chocolate chips in the batter and the other half on top for decoration
pour batter into a sprayed 8×8 baking dish. Top with chocolate chips. Bake!
How to store healthy avocado brownies:
room temperature-I like to store my brownies at room temp for about a week or until all gone, which ever comes first.
freezer-I have not tried freezing this recipe. I do not know how the texture of the brownie would hold up in the freezer. If you want to try it, let me know how it goes.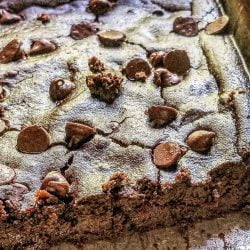 Avocado Black Bean Brownies
If you think these taste like avocado or black beans, you're wrong! Whether you are on the celiac diet needing a gluten free dessert, or just want extra fudge to your brownie, this recipe is for you!
Ingredients
1 16

oz

can black beans

drained and rinsed

1/4

cup

canola oil

1/2

avocado

2

eggs

2/3

cup

brown sugar

1/2

cup

cocoa powder

1

tsp

baking powder

dash of salt and vanilla

1

cup

chocolate chips

split in half
Instructions
In a blender or food processor, begin by adding black beans and blending until smooth. Slowly add other ingredients (besides chocolate chips), one at a time, pulsing in-between. Remove from blender and place mixture into a medium sized bowl. Gently, fold in a 1/2 cup of the chocolate chips.

Spray an 8x8 baking pan and pour batter in. Sprinkle remaining chocolate chips on top. Bake at 350 degrees for 30 minutes or until toothpick comes out clean. Allow to cool for a half hour before serving these Avocado Black Bean Brownies.
Notes
Your cook time might vary depending on your oven so I would recommend checking this gluten free dessert at 30 minutes for sure and then going from there with additional time if needed.
---
All information presented on this site is intended for informational purposes only. Nutritional facts listed are a rough estimate and should only be followed as a general idea.