Cherry brownies are the perfect dessert to make when craving both cherry pie and fudge brownies! This dessert that is made with a chocolate fudge brownie mix and cherry pie filling. It has a rich chocolate flavor, and the cherries add a tart, fresh flavor. They have an intense chocolate flavor, and the fudge gives them an extra level of sweetness. Fudge brownies are a dessert that is made with brownie mix, cherry pie filling, eggs, oil, and chocolate chips. Cherry brownies are often eaten as an after-dinner treat. Fudge brownies are typically eaten as an afternoon snack or during breakfast.
This post may contain affiliate links. This means if you click on a link and purchase something, I may earn a small commission from it. In the footer of this page is my full disclosure policy.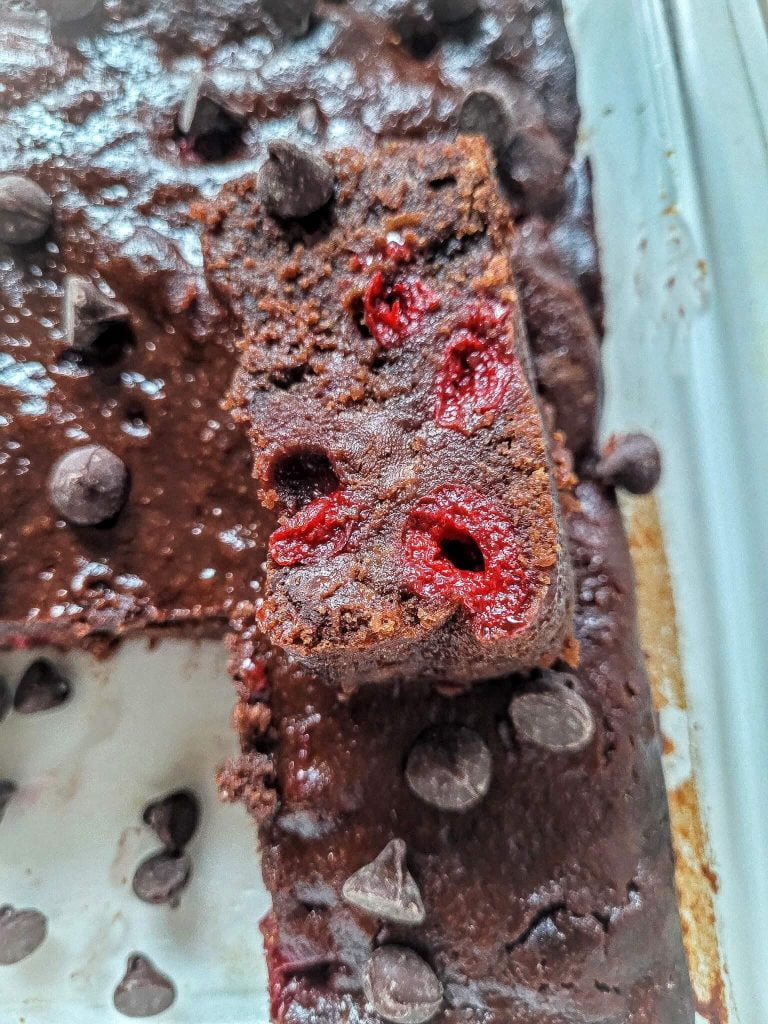 Check out my other brownie recipes:
Variations of cherry pie filling brownies:
different brownie mix-these cherry brownies use a fudge brownie mix, but you can use other flavors of brownie mix as well
frosting-frosting can be an extra sweet touch if you are looking for more sugary brownies
more chocolate chips-adding additional chocolate chips to your cherry brownies will give more of a chocolate-y flavor
homemade brownie mix-you can make your cherry stuffed brownies using homemade brownie mix instead of store bought if you would like!
homemade cherry pie filling-homemade cherry pie filling is a great option if you do not have store bought pie filling!
different size pan-you can bake these brownies in a different sized pan. Just make sure to adjust the cook time according to your brownie box. If moving to a larger baking dish, you could set it for only 5 instead of 10 minutes extra since the mixture won't be as tall.
How to know when canned cherry brownies are done?
Every oven and brownie mix directions are different when trying to determine how long to bake cherry brownies. It is always better to put them in for less time and then check them and add more time than it is to burn them. Set time for the 8x8 pan size directions on your brownie mix box. Mine was 40 minutes. I ended up putting them in the oven for about 50 minutes though since the cherry pie filling adds more substance to the brownies which takes them longer to cook than what the brownie directions say. At that time, stick a toothpick in the brownies to see if it comes out clean. If it comes out clean, then you know they are done. If it comes out sticky, allow more extra time for baking.
What do I need to make cherry chocolate brownies?
eggs-helps the mix stick together
oil-helps the brownies not stick to the pan and makes them moist
brownie mix-the main part of the cherry dessert
water-liquifies the batter
cherry pie filling-provides the cherry part of the cherry brownies
chocolate chips-provides extra chocolate flavor
How to store cherry brownies:
Room temperature! Keep cherry brownies in a sealed container at room temperature for up to 1 week. They will probably be all eaten before then though! I have not tried freezing this gooey cherry brownies recipe. If you want to try freezing them, let me know how it goes! I do not know how well the cherry pie filling will thaw out though.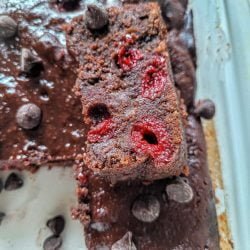 Cherry Brownies
One bowl brownie recipe with cherries so flavor things up a bit!
Ingredients
1

box

fudge brownie mix

ingredients listed on your brownie mix box

1

can

cherry pie filling

½

cup

chocolate chips
Instructions
Preheat oven for an 9x9 baking dish according to brownie mix box.

In a large bowl, stir together ingredients listed on brownie box with brownie mix. Add pie filling and chocolate chips.

Spray 9x9 baking dish with nonstick spray. Pour in brownie mix. Bake for about 10 minutes extra than what your brownie box says for a 9x9 baking dish (mine was 40 minutes, so I set mine for 50). Test with toothpick at that time. If comes out clean, remove from oven and let cool for serving. If comes out sticky, allow to bake a few extra minutes until toothpick comes out clean.
---
All information presented on this site is intended for informational purposes only. Nutritional facts listed are a rough estimate and should only be followed as a general idea.