I tried to bring the spicy poke bowls commonly seen in restaurants to life at home! Of course, I could not add in all the authentic toppings they have, as they are hard to find, so I had to make due with what I had! You can add other ingredients if you want to make it more your own! The options for toppings are endless for crab poke bowls. It is like a spicy crab roll recipe in a bowl.
This post may contain affiliate links. This means if you click on a link and purchase something, I may earn a small commission from it.
Favorite ingredient brands for this spicy poke bowl recipe:
rice-long grain enriched rice
soy sauce-adds flavor
shrimp-provides protein
imitation crab-crab flavor or you can use real crab
mayo-regular
egg roll wrappers-provides crunch
poke sauce-adds flavor
If you want ideas for additional toppings, click here.
How to assemble seafood poke bowls:
cook rice-adding soy sauce at the end of the cook time will give a more Japanese flavor to the spicy poke bowls rice.
make seafood salad-I used imitation crab and shrimp, but you can use real crab if you want.
cook veggies-I sautéed mine with vinegar until they were soft
fried wonton strips-you can season these any way you want, I chose cajun season though.
layer the food in bowls-rice on bottom, then seafood, then veggies, and finally, top it off with the fried wonton strips
Tips for making spicy poke bowls at home:
make the rice first-While the rice is cooking, make the other three parts of the recipe in the order they are described in.
don't add too much sauce- I have ruined poke bowls way too many times but adding too much poke sauce at once. This tends to drown out the flavor of the other ingredients. What if you do add too much soy sauce? Add more rice to help balance out the flavor.
shred imitation crab-how to shred imitation crab is fairly easy. It is kind of like shredding chicken. I usually pull the strips apart with my fingers length wise.
How to store spicy crab salad poke:
I store my spicy crab in the fridge in a ziplock bag for about 3 days since it is not raw fish. I do the same for the rice in this recipe. For the fried wonton strips though, I keep them at room temperature in an air tight container.
Check out my other fish recipes: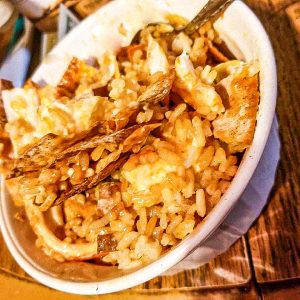 Spicy Poke Bowls
I tried to bring a spicy seafood poke bowl at home! Shrimp and crab salad for the proteins, with a few veggies, fried wonton strips, and poke sauce to top it off!
Instructions
Poke Bowl Rice
Cook 2 cups of dry rice in 4 cups of boiling water for 20 minutes on low-medium heat stirring occasionally. Pour in a few drops of soy sauce.
Spicy Crab Salad with Shrimp
Mix about 30 shrimp, 8 oz of imitation crab that is tore into small strips, and ½ cup of mayo together in a bowl. To make the mixture spicy, add a few drops of hot sauce of your choice.
Poke Veggies
Cut up some radishes, carrots, and mushrooms or any other vegetable of your choice. Put in a medium skilled and sprinkle with vinegar. Cook until vegetables are soft.
Fried Wanton Strips
Cut egg roll wrappers into strips. Place on a sprayed baking sheet. Sprinkle with Cajun seasoning. Spray with cooking spray again. Bake at 400 degrees for 5 minutes or until brown and crispy.
To Assemble the Spicy Poke Bowl
Lay a layer of rice down and add in the shrimp/crab mixture, vegetables, and fried wanton strips. For poke bowl sauces, I used poke sauce, soy sauce, and hot sauce. It is really all up to personal preference though, so add in what you like!
---
All information presented on this site is intended for informational purposes only. Nutritional facts listed are a rough estimate and should only be followed as a general idea.