I find this baked chile rellenos recipe works better with Anaheim peppers, but Poblano works too. I love chile rellanos so much, so I am glad I found a way to make them at home! These easy stuffed peppers work in the airfryer too and become air fryer chile rellenos!
This post may contain affiliate links. This means if you click on a link and purchase something, I may earn a small commission from it. In the footer of this page is my full disclosure policy.
This recipe is most easy baked chile rellenos recipe to make. I have not found an easier recipe. I know some people like to make theirs in the stuffed chile usually coated with eggs, which is the traditional way. I do not have much experience doing that, so I find it to taste a lot like egg when I prepare my chile relleno that way. How to make chile rellenos without batter is super flavorful without the egg coating. My way of breading makes them very easy for me to make instead and does not have any chance of tasting like egg if that is a flavor you are worried about.
This crispy chili rellenos recipe serves 4-6 people.
Main ingredients to use for this easy chile rellano recipe:
cream cheese-part of the inside stuffing
sour cream-helps the cream cheese become more creamy
mozzarella cheese-makes the inside cheese more cheesey
Bread Crumbs-makes the outside crunch for the baked chile rellenos. This makes it different than the battered kind.
How to make excellent easy chile rellenos not fried:
char the peppers-I like to put mine in the oven on broil checking every few minutes to see if they are turning black yet. I also rotate them when I feel that the top part is black. Sometimes they do not cook evenly, so I have to turn them to a certain angle so as much of the pepper as possible gets charred. It is okay if not all parts get charred though.
place peppers in a sealed plastic bag-this will allow the peppers to steam and will help the skin come off. I allow them to cool as long as possible in this bag. I find that it helps the skin come off evenly with very little tearing. This also gives you time to stir the cheese mixture together, crack the egg and beat it, and pour bread crumbs in a pan.
peel skin off-if you accidentally tear the pepper, don't worry. It will still be breadable. I also cut the top off the pepper. This will help you get the cheese mixture in.
stuff pepper with cheese mixture-I really do not have any tips on how to do this because I try a different way every time. Sometimes I squeeze the cheese throughout the pepper starting at the top opening, and sometimes I use my fingers to shove the cheese in at the top. I just try not to tear the pepper as much as possible!
roll stuffed peppers in eggs, bread crumbs, eggs, and bread crumbs again. Place on a sprayed baking sheet and bake! If you want to air fry chile rellenos, you can also air fry them at 400 degrees. Check them after 5 minutes to see if they need flipped over in the air fryer.
Tips for these baked chile rellenos with breading:
Make sure the pan you broil the peppers on is lined with aluminum foil. One time I skipped that step, and the juices stained my pan. We do not want our baked chile relleo recipe staining our pans!
Allow pepper to cool until very easy to handle before ripping skin off-I find that the skin comes off better this way.
If the pepper does tear while peeling skin or stuffing, that is okay because they are still breadable with the tear.
To accompany these baked chile rellenos:
Simple Mexican rice would go great on the side. Easy red enchilada sauce on top would be a nice chile relleno sauce. Beans, salsa, sour cream and guacamole are also good toppings.
Check out my other Mexican main dishes:
Variations of baked cheese chile rellenos:
This recipe obviously just uses cheese for stuffing the peppers. However, some people like to stuff them with other peppers like bell peppers and even onions. If wanting to make this nonvegetarian, you can stuff them with chicken, pork, beef, etc. along with the cheese. Another way to kick your baked chile rellenos up a notch is by making it into a chile relleno burrito. Just add rice and beans to your pepper in a tortilla! Stuffed chile relleno burritos are one of my favorites.
Storing baked chile rellenos:
fridge-store your baked chile rellenos in an air tight container in the refrigerator for up to one week
freezer-I have not tried freezing this baked chile rellenos recipe. If you would like to try it, go for it! Let me know how it goes. I am not sure how they would thaw out though.
Recipe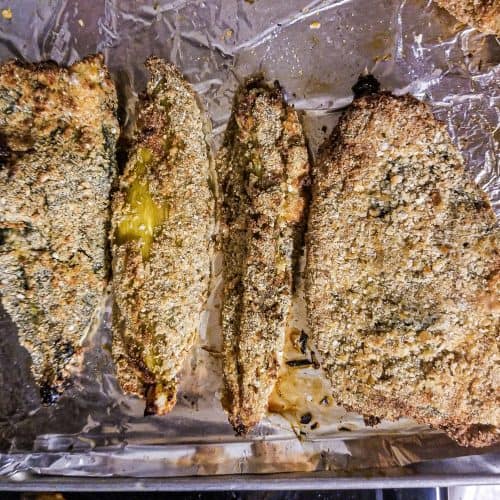 Chile Rellanos
I find this baked cheese chile rellano recipe works better with Anaheim peppers, but you can make this into chile poblano rellenos as well. These baked stuffed peppers are coated in egg and breadcrumbs to give it crispiness.
Ingredients
4-6

Anaheim or Poblano peppers

½

cup

cream cheese

¼

cup

sour cream

¼

cup

mozzarella cheese

2

eggs

1

cup

bread crumbs
Instructions
Line baking sheet with foil. Place peppers on pan and broil for 3-4 minutes each side to char the skin. Once they are black and charred, place peppers in a sealed ziplock bag to steam for 5 minutes.

Remove peppers from plastic bag and place on a plate to cool down until cool enough to handle. I find that letting them cool for a bit before working with them results in less tears to the pepper.

In the meantime, stir together cream cheese, sour cream, and mozzarella cheese in a small bowl. In another bowl, place the breadcrumbs. In an additional bowl, crack, and beat the eggs.

Once the peppers have cooled down some, begin peeling off the blackened skin with your fingers. Cut the stem of the pepper off and try to dig out some of the seeds with your fingers out of the top.

Using a spoon or your fingers, begin to stuff the pepper with the cheese mixture at the top opening. Squeeze the mixture down to the bottom with your fingers until it is full of cheese. Be careful not to tear the pepper as they are fragile.

Roll the stuffed pepper in the eggs, and then the bread crumbs, and then the eggs, and bread crumbs again. Place in the oven on a sprayed baking sheet at 400 degrees for about 10 minutes or until golden brown. Remove from oven and serve the chile rellenos with salsa, sour cream, and guacamole. If you need a guacamole recipe, click here. Some day I will get around to posting my guac recipe.
Nutrition
Sodium:
371
mg
Sugar:
5.65
g
Calories:
304
kcal
Fat:
17.64
g
Protein:
11
g
Carbohydrates:
26
g
---
All information presented on this site is intended for informational purposes only. Nutritional facts listed are a rough estimate and should only be followed as a general idea.