This loaded fries recipe is super easy to make since how to make loaded fries doesn't take that long. Total time prep and cook time is less than a half hour. I usually make this recipe when I have extra thawed bacon in the fridge. Can add other spices to your bacon fries to make it your own as well!
This post may contain affiliate links. This means if you click on a link and purchase something, I may earn a small commission from it.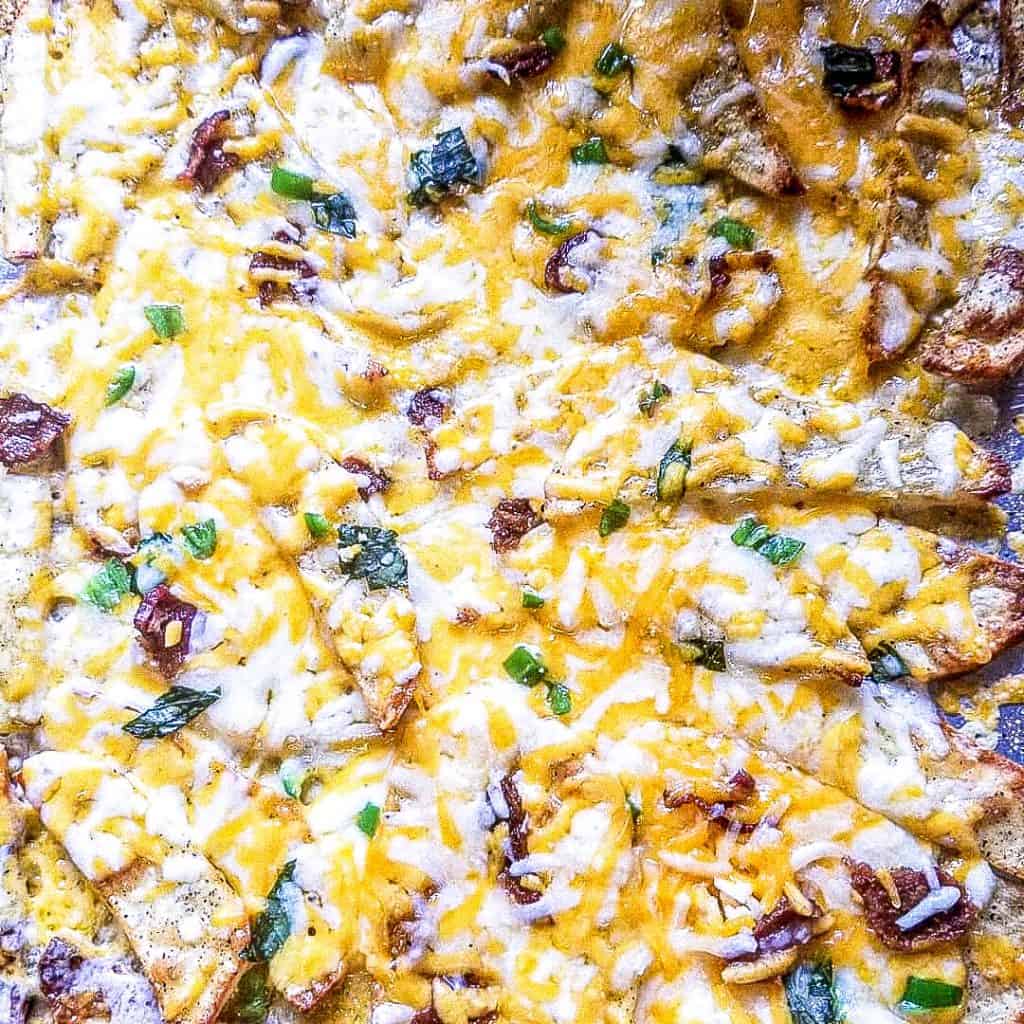 Recipes similar are Loaded Mashed Potatoes, Crock Pot Loaded Potatoes, Cheesy Hashbrowns, and Twice Baked Potato.
Favorite ingredient brands for this cheese fries recipe:
bacon-any kind would works
fries-store bought fries. You can make homemade fries too for this recipe as well. Waffle fries are most idea though because of the side of potato that holds more toppings.
cheddar cheese-shredded, shredding it yourself makes it taste better because it melts with ease.
Overview of how to make loaded fries recipe:
put fries on baking sheet. They can be over lapping.
bake fries, and flip them over about half way through cook time. This will allow them to cook more evenly. If your oven has uneven heating like how mine does, be sure to rotate the pan halfway through too.
add toppings, finish baking. It really is just that easy!
Can I cook the potato fries ahead of time?
Yes, you can cook the fries until ready to load them with toppings. Make sure frys are warm before loading with the topings though.
Variations of loaded fries:
more jalapeno-if you wanted your fries to be more spicy, add more jalapeno.
less jalapeno-you can omit the jalapenos if you would like a more mild carb dish.
onions-you can add onions if you want this recipe to have more of a zing. Green onion tops would also add color to the dish!
cheese variations-any shredded cheese would taste good on crack fries.
cook bacon on top of fries-place fries on a sprayed baking sheet. Place a wire rack over top and add bacon. This would allow the bacon fat to drip on the fries, creating more of a bacon flavor. This would also allow the bacon to become more crunchy not baking in its own oil. Fried and bacon cooking at the same time are a huge time savor as well.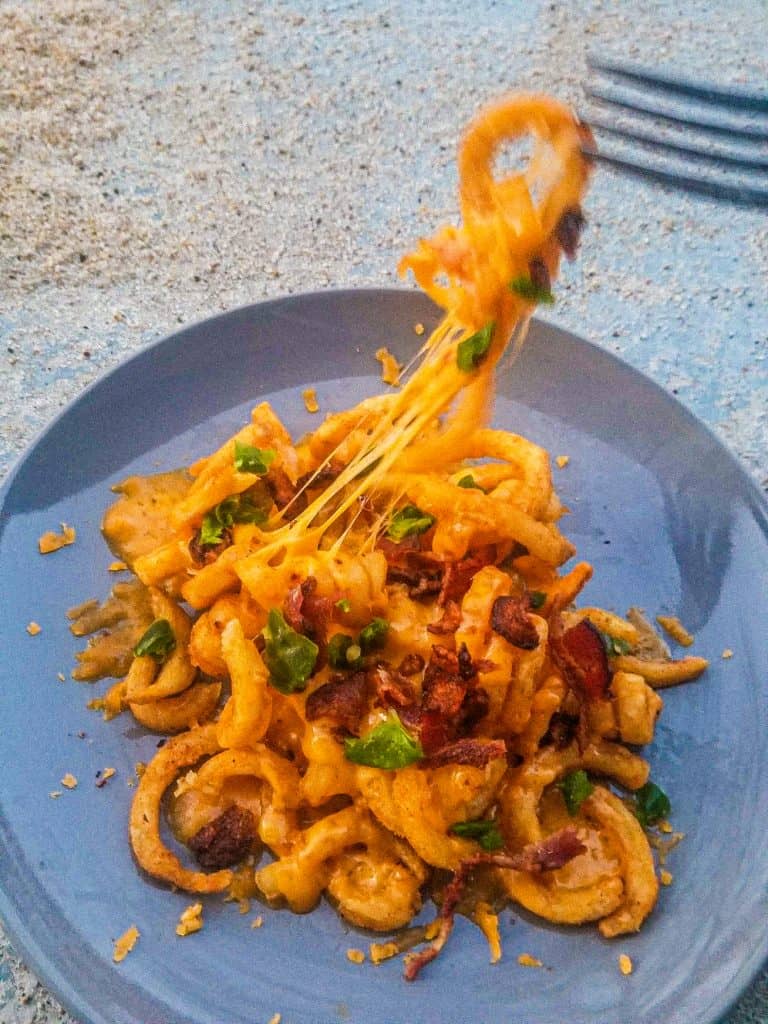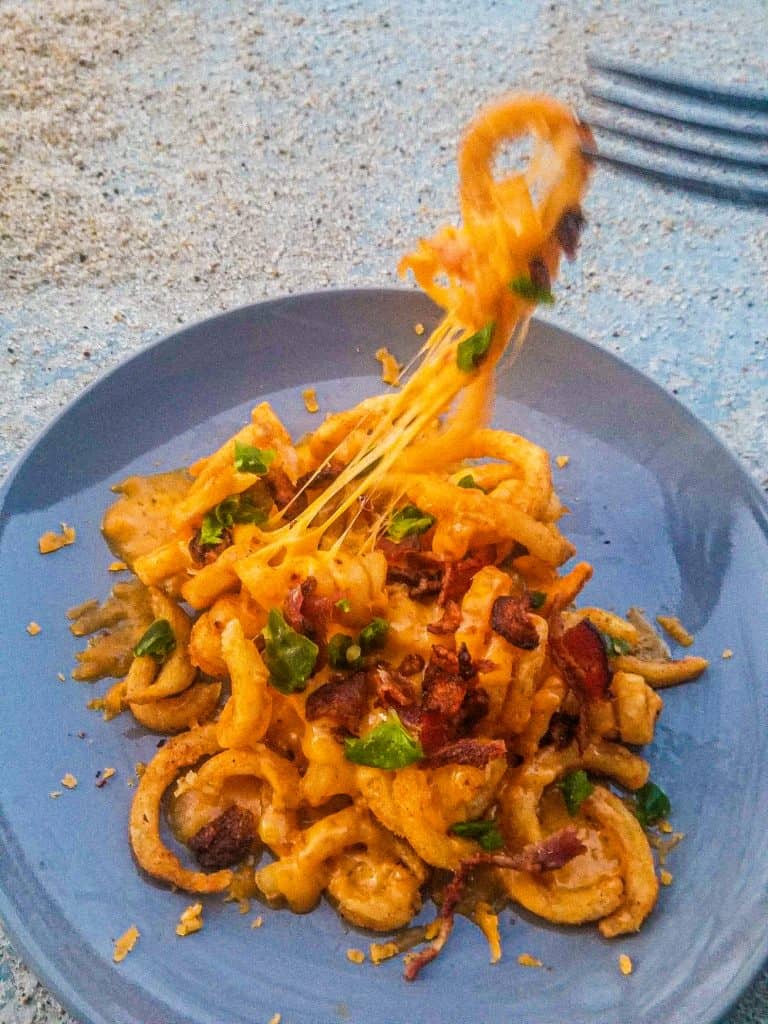 Can I homemake my french fries out of potatoes?
Yes! You can cut your own potatoes to make the fries. I would double the cook time on each side if going this route though. The fries will be done when they are soft.
How to store bacon loaded fries:
fridge-store these cheese frys in an air tight container in the refrigerator for up to one week. How to reheat cheese fries is fairly simple as well. Just pop in microwave and check every 30 seconds to ensure temp is warm throughout. You can always add additional toppings to your leftovers as well.
freezer-I have not tried freezing these loaded fries. I know for a fact that the potatoes themselves are freezable, but I am not sure how it would taste all together being frozen and thawing again. If you would like to try freezing these loaded fries, let me know how it goes!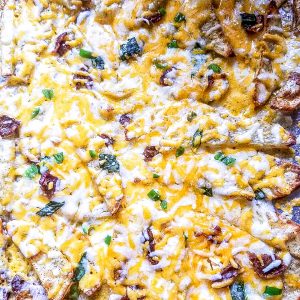 Loaded Fries
This loaded fries recipe is super easy recipe. Total time prep and cook time is less than a half hour. Bacon and cheese lovers would love this loaded fries recipe!
Ingredients
1 12

oz

package of cooked, crumbled bacon

1 32

oz

bag of fries

2

cups

of cheddar cheese

1

small diced jalapeno

sour cream for topping
Instructions
Arrange package of fries on sprayed baking sheet. Bake at 425 degrees for 10 minutes. If air frying, arrange fries in a single layer and fry at 400 degrees for about 8 minutes.

After the set time for either oven or air fryer, flip them over and add the bacon, cheese, and jalapenos. Bake for an additional 10 minutes for oven and 6 for air fryer. Top your Loaded Fries with sour cream and serve!
---
All information presented on this site is intended for informational purposes only. Nutritional facts listed are a rough estimate and should only be followed as a general idea.