Deep frying is a lot of work, so baked or air fryer mozzarella cheese sticks is the way to go! I have tried this recipe using multiple flavors of cheese, and it works great every time! This homemade cheese sticks recipe serves about 4-6 people. This recipe also includes instructions for mozzarella sticks in air fryer.
This post may contain affiliate links. This means if you click on a link and purchase something, I may earn a small commission from it.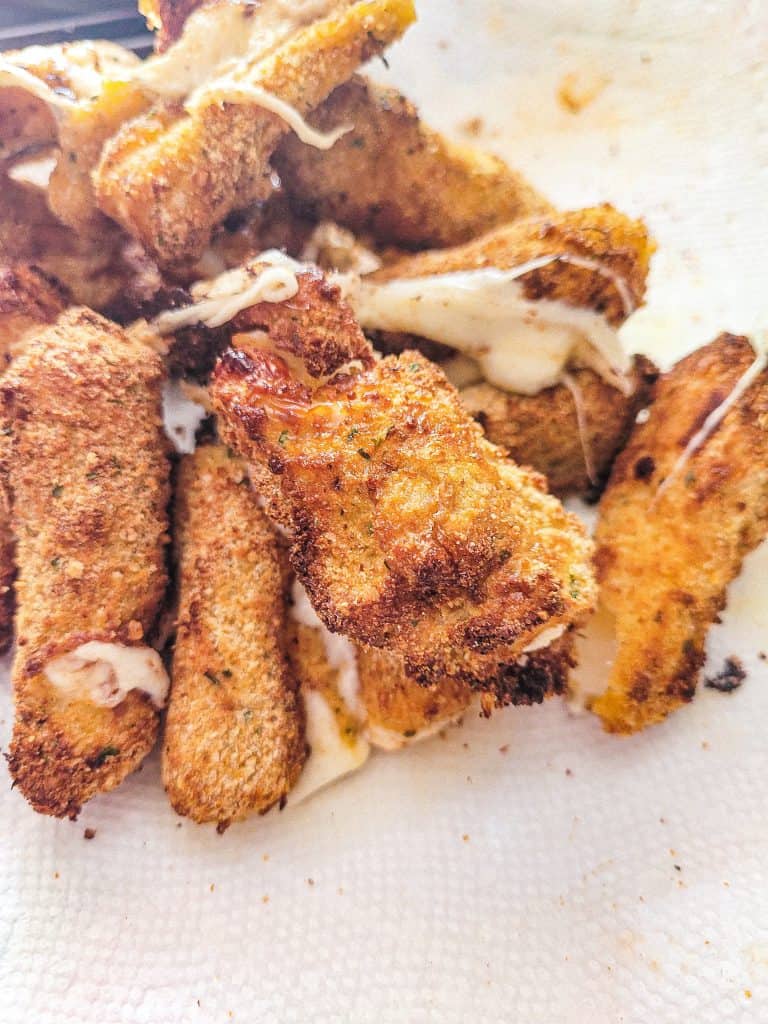 Ingredients:
Cheese sticks - in any flavor of your choosing, as long as it is stick cheese! The twisted kind seems to work as well.
Eggs - I use my own farm fresh eggs
Flour - this forms the coating
Bread crumbs - this provides crunch on the outside
How to make mozzarella sticks:
Cut cheese sticks in half, and place eggs in a bowl, and place flour and breadcrumb mixture in another small bowl
Toss a cheese stick in egg mixture, next flour/breadcrumb mixture, then back to egg mixture, and finally, flour/breadcrumb mixture again
Place cheese sticks on a baking tray and freeze for 30 minutes
Bake or air fry! Drizzle with olive oil after removing from oven. Serve with marinara sauce or ranch.
Best Tips
Serve hot!
The longer you allow these to cool, the less gooey the centers are. If people enjoy cheese pulls, the hotter they are served, the better.
Keep one hand wet and one hand dry
When breading these, your fingers can get clumpy with the mixture if you do not use one hand for coating the cheese with egg, and the other hand for coating with breadcrumbs.
FAQs
What is the best cheese for baked mozzarella sticks?
Any string cheese will work here. Twist cheese sticks with mozzarella and cheddar are a family favorite along with cheddar cheese sticks as well.
You could also use block cheese. Cut block into rectangles and prepare the recipe the same way.
Do I need to freeze the cheese?
Yes, since these are baked it is best for their shape to freeze cheese sticks first. If you do not care about the shape, you don't need to freeze them.
Can I make this ahead of time?
Yes, you can prepare the cheese and leave in the freezer for up to 3 months. First, freeze on a baking sheet. Once frozen, transfer to a freezer container. Bake or air fry according to directions.
Variations of mozzarella sticks:
Freeze time - Can you freeze string cheese? This mozzarella stick recipe does require freezing, however, one time I did not freeze them, and they turned out okay. They did not hold shape very well, but they still tasted just as great! If you want to cut down on time, you can skip the freezing part. The freezing part is just to help the cheese won't melt when baked so it doesn't loose shape.
Not cutting them in half - you can leave the cheese sticks in full length, I choose to cut mine in half when feeding more people though.
Omit olive oil - you do not have to drizzle the cheese with olive oil after removing from oven, but if you chose to skip that step, know that the bread crumb coating may be a little dry.
Utilize air fryer - making cheese sticks in air fryer is possible! Prepare the same way but just air fry for half the time periodically checking in on them. These in air fryer are easy to make, but they have to be done in batches. If you are running low on time, using the oven is the way to go.
How to store homemade cheese sticks:
Fridge - store these in an air tight container in the refrigerator for up to one week
Freezer - this recipe can be a freezer appetizer. Once they are done baking and are cooled, place in a freezer container. To serve, heat up in the microwave or oven until heated throughout.
What goes with mozzarella sticks:
Recipe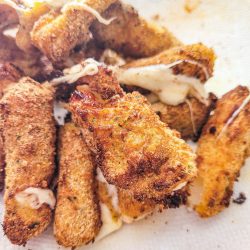 Oven or Air Fryer Mozzarella Sticks
Deep frying is a lot of work, so baked cheese sticks is the way to go! I have tried this homemade cheese stick recipe using multiple flavors of cheese, and it works great every time!
Ingredients
1

package of individually wrapped cheese sticks

of any flavor

2

eggs

¾

cup

flour

1

cup

bread crumbs
Instructions
Unwrap each cheese stick from its packaging and cut it in half.

Crack eggs in a pie tin or a small bowl. Stir together flour and bread crumbs in another pie tin or small bowl.

Toss a cheese stick in the egg mixture. Remove and transfer to the breadcrumb/flour mixture and roll in it. Dip cheese stick back in egg mixture and then roll back into the breadcrumb/flour mixture. Place on a baking sheet. Repeat with remaining cheese sticks.

Place the baking sheet of cheese sticks in a freezer for 30 minutes.
Baking
After 30 minutes, bake for 10 minutes at 375 degrees. Remove from oven and drizzle with olive oil. Serve your Baked Cheese Sticks with marinara sauce.
Air Fryer
After 30 minutes, place a batch of cheese sticks in the air fryer basket. Spray with cooking spray. Air fry your cheese sticks at 375 degrees for about 5 minutes.
Nutrition
---
All information presented on this site is intended for informational purposes only. Nutritional facts listed are a rough estimate and should only be followed as a general idea.