My mom makes this butterfinger dessert every summer when our family from Canada comes to visit. I wouldn't recommend eating this butterfinger dessert lasagna outside in the summer though as that will cause the ice cream to melt faster. We eat this inside with the AC! Usually there are no leftovers because this is a huge hit. We also tend to make this recipe for people's birthday's within the family. This butterfinger dessert with vanilla pudding recipe makes about 15 servings.
This post may contain affiliate links. This means if you click on a link and purchase something, I may earn a small commission from it.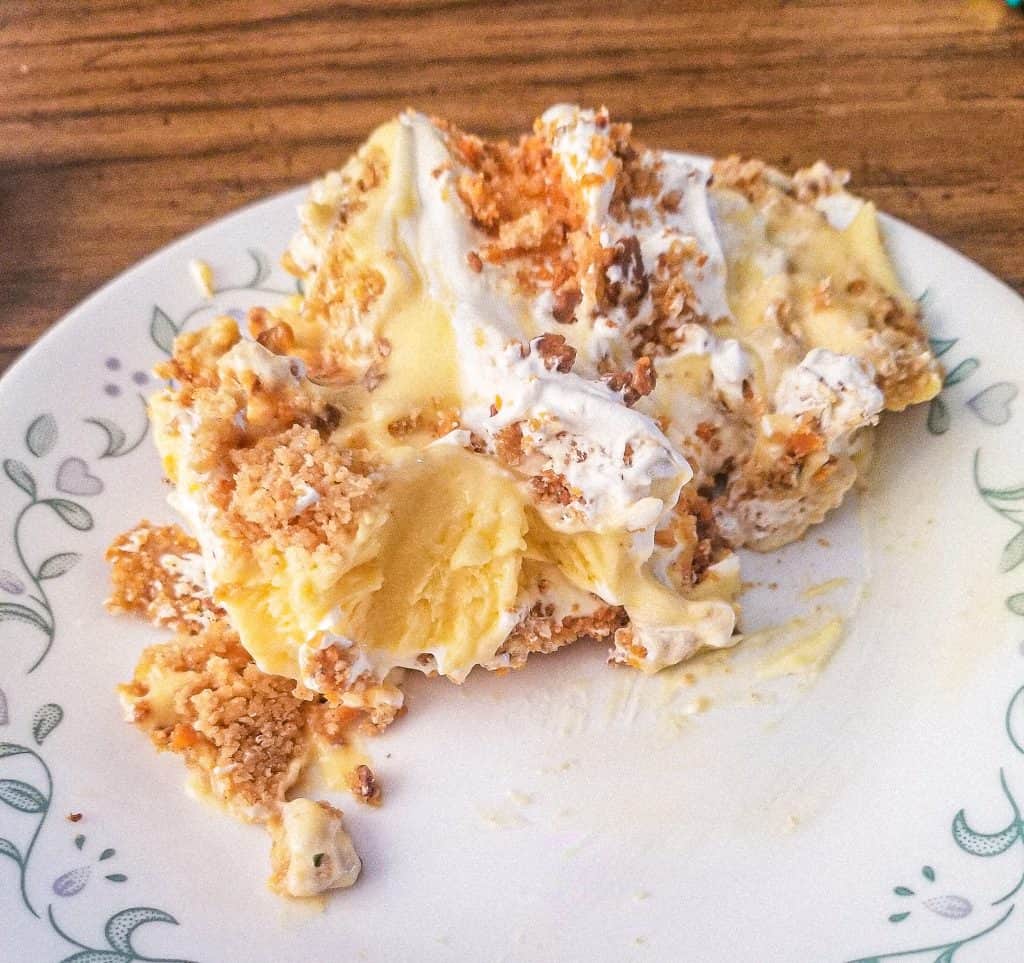 Why you should make Butterfinger cool whip dessert:
This cake recipe would suit you well if you are a whipped cream or ice cream lover. It incorporates the classic butterfinger bar into a nice candy topping. This dessert with ice cream is kind of like an ice cream cake with a graham cracker crust! If you want more ideas to bake with butterfingers, click here.
Check out my other no bake dessert recipes:
How to make butterfinger cake:
make graham cracker crust-stir together butter and 2 cups crushed graham crackers to form the crust. This is what will keep the bottom of the cake together. Pat this mixture into a 9 x 13 baking dish
sprinkle 1 layer of candy bars onto the crust-the recipe requires you to cut the crushed butterfingers into 2 parts, so only add one part here
ice cream/pudding/milk layer-this layer will go on top the crushed candy bars laying on top the crust
spread on whipped cream layer
sprinkle on graham cracker/butter/remaining butter finger layer
finally, freeze for 2 hours. Let thaw for about 10 minutes before serving.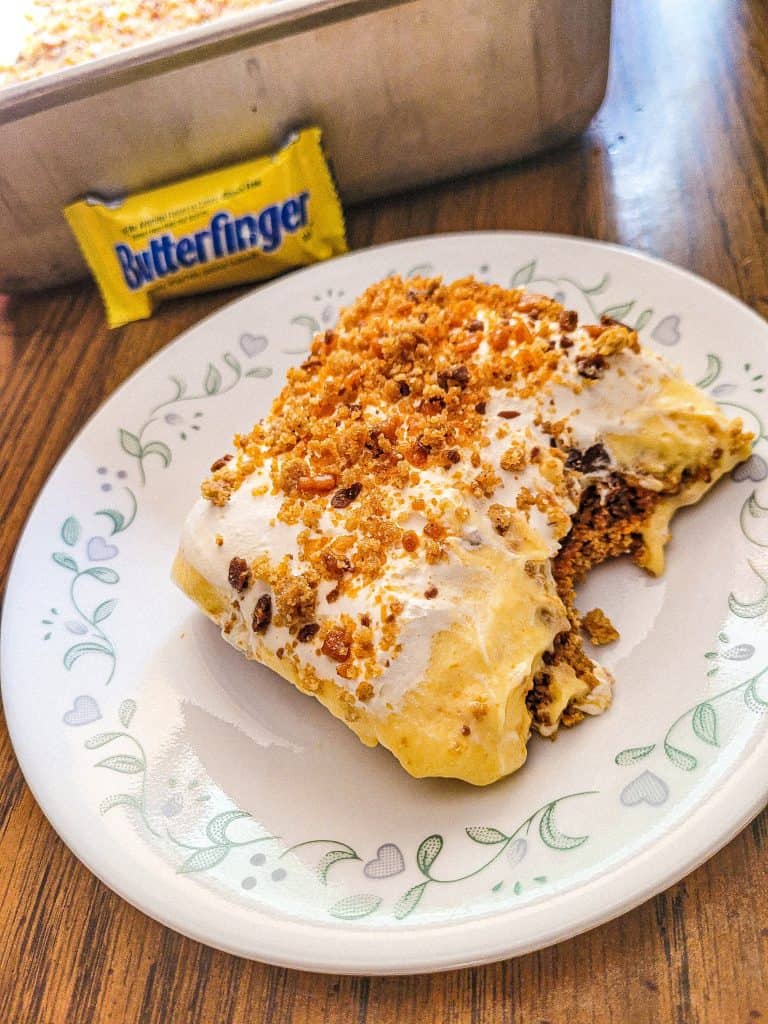 Favorite ingredients to use for this Butterfinger dessert recipe:
*graham crackers-provides a base for the butterfinger dessert
*butter-stick or tub butter works
*vanilla pudding-creamy top layer
*milk- whole milk
*ice cream-a hint of chill
Variations of Butterfinger Dessert:
change base-you can change from graham crackers to a oreo crust or even use ritz crackers instead for a more buttery feel
change pudding-instead of vanilla pudding, you can make butterfinger dessert with butterscotch pudding instead. Other flavors of pudding work as well like peanut butter, carmel, or any other one of your choosing!
How to store Butterfinger fluff dessert:
I like to store this cake in the freezer until ready for eating. Before eating, let thaw out a few minutes so that it is easier to cut and scoop out of the pan.
Recipe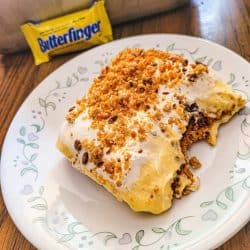 Butterfinger Dessert
Butterfinger dessert with vanilla pudding is sure to be a crowd favorite. This butterfinger fluff dessert also has ice cream and whipped cream in it.
Ingredients
2

cups

+ ⅓ cup of crushed Graham crackers

½

cup

melted stick butter + 2 tbsp

2

packages of instant vanilla pudding

2

cups

cold milk

4

cups

of soft

not quite melting vanilla ice cream

4

crushed king size butterfingers in 2 bowls

2 candy bars per bowl

8

oz

whipped cream
Instructions
Melt 1 stick of butter the microwave in a large bowl. Once melted, add 2 cups of the crushed Graham crackers. Stir. Pat into the bottom of a 9x13 baking dish to form a crust. Sprinkle 1 bowl of butterfinger candy bar onto graham crackers.

In a small bowl, melt the 2 tablespoon of butter and the ⅓ cup of crushed Graham crackers. Add in second bowl of butterfingers. Set aside.

In a large bowl, stir together vanilla pudding and cold milk. Add in ice cream. Pour over top crushed butterfingers in pan. Spread whipped cream on top of pudding mixture. Sprinkle small bowl of graham crackers/butterfingers on top. Freeze for at least 2 hours. Serve your Butterfinger Dessert chilled!
Nutrition
---
All information presented on this site is intended for informational purposes only. Nutritional facts listed are a rough estimate and should only be followed as a general idea.