Old fastioned peanut butter balls without graham crackers are a chocolate and peanut butter in a dessert is the best combination. This requires little time and only 4 ingredients. It is also a no bake recipe, so no need to turn on the oven. These peanut butter balls with powdered sugar would make a great holiday treat! It makes about 24 balls.
This post may contain affiliate links. This means if you click on a link and purchase something, I may earn a small commission from it.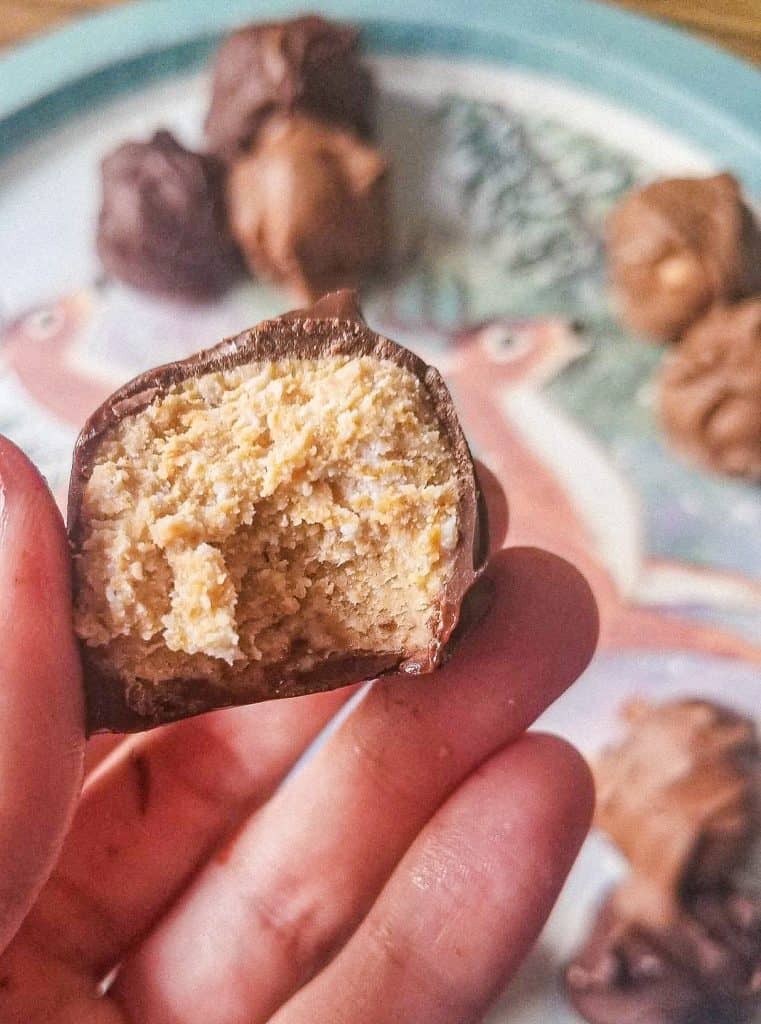 If you want other recipes to make with peanut butter, click here.
Ingredients:
Peanut butter - provides the main flavor
Butter - stick butter
Powdered sugar - adds sweetness and makes the peanut butter less sticky
Chocolate chips - for the chocolate part
How to make peanut butter balls:
Peanut butter part - mix together all ingredients except chocolate. Form into balls. Freeze until they are hard.
Roll in chocolate
Freeze again!
Variations of peanut butter truffles:
Decorate - obviously as seen in the pictures, my candy is simply rolled in chocolate, and that is all. You can add sprinkles, chopped nuts, m&ms, melted white chocolate chips, etc to the top of them.
Other nut butters - you can try this recipe using other nut butters you have on hand besides peanut butter!
Chunky peanut butter - if you prefer more of a crunch in your candy, you can use chunky peanut butter to get that flavor.
Most people sift their powdered sugar, however, I do not. Totally up to you if you want to! I think it tastes just fine as is.
Tips for making no bake peanut butter balls with powdered sugar:
Allow balls to harden before dipping
Make sure the peanut butter balls with graham crackers are hard before rolling in chocolate. I have made this recipe a few times where I thought my peanut butter balls were frozen enough, but they were not. This resulted in it being a little harder to roll them in the chocolate. This also got my chocolate tasting a little too much like peanut butter and left chunks in it. For that reason, I would recommend the peanut butter balls being fairly hard before trying to dip them.
No peanut butter? Use almond butter!
Prepare the same way except with almond butter or cashew butter.

FAQs
Do I need waxed paper?
Ideally it is good to use wax paper because the balls peel off the paper quite nicely. If you wanted to place the dipped balls directly on a plate or baking sheet, you can, but it is going to be hard to clean the plate after.
What if my peanut butter balls stick to my fingers?
If the balls are sticking to your fingers, add more powdered sugar. They should not be sticky like pure peanut butter.
Will natural peanut butter work?
No, natural peanut butter oil separates. It is best to use a no stir peanut butter.
How to store this peanut butter balls with graham crackers recipe:
Fridge - store this chocolate candy in an air tight container or bag in the refrigerator for up to one week
Freezer - freeze the reindeer poop balls in the freezer for up to one month. Freeze in a single layer, once hard place in a bag or freezer safe container to save freezer space.
Check out my other holiday recipes:
Recipe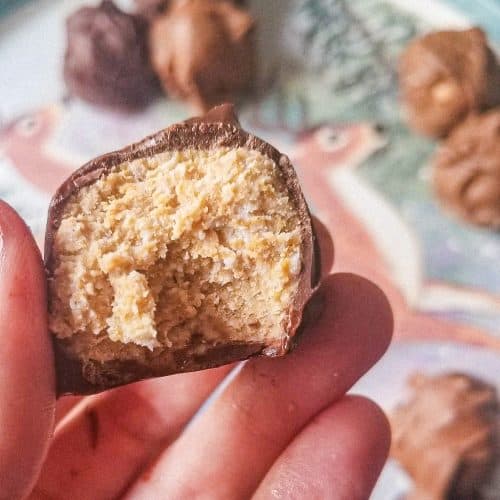 Holiday Peanut Butter Balls Recipe
Chocolate and peanut butter in a dessert is the best combination. Requires little time and only 4 ingredients.
Recommended Products
hand mixer or stand mixer
Ingredients
¾

cup

peanut butter

4

tablespoon

melted butter

1 ½

cups

powdered sugar

16

oz

chocolate chips or 8 oz chocolate chips and 8 oz peanut butter chips
Instructions
Beat together peanut butter and melted butter in a large bowl. Slowly pour in powdered sugar until mixture forms a ball. Refrigerate for about 10-15 minutes to allow dough ball to harden.

After 10-15 minutes is up, shape the dough into 1 inch balls. Place in the freezer on a baking tray for 15 minutes for balls to firm up.

During that 15 minutes, melt chocolate chips or chocolate chip/peanut butter chips into a large bowl (it can be the same bowl) in the microwave for 1 minute. Stir. If not completely melted, keep melting at 10 second intervals until melted.

When freezing time is up, drop balls 1 at a time in the melted chocolate. Take out of chocolate with a spoon. Use a spatula to wipe off any excess chocolate. Place chocolate covered ball onto a baking pan lined with waxed paper. Repeat with remaining balls. Freeze for at least an hour before serving.
Nutrition
---
All information presented on this site is intended for informational purposes only. Nutritional facts listed are a rough estimate and should only be followed as a general idea.