Polenta fries are much simpler to make than french fries as you don't need to peel a potato! 3 ingredient recipe that anyone can make no matter their skill level. Serve with marinara sauce or ketchup.
This post may contain affiliate links. This means if you click on a link and purchase something, I may earn a small commission from it. In the footer of this page is my full disclosure policy.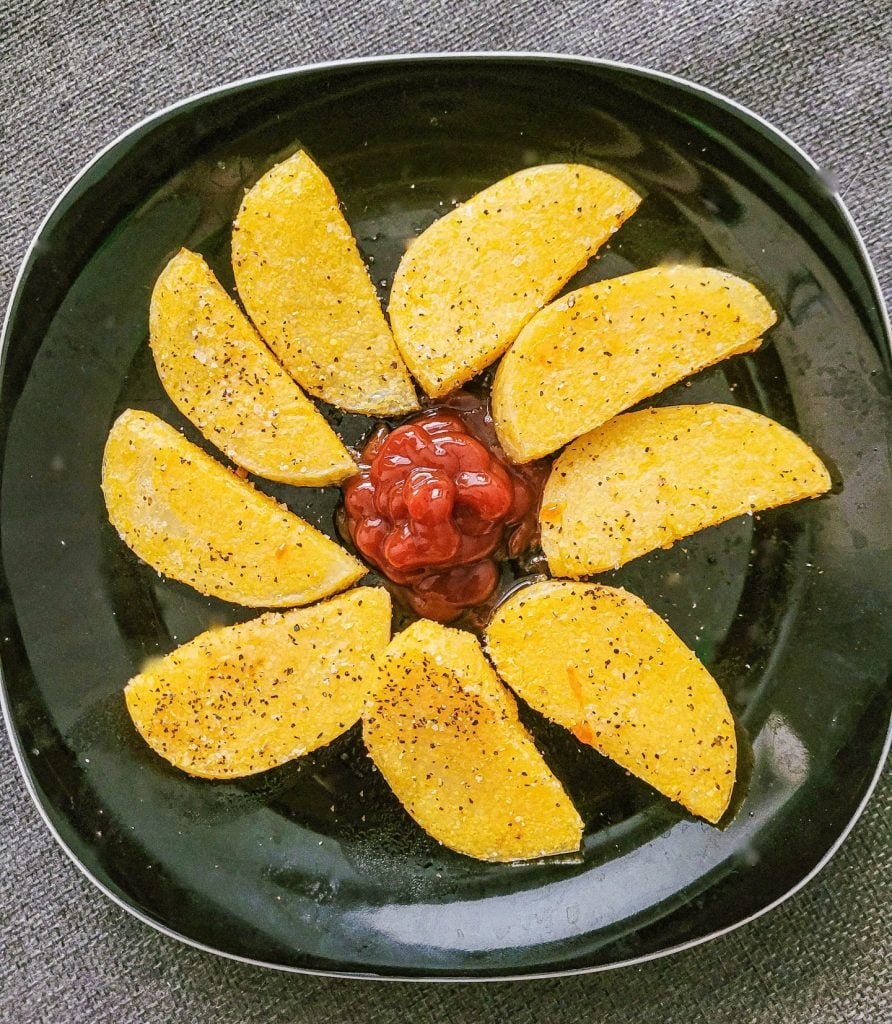 This post may contain affiliate links. This means if you click on a link and purchase something, I may earn a small commission from it. In the footer of this page is my full disclosure policy.
What is polenta?
Precooked polenta is a corn product that comes in a tube. This means it is a lot easier to cut into fries than potatoes because there is no washing or peeling of the potatoes involved. See more below for more details on what polenta is.
What ingredients you need:
Polenta - tubed polenta that is precooked at the grocery store
Salt and pepper - simple seasonings since we want this recipe as close to french fries as possible
How to make polenta fries:
Cut fries
You can cut the polenta into any shape you want. Just make sure they are thin whether they are wedges or fries.
Air fry
Air fry the fries in batches so the basket doesn't get overcrowded. Air fry until the edges of the polenta are crispy. Remove from air fryer and season with salt and pepper.
Cook in oven
Place polenta on a baking sheet or baking dish. Cook at 400 degrees for 15 minutes. Season while hot.
Seasonings to try:
If you want to jazz things up a bit instead of using just salt and pepper, here are a few options
Italian seasoning - more of a pasta feel! Dip in marinara sauce
Parmesan - makes cheesy polenta fries! Lemon Aioli would make a great dipping sauce
Cayenne pepper - adds some pizzazz, garlic aioli would make a great sauce
Tips for the best polenta fries:
Cut polenta thinner - I like my polenta fries cut pretty thin. This helps them cook faster and allows them to get more evenly heated throughout. Make sure polenta is completely dry before frying it.
Cut same size - if all the fries are the same size, it helps with even cooking time
Make sure they are crispy - crispiness is necessary for a good polenta fry. There is no harm in letting them bake a few minutes longer if you are unsure if they are done. Try taking a fry out and letting it cool, then taste test it while the others continue baking or air frying. If it tastes to your liking, then they are done.
Season well - put as much or as little of seasonings as you want on your fries. They adapt to whatever flavor you put on them. Don't season too much salt before you taste though since precooked polenta
What to serve with polenta fries:
Meats like chicken nuggets, chicken legs, beef, or pork pair quite well!
Commonly asked questions about polenta:
Where does polenta comes from?
Polenta comes from corn. It can be used for pizza, pastas, creamed like grits, etc. The Pioneer Woman talks about polenta! You can make some yourself at home too.
Where to buy polenta?
Some small town grocery stores have polenta, but mine does not. I had to go to Walmart to get the polenta for these polenta fries. I found polenta in the grocery part of Walmart in the pasta section. Try looking there! Usually polenta is not refridgerated.
When is polenta done?
I can tell when my polenta fries are done by when they get a texture on the outside of them. When they get a hard texture on the outside, that means the inside is still soft, but they are done. Crispy polenta is the texture you are looking for. The edges will get to be rougher and more crisp. Baked polenta fries take longer than air fried polenta fries but the texture that tells you they are done is the same.
Another way to tell is the color. Uncooked polenta is a light yellow color. You will want it to be more of a golden yellow color when it is done. There is no harm in cooking it a few minutes longer to make sure the polenta fries are done.
Is polenta gluten free?
Polenta is gluten free. This is why it is found in the pasta section at the grocery store because it is a common substitute for pasta because it is gluten free. You can bake polenta and put sauce on it to act like pasta. This polenta is without cheese and milk, so it is dairy free as well.
How to store polenta fries:
Fridge - store this side dish recipe in an air tight container in the refrigerator for up to one week. Polenta can be reheated, so just microwave or use an air fryer to reheat them.
Freezer - I have not tried freezing this polenta without parmesan recipe. If you would like to try it, go for it! Let me know how it goes. 
Recipe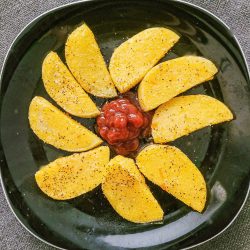 Easy Polenta Fries Recipe
Polenta fries are easier to prepare and faster to make than normal potato fries!
Ingredients
1

tube

polenta

salt and pepper
Instructions
Unwrap the polenta, and cut the polenta in half length wise so that the tube is in 2 pieces. Lay the flat side on the bottom. Cut in ¼ inch slices width wise. The polenta should be in wedges/petals like the picture shows.

Air fry the polenta for about 7 minutes each side in sprayed air fryer basker at 400 degrees or bake polenta on a 9 x 13 baking sheet in a single layer for about 15 minutes at 400 degrees. Polenta will be done when golden brown and crispy. Sprinkle with salt and pepper right away! Serve hot.
---
All information presented on this site is intended for informational purposes only. Nutritional facts listed are a rough estimate and should only be followed as a general idea.