Fail-Proof Fried Ramen Noodles
What's better than packaged ramen noodles? Fried ramen noodles! What is fried ramen? This dish is made by making ramen the traditional way, but then draining most of the broth out of it before frying the ramen in precooked vegetables and meat. This recipe covers how to make pan fried ramen noodles.
This post may contain affiliate links. This means if you click on a link and purchase something, I may earn a small commission from it. In the footer of this page is my full disclosure policy.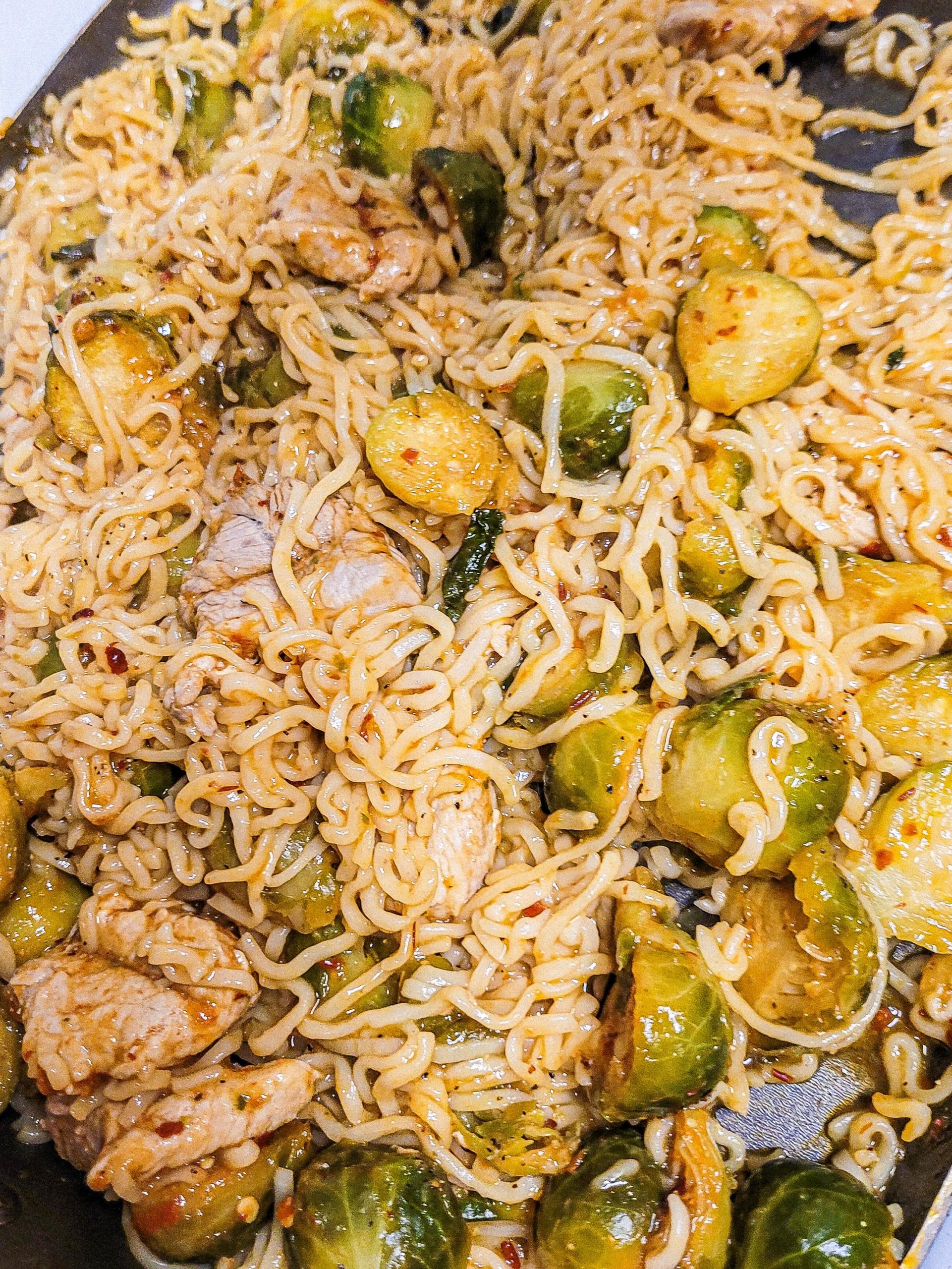 Check out my other Asian style recipes:
What recipes goes good with fried spicy ramen:
Baked crab rangoons can be a great appetizer for this fried ramen noodles with vegetables recipe. Since this is more of a stir fry, any meat you want to add to make fried ramen noodles with can just be added to the stir fry. Always fully cook the meat before adding the noodles though. If you added them at the same time, the meat may have a harder time getting done.
Variations of fried Marcuhan ramen recipe:
omit beef-you can make this fried ramen recipe vegetarian very easily by taking out the beef. Depending on how strict on being a vegetarian you are, if the chicken broth bothers you, then use vegetable broth instead.
microwave noodles-Marchuan ramen comes in a variety of cooking methods. You can make fried noodles in microwave instead of boiling on stove, then pan fry the noodles with the meat and vegetables if you want. This would save dishes by using the styrofoam microwavable container.
more soy sauce-fried ramen noodles with soy sauce tastes amazing, but adding even more soy sauce can be even better! You can even make your own soy sauce to use if you really wanted to.
add shrimp-fried shrimp ramen can be an option as well if you would prefer shrimp instead of or in addition to beef.
add chicken-chicken breast meat can also taste quite delicious instead of or in addition to the beef originally in this recipe.
different vegetables-to me, noodles is a perfect way to hide the brussel sprouts in your food. If you do not prefer brussel sprouts, you can add different vegetables instead like tomatoes, eggplant, cucumbers, squash, etc.
use different noodles-the recipe says ramen noodles, but if you want to use leftover spaghetti noodles or angel hair noodles, you can skip the boiling part and just go straight to the frying part. This may taste slightly different without the broth part. If you want to soak them in a little chicken broth before frying to get the flavor back, you can do that as well.
make less spicy-if you wanted to make your fried ramen with less spice, use olive oil instead of chili oil. Or if you wanted to deliute the chili oil down a bit, you can do so by making your own chili oil!
How to store fried ramen:
fridge-store this ramen recipe in an air tight container in the refrigerator for up to one week
freezer-I have not tried freezing this fried ramen recipe. If you would like to try it, go for it! Let me know how it goes.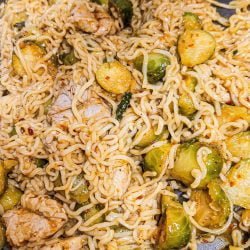 Fried Ramen Noodles with Beef
Fried ramen noodles kicks regular ramen up a notch by adding vegetables and beef for flavor. This also makes it more of a dish than a soup.
Ingredients
1

cup

chopped flank steak

1

bag

steamed brussel sprouts

1

package

chicken flavor ramen noodles

2

cups

water

4

tbsp

chili oil

3

tbsp

soy sauce

salt and pepper
Instructions
Fry steak in large pan with 2 tbsp chili oil until fully cooked on both sides. Then, steam brussel sprouts and add them to the pan. Add remaining chili oil.

Make ramen noodles with water in small sauce pan according to package directions. When noodles are fully cooked, pour out half the water. Add broth seasoning and let stand for 5 minutes while continuing to saute the steak and brussel sprouts.

When 5 minutes is up, dump most of the water out of sauce pan. Add noodles to the steak and brussel sprouts. Stir until well combined. Add soy sauce and seasonings. Serve fried ramen noodles hot.
---
All information presented on this site is intended for informational purposes only. Nutritional facts listed are a rough estimate and should only be followed as a general idea.