Easy Southern baked spaghetti is a family favorite and makes the perfect weeknight dinner. This is a cajun baked spaghetti using uncooked noodles, so there's no need to waste dishes on boiling the noodles just to bake later. Just throw all the ingredients into a sprayed 9 x 13 baking sheet and bake! It is really that easy.
This post may contain affiliate links. This means if you click on a link and purchase something, I may earn a small commission from it. In the footer of this page is my full disclosure policy.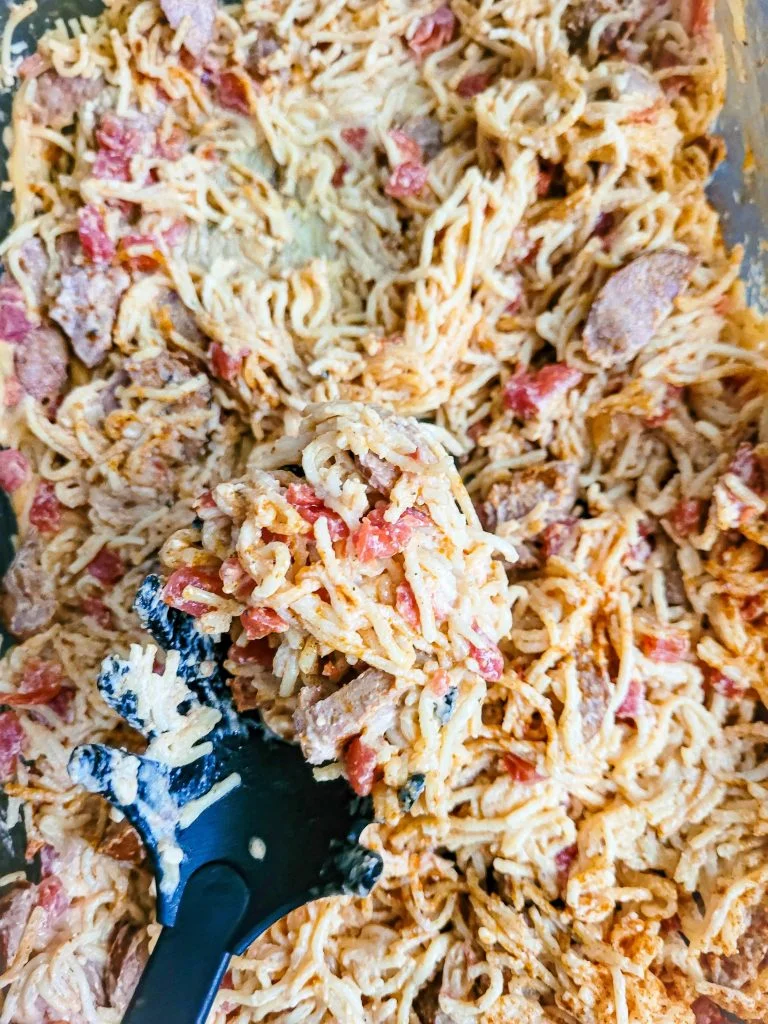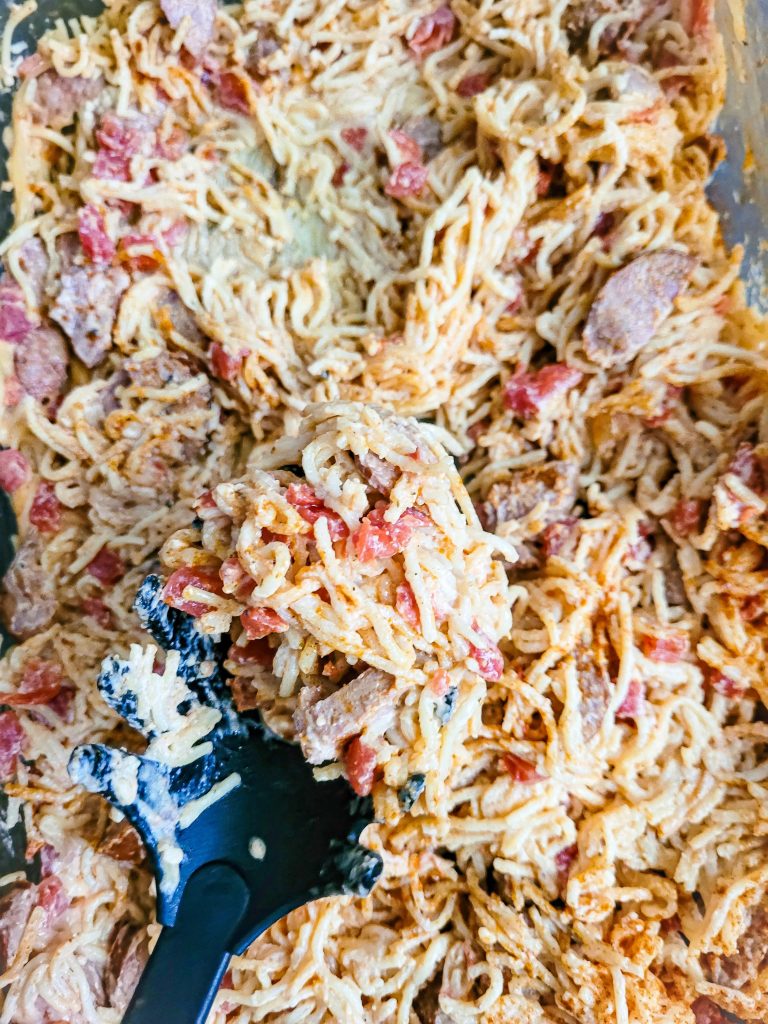 What You Need:
Uncooked spaghetti noodles - they will cook in the liquid in the pan. This is a no boil recipe!
Chicken broth - liquid that allows the noodles to cook
Rotel tomatoes - don't drain them as we need the moisture in this recipe
Cream cheese - the cheese part of the recipe
Garlic - adds flavor
Fully cooked andouille sausage - preferably Cajun flavored
Cajun seasoning - providing that southern flavor
How to Make Baked Spaghetti:
Spray pan - the most important part so the noodles do not stick
Add noodles and broth - make sure noodles are fully submerged or else they will cook unevenly
Add remaining ingredients - all ingredients must be baked together for flavor
Cover and bake!
Common asked questions about baked spaghetti:
What is Southern Baked Spaghetti?
Southern baked spaghetti is a spaghetti bake that uses uncooked noodles and southern flavored ingredients to blend together the best flavor of the south: Cajun. Baked spaghetti with cream cheese allows a creamy Cajun sauce flavor to become the tomato sauce.
Can You Bake Dry Pasta?
Yes, this is a dump and go recipe being baked, so it is much easier for clean up and requires no stovetop boiling! It does take a bit of time to cook these noodles compared to boiling the noodles, but it is well worth it being a dump and go recipe. No boil southern spaghetti recipe that is a crowd favorite that will work its way into your weeknight meal rotation!
Do I Need to Cover the Dish?
Yes, this dish is using uncooked noodles, which needs all the moisture possible to cook. Cover with tinfoil or an oven safe lid. Only bake uncovered if using cooked noodles.
How to Serve?
Garlic bread or garlic knots taste amazing with any pasta dish!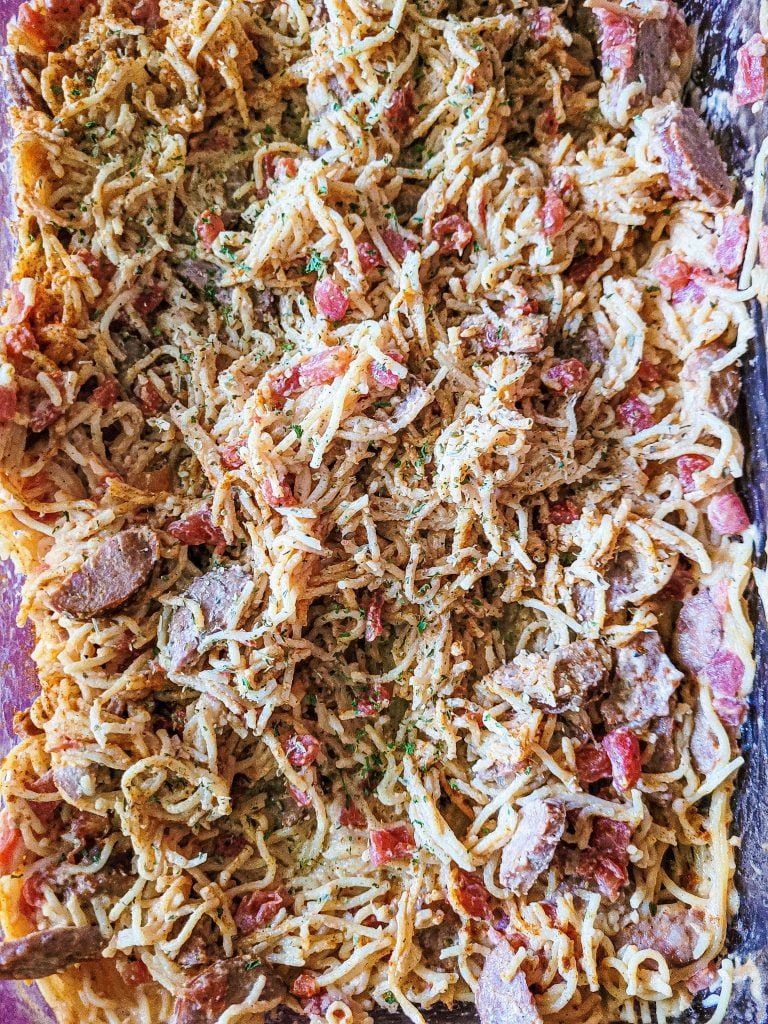 Variations of Cajun Spaghetti:
Different noodles - you can make this with egg noodles, angel hair or with any other noodles you see fit. You might have to adjust to cook time though.
Vegetarian - baked spaghetti without meat is also an option. Just omit the meat parts and add other types of proteins you see fit. You can put vegetables in place of meat if you would like.
Vegan - making baked spaghetti without cheese and meat is more difficult, but if you have the meat and cheese substitutes on hand, go for it! You can even make your own vegan parmesan at home.
Add meatballs - if you want extra meat in your diet, Cajun meatballs taste delicious in this!
Different cheeses - you can make this with feta cheese on top if you want more of a zesty flavor. Making this spaghetti dish dairy free is also an option if using dairy free cheeses that actually do melt.
Other meat - you can use chicken or turkey as a meat option if you are looking to add more meat to your diet. You do not have to cook the chicken first.
Can This Be Made Ahead of Time?
Yes, you can make Cajun spaghetti and let it cool. Then, store in the fridge until you are ready to reheat and eat it. You can do the same with leftovers.
Can You Freeze Spaghetti?
Yes, you can! Just let it cool after cooking, and wrap in saran wrap, and then tin foil. The saran wrap will help conceal the flavors so it does not start tasting like the freezer, just make sure to remove it before baking. To reheat, let thaw in the fridge for about 24 hours. Then, bake at 400 degrees until heated throughout.
Recipe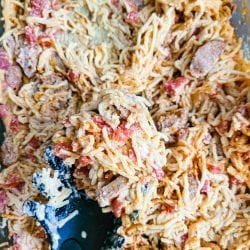 Southern Baked Spaghetti Recipe with Cream Cheese
Discover the magic of Cajun cooking in a plate of perfectly cooked pasta using the oven! Spice up your mealtime routine with our unforgettable Cajun Spaghetti recipe.
Ingredients
8

oz

uncooked spaghetti noodles

2 ½

cups

chicken broth

7.5

oz

rotel tomatoes

don't drain

8

oz

cream cheese

3

tablespoon

garlic

1

cup

fully cooked andouille sausage

cajun flavor preferred

3

tablespoon

cajun seasoning
Instructions
Preheat oven for 425 degrees. Spray 9 x 13 baking dish and place noodles in the bottom in a single layer. They can over lap just try to get them to be not super layered.

Pour chicken broth over noodles. Make sure each noodle is submerged in chicken broth. Place cream cheese block in the center. Add remaining ingredients. Bake for 40 minutes covered. Remove tin foil and serve!
---
All information presented on this site is intended for informational purposes only. Nutritional facts listed are a rough estimate and should only be followed as a general idea.