Stuffed rigatoni is pure comfort food that makes the perfect weeknight dinner! How to make honeycomb pasta is so easy as well and does not take a long time to prepare. This Italian classic rigatoni pie is a vertical pattern pasta with sauce on top and bottom, and filled with a spinach artichoke dip, sprinkled with ground sausage and mozzarella cheese. It is similar to baked ziti or rigatoni with spinach alfredo sauce.
This post may contain affiliate links. This means if you click on a link and purchase something, I may earn a small commission from it. In the footer of this page is my full disclosure policy.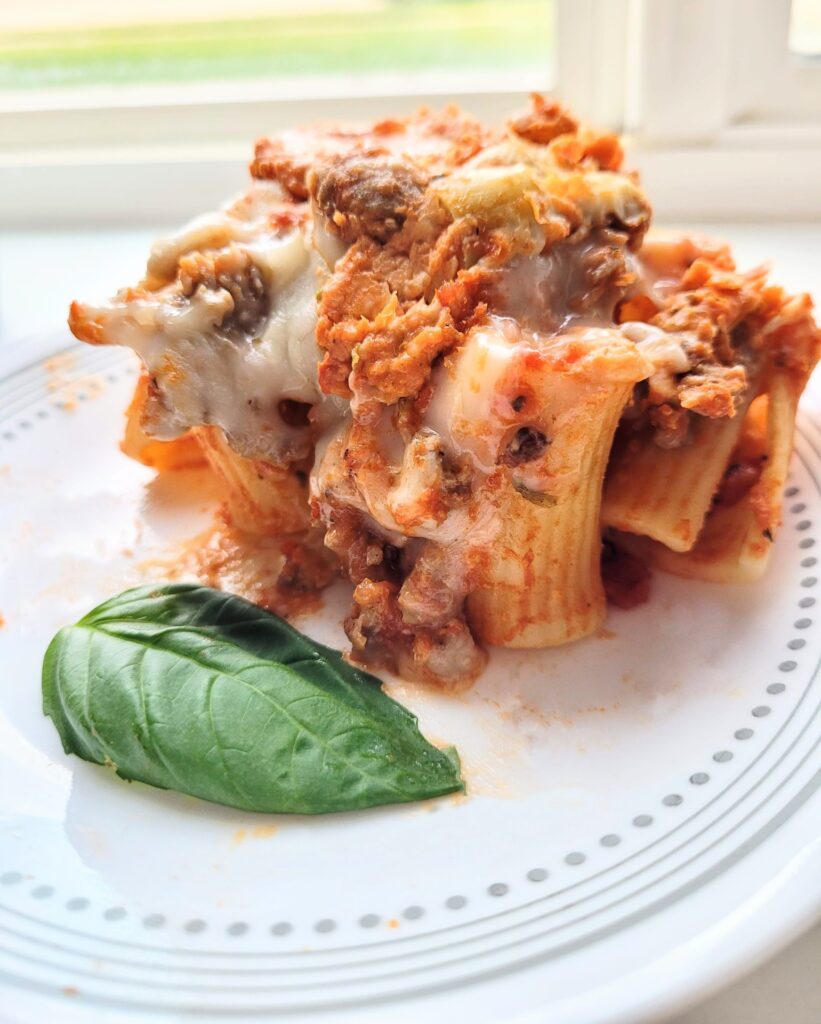 Key ingredients:
Rigatoni - pasta tubes that can be stuffed! Be sure to find the largest rigatoni shaped pasta you can find.
Cream cheese - for the filling
Spinach - get your vegetables in!
Artichokes - who doesn't love artichokes?
Sausage - you can use ground beef instead too.
Mozzarella cheese - cheese for the top
Parmesan cheese - adds additional cheesy flavor
Italian seasoning - herbs for more flavor
Celery salt - celery salt pairs well with the cream cheese
Tomato sauce - marinara sauce works too, the Italian sauce add.
How to make honeycomb pasta:
Boil the noodles - I tried to find a way around boiling the noodles, and I couldn't. You can cook them a few minutes shy of al dente. The noodles will cook again in the oven.
Cook the sausage - fry sausage over medium heat until browned.
Make spinach dip - this is the cheese mixture that goes in the honeycomb pasta.
Prepare pan - pour some marinara sauce to coat the bottom of sprayed pan. Then arrange noodles in a honeycomb shape.
Stuffed noodles - you can use a piping bag to stuff the noodles. I find this to be the easiest way.
Crumble sausage - spread sausage over noodles
Sprinkle mozzarella - sprinkle mozzarella cheese over top rigatoni pasta dinner.
Bake!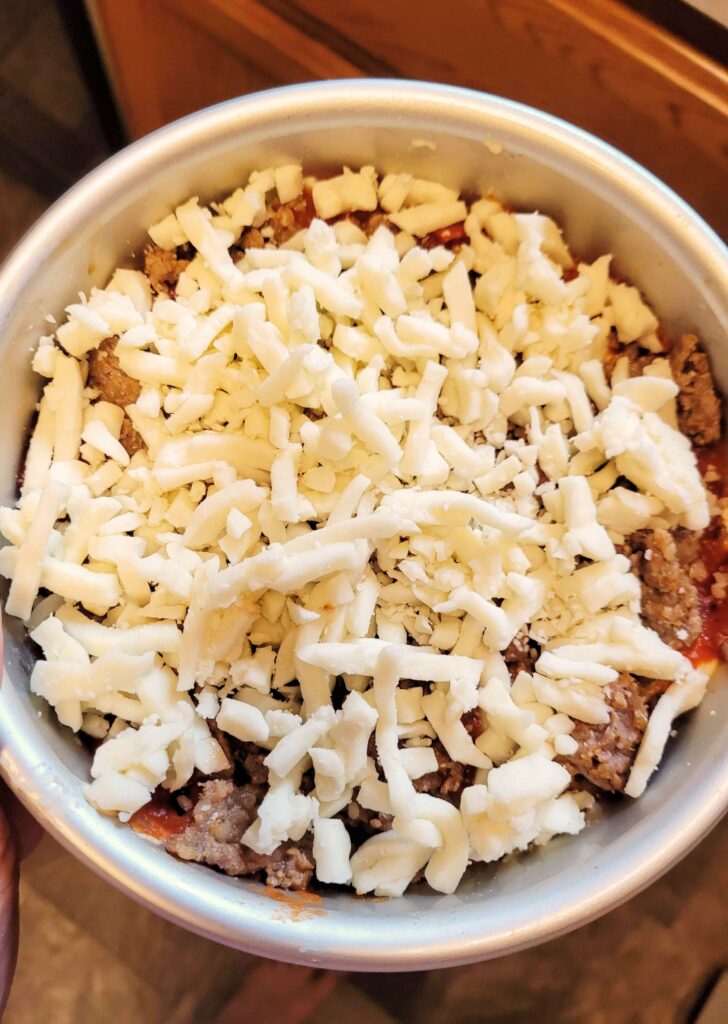 Tips for making easy stuffed rigatoni bake:
al dente - boil noodles for 2 minutes less than normal since the noodle will continue cooking in the oven
Fully stuff the noodle - the key to getting the rigatoni to stand up is to fully stuff the noodle. Don't just squirt the mixture in the top part of the noodle, really make sure it is from bottom to top or else it will fall over when you take it out of the pan.
Packing - don't pack the rigatoni too close together in the pan because it needs space for the sauce to drip between
Done - to tell if this pasta bake is done, you can do this one of two ways. 1. If you have a meat thermometer, it is done when it temps at 165 degrees. Make sure to temp at the center of the pie. 2. If it is bubbly and browning, then it is also done.
Cool before removing - do not take out of the pan right away or the honeycomb pasta look will fall. Let cool for at least 20 minutes in the pan.
Recipe variations:
Meat - stuffed rigatoni with meat provides extra protein! Instead of sausage, you can make this sausage stuffed rigatoni recipe with ground beef and have it taste fairly similar.
No meat - you can add a vegan meat if you would like or you can take out the meat out of this cheese stuffed rigatoni pasta bake.
Substitute cream cheese - you can also use ricotta for stuffing the rigatoni tubes.
Seasonings - instead of Italian seasoning, you can add any seasonings you desire.
Horizontally - instead of stuffing the noodles vertically, you can stuff them and lay them horizontally.
String cheese - string cheese is the easiest to put in the mozzarella baked rigatoni. I wanted mine with spinach and artichokes so I chose to do a piped filling. You can definitely make stuffed rigatoni with string cheese though if you do not want to pipe filling.
What to serve with honeycomb pasta:
If you want more cheese, you can serve this with mozzarella sticks and garlic bread! If wanting to go lighter on the cheese, you can make garlic knots.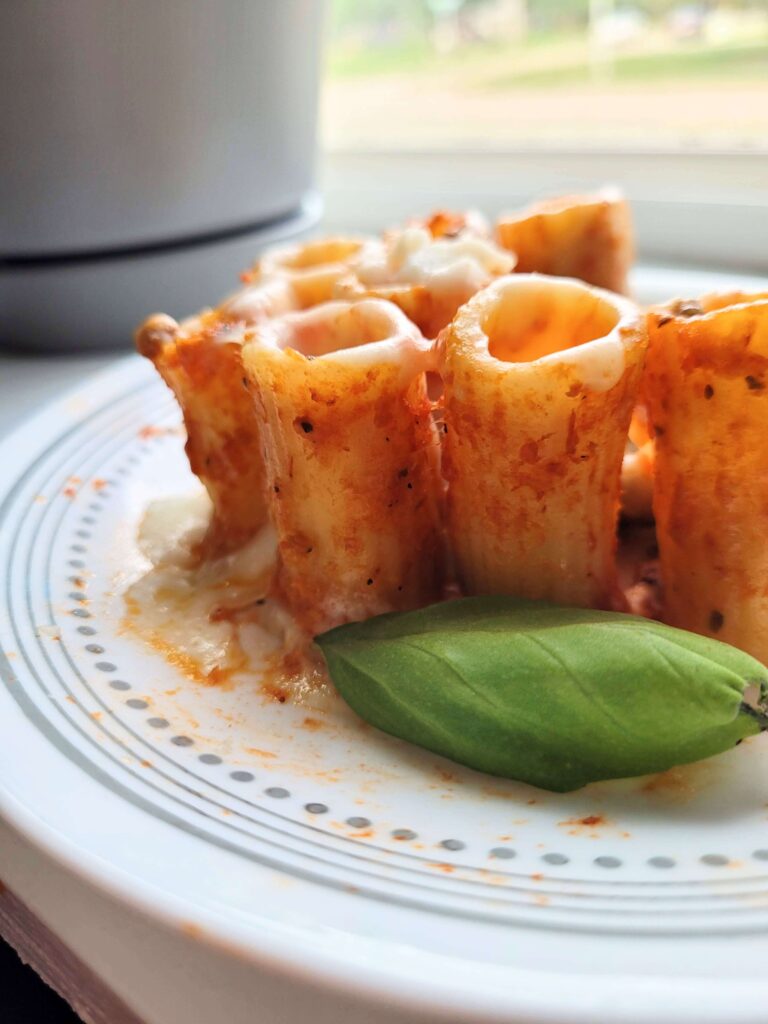 FAQs:
What is rigatoni?
Rigatoni vs penne is quite interesting. Similar to penne, but there are differences between penne and rigatoni. Penne is more of a small trapezoid shape that has a small opening that is not stuff-able. Rigatoni is large noodles that are a circular tube shaped. They have a big enough opening to be stuffed.
How to pipe filling:
Piping does require extra effort, but blending every ingredient together in the pot without stuffing the noodles, does not taste the same as stuffed rigatoni.
Fill a ziplock bag with the cheese mixture. Make sure it is on the cool side since you are putting it in plastic. Cut the tip of the ziplock bag off, and squeeze the filling into each individual noodle standing up in the pan.
Prevent rigatoni noodles from sticking:
I hate when my pasta bakes get the pasta baked to the edges of the pan. Those pieces just don't taste quite as nice as the rest of the pasta bake! Make sure to spray not only the bottom, but the sides of the pan as well. You can also put parchment paper around the sides of the pan and bottom if you prefer.
Is a spring form pan necessary?
No, I do not own a spring form pan and I still made this honeycomb pasta recipe! I used a regular circular pan. You can cut it out like a normal pie. The 20 minute rest period after baking really helps hold the shape!
Storing and reheating stuffed rigatoni:
Fridge - place rigatoni pie in an airtight container in the fridge for up to one week.
Freezer - you can saran wrap your freezer tray to seal out moisture. Then put the lid or tinfoil on top and freeze. Be sure to remove the saran wrap before reheating! To reheat, let thaw for 24 hours in the fridge. Then, unwrap saran warp and place a piece of aluminum foil on top. Reheat in the oven at 400 degrees for about 40 minutes. You can put a little chicken brown in the pan if you want it to be more moist with the reheat.
Make ahead - waiting for pasta to boil might take a bit longer than you have the time for. You can split making this recipe into 2 sections. The first section is to boil the pasta, stuff it, and put it in the prepared pan. Cover and place in the fridge for up to 3 days. Then, take out of the fridge, pour the sauce and extra cheese on top, and bake!
Check out my other layered pasta recipes:
Recipe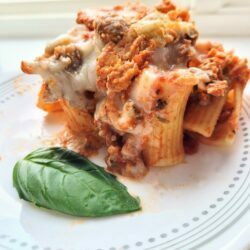 Recipe for Rigatoni with Sausage
Stuffed rigatoni is pure comfort food that makes the perfect weeknight dinner! How to make stuffed rigatoni is so easy as well and does not take a long time to prepare.
Ingredients
1

box

large rigatoni noodles

8

oz

cream cheese

1

cup

fresh spinach

⅓

cup

chopped artichokes

⅓

cup

ground sausage

¾

cup

mozzarella cheese

½

cup

parmesan cheese

2

tablespoon

Italian seasoning

1

teaspoon

celery salt

2

cups

marinara sauce
Instructions
Boil and drain the noodles according to box directions. You can cook them a few minutes shy of al dente. The noodles will cook again in the oven.

Fry sausage over medium heat until browned. Remove from skillet and place on a plate with a paper towel to absorb the grease. In the same skillet, melt together, cream cheese, spinach, artichokes, parmesan cheese, celery salt and italian seasoning. Once combined, remove from heat and let cool to touch.

Pour some marinara sauce to coat bottom of sprayed pan. Then arrange noodles in a honeycomb shape

In a ziplock bag, scoop cheese mixture, cut tip off the edge of the bag and begin to pipe the noodles with the mixture. Be sure to go all the way to the bottom of the noodle to ensure the entire noodle is filled. You can attatch a tip to the bag to help you pipe.

Spread sausage over noodles and sprinkle mozzarella on top.

Put tinfoil on top of pan and bake for 20 minutes at 375 degrees. Then take foil off and bake for an additional 10. It will be done when cheese is melted or when middle temps at 165 degrees. Let cool for 20 minutes to prevent the noodles from falling.
Nutrition
Sodium:
1009.06
mg
Sugar:
8.23
g
Calories:
590.75
kcal
Fat:
22.91
g
Protein:
18.73
g
Carbohydrates:
73.58
g
---
All information presented on this site is intended for informational purposes only. Nutritional facts listed are a rough estimate and should only be followed as a general idea.