Rhubarb crisp is a classic dessert that is easy to make and always a hit with family and friends. It's made with fresh rhubarb, sugar, butter, oats, and spices. The tartness of the rhubarb combined with the sweetness of the sugar creates a delicious balance that can't be beat.
This post may contain affiliate links. This means if you click on a link and purchase something, I may earn a small commission from it. In the footer of this page is my full disclosure policy.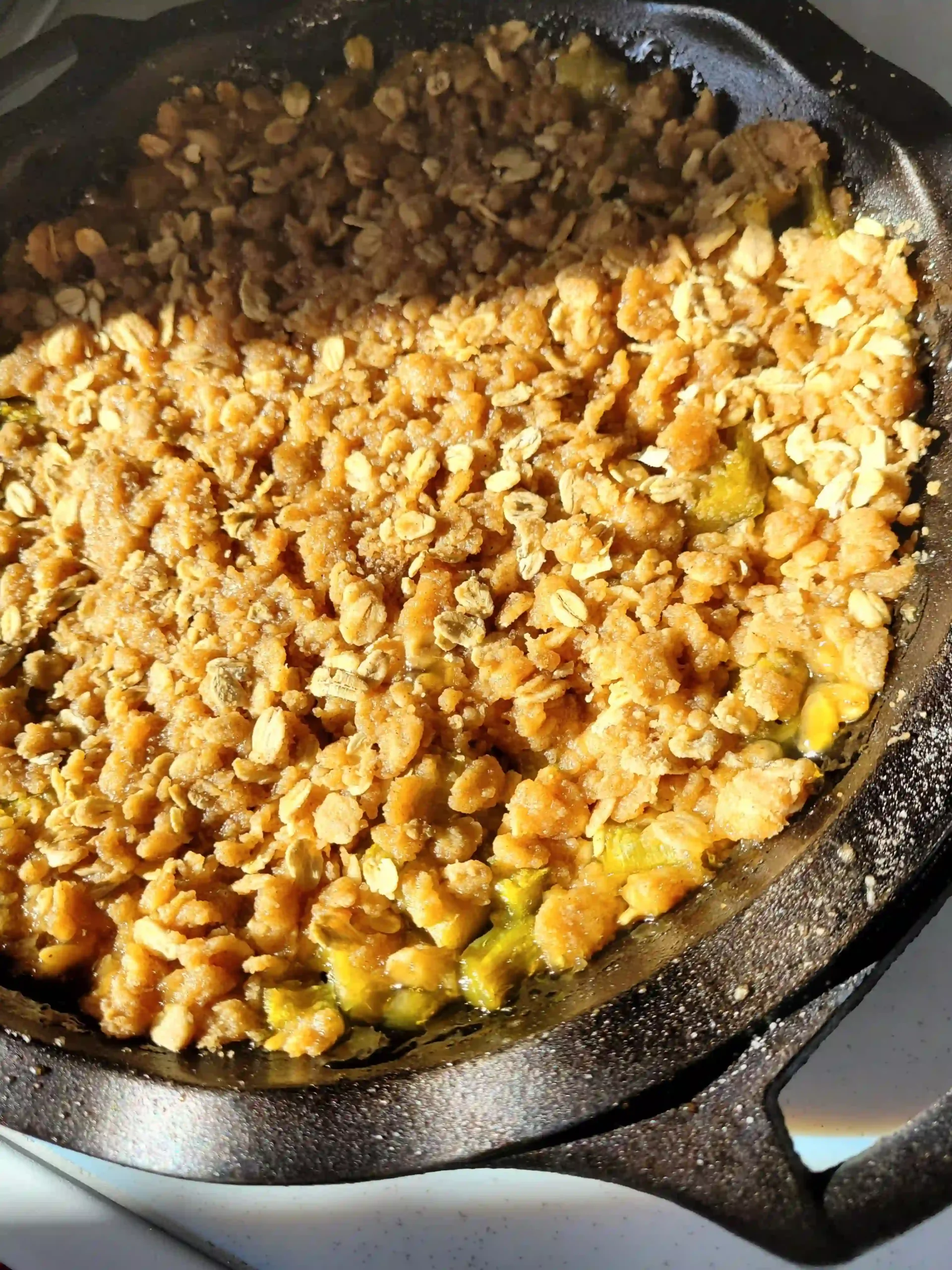 Why You Should Make Rhubarb Crisp
Great way to use up rhubarb - rhubarb is often paired with strawberries, however, it can be hard to have both on hand at once. By making this a rhubarb cobbler, you can use up more rhubarb than you would adding additional berries.
Tastes great no matter the season - we freeze rhubarb during the summer so we can eat rhubarb cobbler year round!
No pie dough - by making rhubarb cobbler, you do not have to make and roll out a pie crust.
Rhubarb Cobbler Ingredients
Filling
Rhubarb - the fruit of the pie. Make sure it is washed and dried.
Lemon juice - preserves rhubarb
White sugar - provides sweetness for pie
Cornstarch - thickens juices as pie cooks
Topping
Rolled oats - adds fiber to topping
Flour - thickens topping mixture
Brown sugar - adds sweetness to topping
Melted butter - helps topping stick together so it is not as crumbly
Cinnamon - adds that pie flavor we all know and love
How to Make
Make filling - stir together filling ingredients in sprayed pie dish. This way, you are saving dishes.
Assemble topping - stir together topping ingredients in a bowl, then add on top of filling.
Bake - bake at 375 for about one hour.
FAQs
Can I use frozen rhubarb?
Rhubarb cobbler using frozen rhubarb is definitely do-able! Thaw out the vegetable beforehand, then pat the rhubarb dry to prevent excess moisture. They do not have to be super dry, but definitely try to pat down most of the mositure.
Do I need to peel rhubarb?
No, the stalks will soften as they bake.
Can rhubarb crisp be frozen?
Yes, prepare this recipe up until the baking step. Then, cover and freeze for up to 3 months. To eat, let thaw at room temperature for at least an hour. Then bake according to directions.
Can you make rhubarb cobbler on the grill?
Yes, prepare and according to directions just like you would using a stove.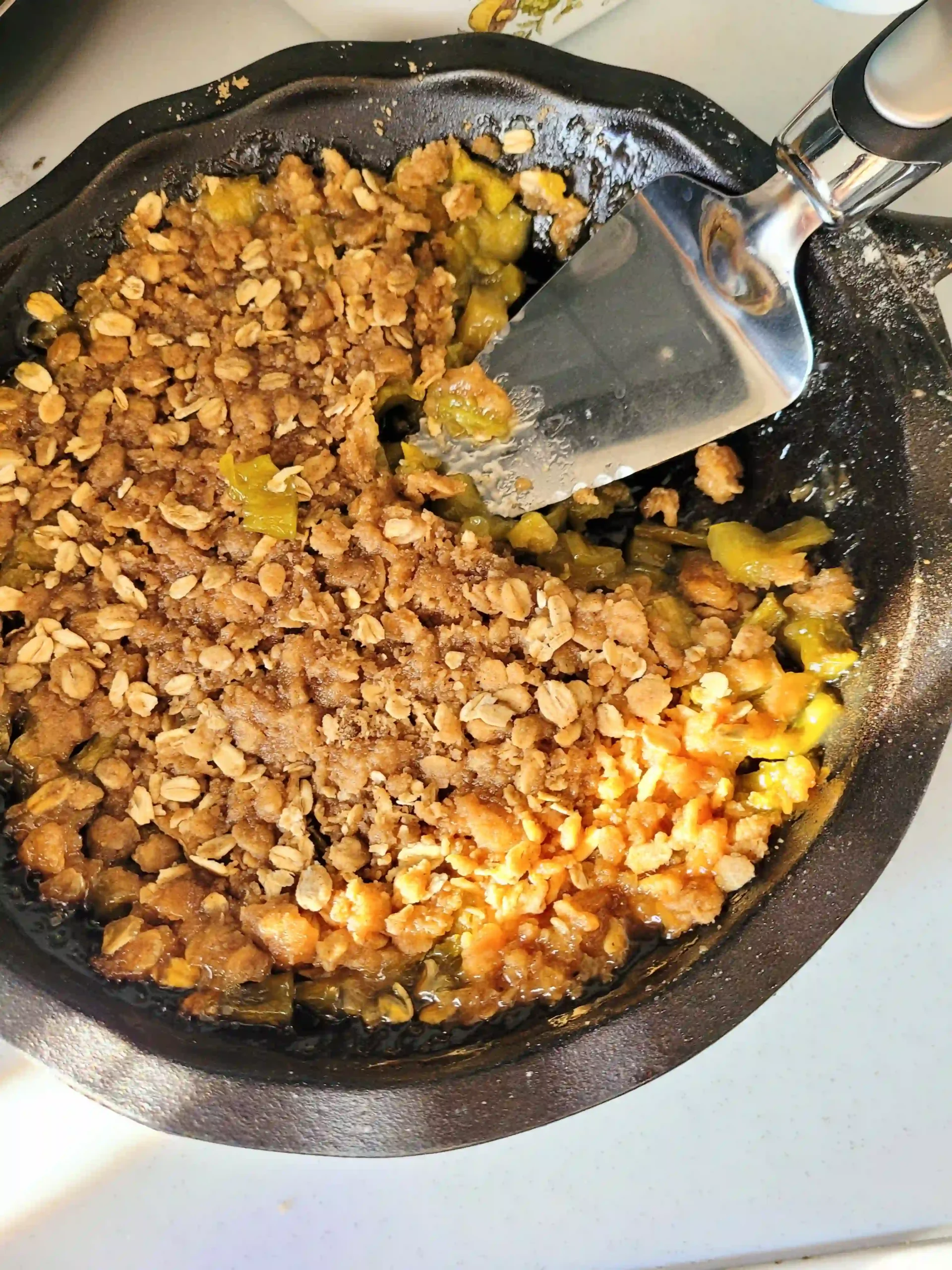 How to Store Fresh Cobbler
When a cobbler is fresh, you can leave it at room temperature for a few hours so everyone gets a chance to eat it. Put in the after a few hours since this has fruit in it.
More Pie Recipes:
Recipe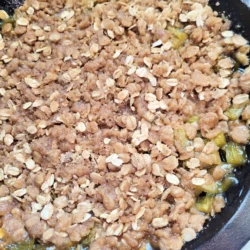 Delicious Rhubarb Crisp
Rhubarb crisp is a baked dessert with a crumbly topping that is perfect no matter what time of year.
Ingredients
Filling
3

cups

rhubarb

washed and dried

1

teaspoon

lemon juice

¾

cup

white sugar

2

tablespoon

cornstarch
Topping
1

cup

rolled oats

½

cup

flour

1

cup

brown sugar

¼

cup

melted butter

½

tablespoon

cinnamon
Instructions
In a sprayed pie dish, combine all filling ingredients. Stir until no more lumps.

In a medium sized bowl, stir together all of the topping ingredients until well combined. Pour in an even layer on top of filling in pie pan.

Bake covered at 375 for about 40 minutes or until bubbly throughout. Serve with whipped cream or ice cream.
---
All information presented on this site is intended for informational purposes only. Nutritional facts listed are a rough estimate and should only be followed as a general idea.