Birria tacos are the best kind of tacos! This recipe is a lot easier than most birria recipes as it does not have dried peppers in it, and can be made with meat that is already cooked. This is more of a quesabirria recipe as the tortillas are fried with the birria taco dipping sauce, but then they are also fried with cheese on top. This makes the taco easier to dip in the sauce when there is no cheese falling out of the top.
What do birria tacos taste like? They taste like the best variation of taco you'll ever have! Most recipes similar to this one have over 20 ingredients, but this recipe is short and simple with only 7 ingredients.
This post may contain affiliate links. This means if you click on a link and purchase something, I may earn a small commission from it. In the footer of this page is my full disclosure policy.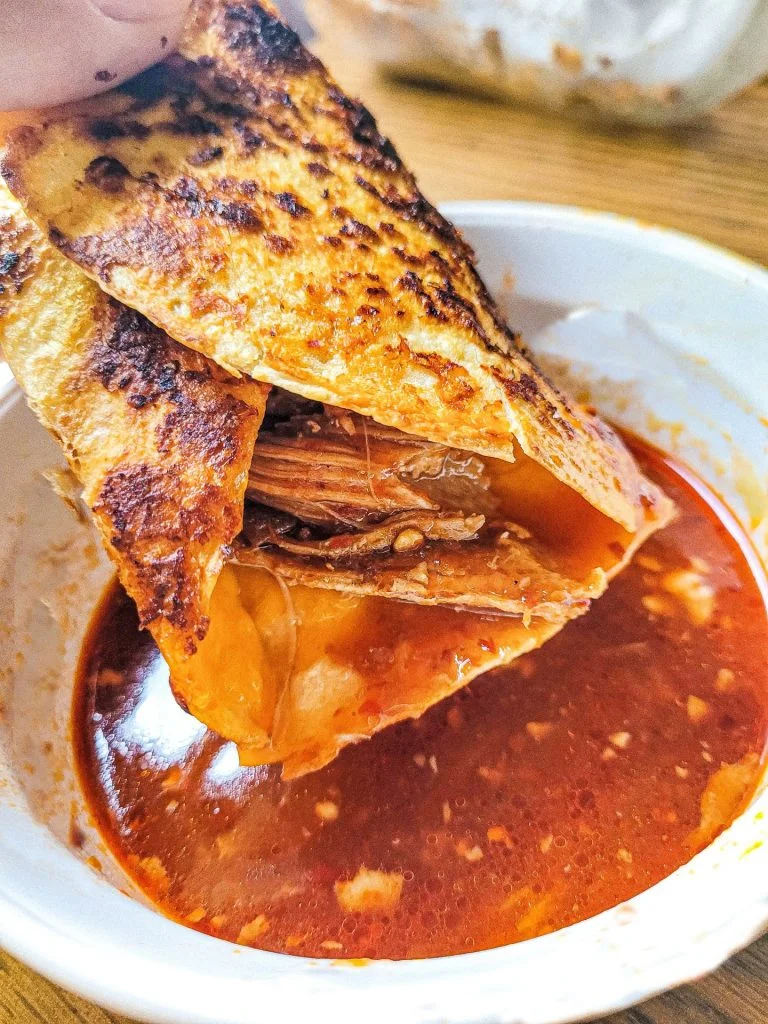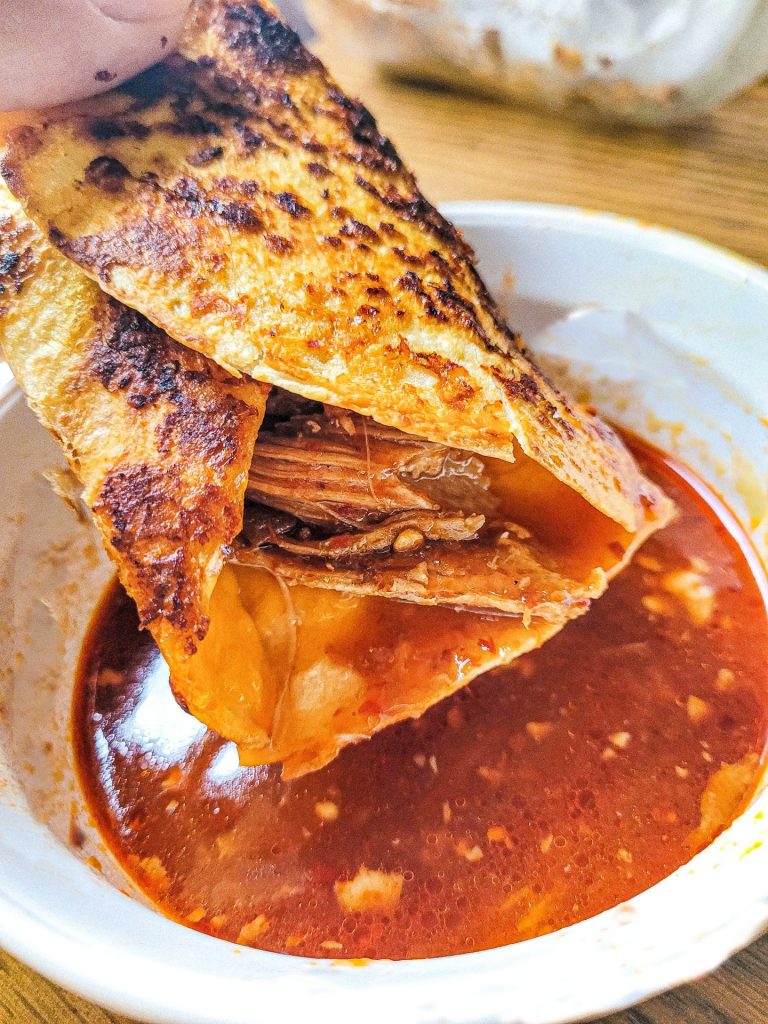 Check out my other Mexican recipes
Common questions about birria tacos:
What are birria tacos?

There are many differences between birria tacos vs regular tacos. Traditional tacos have taco seasoning and some sort of meat fried in a skillet. You typically just serve these tacos on a tortilla with toppings such as sour cream, lettuce, salsa, and guacomole. Birria is different because it is made with a slow cooked meat, and the meat is then put in a pepper sauce to give it spice. Then, the tortillas are dipped in the birria sauce and fried with cheese. The meat is then added on top and served with a bowl of the birria pepper sauce to dip it in.

Are birria tacos spicy?

Yes, this recipe is pretty spicy. If you wanted to add more chicken broth to delute the mixture, that would be an option.

Why are birria tacos red?

This recipe for quesabirria tacos has a red sauce that comes from the contents of a canned adobo pepper can.

Can birria tacos be made with chicken?

Yes, they can be made with chicken if you are looking for a lighter color of meat. As long as the chicken is pulled chicken, and boiled in the birria sauce, that will work.

Can birria tacos be made with flour tortillas?

I prefer using flour tortillas because they are going to hold up better while dipping in the sauce.

Which cheese for birria tacos?

I typically use mozzarella cheese for this recipe, but any savory cheese works!

How to eat birria tacos:

Dipped in the sauce! Some people don't like the sauce though because they find it to be too spicy. If you are one of those people, you can add sour cream, guacamole, etc to mellow out the flavors.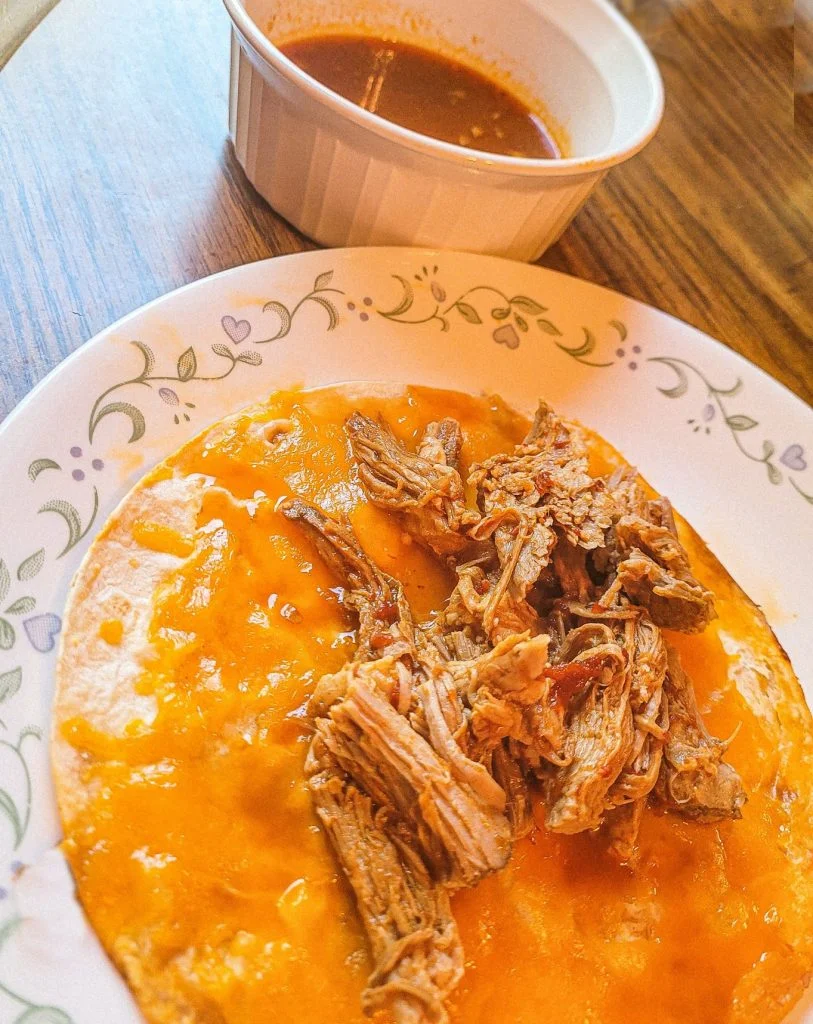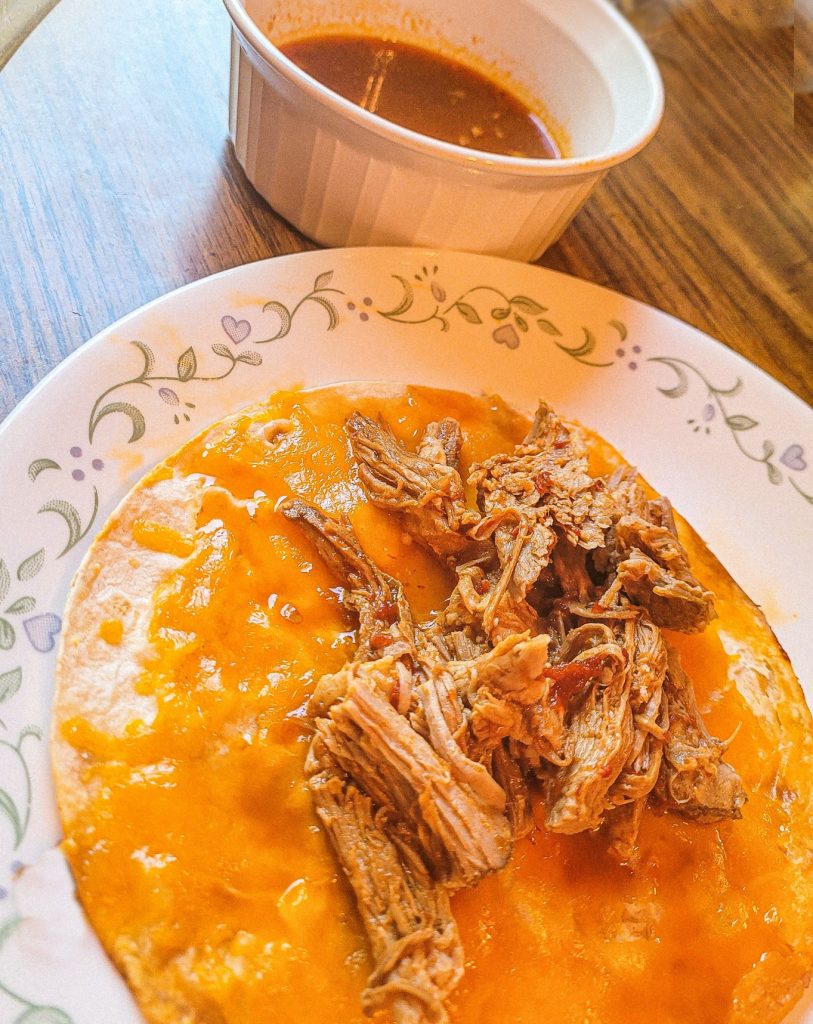 How is birria made?
Birria tacos without guajilo are a lot simpler to make than trying to make them with dried peppers. With using canned chipotle peppers, there is no need to try and rehydrate them. Just slow cook the meat of your choice, add sauce ingredients to the sauce pan, boil sauce, add meat, and prepare your tortillas! You can use fresh chipotles too, just make sure you make adobo sauce to go with it.
How to store quesabirria tacos?
I recommend storing the meat/dipping sauce part by itself, then assembling with the tortillas when you are ready to eat the leftovers.
fridge-store this birria taco recipe in an air tight container in the refrigerator for up to one week
freezer-I have not tried freezing this Mexican recipe. If you would like to try it, go for it! Let me know how it goes.
Recipe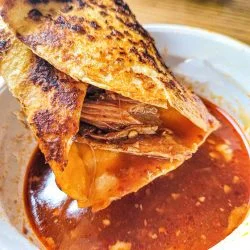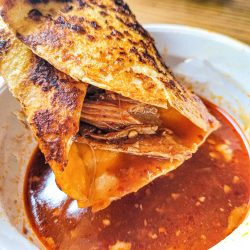 Birria Tacos Without Dried Peppers
The best birria tacos recipe you are going to find! Super simple birria taco recipe without dried peppers makes the cooking process a lot easier. This recipe makes a lot so definitely count on some leftovers.
Ingredients
2

lbs

beef roast

14

oz

chipotle peppers in adobo sauce

2

tablespoon

minced garlic

¼

cup

chopped onion

2

cups

chicken broth

add more if wanting it more mild

tortillas

shredded cheese
Instructions
Heat up roast if not warm already.

In a large pot, pour in chicken broth, garlic, and onion. Turn on medium high heat to bring to a boil.

While waiting for broth to boil, remove the chipotle peppers from the cans. Pour chipotle sauce in the chicken broth mixture.

Deseed the chipotle peppers and blend in a blender until smooth. Add to chicken broth mixture. Once pot is boiling, allow to boil for at least 10 minutes. Then, turn down to a low heat.

While chicken broth mixture is cooling off, prepare the tortillas. Dip one side of the tortillas in the pot of chicken broth sauce and place sauce side down in a sprayed frying pan. Fry until sauce is dried to the tortilla. Then, add shredded cheese on top. Let melt, remove from heat, and place on plates. Repeat with remaining tortillas.

To assemble, scoop birria meat onto the center of each prepared tortilla. Then scoop a small bowl of birria sauce for each person. Dip tacos in birria sauce. Enjoy!
---
All information presented on this site is intended for informational purposes only. Nutritional facts listed are a rough estimate and should only be followed as a general idea.