How to make spicy deviled eggs is fairly easy when you add sriracha sauce! Sriracha deviled eggs are a hot sauce lovers dream for a Thanksgiving side dish. You can make deviled eggs in a short amount of time, making them the perfect side to any meal.
This post may contain affiliate links. This means if you click on a link and purchase something, I may earn a small commission from it. In the footer of this page is my full disclosure policy.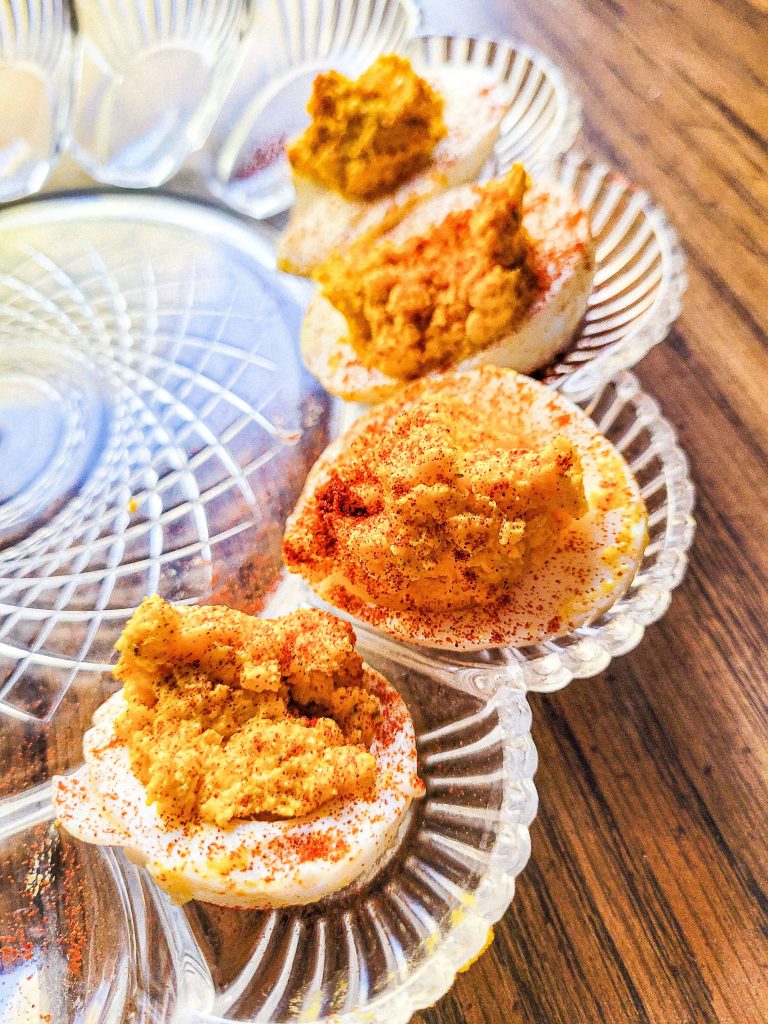 Ingredients:
Boiled eggs - the shell and inside contents
Mayo - provides creaminess
Cottage cheese - adds thickness to yellow yoke filling
Mustard - adds flavor and yellow color
Salt, pepper, celery salt, paprika - traditional egg seasonings
Hot sauce - provides spiciness
How to make spicy deviled eggs
Boil eggs - this cooks the eggs until hard. Allow eggs to cool before cracking. Crack eggs and remove shells
Cut eggs - cut eggs in half to allow the whites to become 2 pieces and take out the yoke and place in a separate bowl for the filling.
Make filling - add remaining ingredients to filling
Assemble - place filling in egg whites
Refrigerate - the fridge helps blend the flavors
Helpful tips for making hot and spicy deviled eggs
Make fresh - can you make deviled eggs the day before is a common question. I do not think these taste as excellent being made the day before as they do being made the day of. You can make parts of the deviled eggs the day before such as getting the eggs boiled. I just would not recommend making the full recipe the day before then serving them to a group of people. They still taste good the next day for leftovers, but they are a little watery.
Too spicy - there are options you can do if you find your deviled eggs too spicy. The main option that should take care of that is adding more mayo. If you feel like that is too much mayo, sour cream is also a good option.
How to store:
Place eggs in a deviled egg container and set in the fridge for up to a few days. You can also put them on a regular plate as well.
What to serve with creamy sriracha deviled eggs
Generally, spicy deviled eggs are served at holiday gatherings. Typical holiday food goes great with them such as ham, mashed potatoes and gravy, potato salad, pumpkin pie, apple pie, and the list goes on!
Variations of spicy deviled eggs with hot sauce:
Jalapeno - if you want your spicy deviled eggs more hot, you can add jalapeno! Spicy deviled eggs with jalapeno are a spicy food connoisseur's dream.
More creamy - people often ask what can I use instead of mayo in deviled eggs? Luckily, there is a simple substitute. Adding cream cheese instead of mayo can be a great mayo replacement. Spicy deviled eggs without mayo can still be tasty!
Omitting mustard - not everyone likes mustard. If that happens to be you, you can take out the mustard. It just will not be yellow now. If you are still in desire of the tangy taste, sour cream or horseradish will do the trick!
Relish - spicy deviled eggs with relish are also quite tasty if you are looking for a more pickle like taste. This will leave them tasting more like potato salad.
More seasoning - What spice goes on deviled eggs? Paprika! You can always put more paprika, salt, pepper on your spicy deviled eggs, but you can also season with any additional seasonings as well!
Bacon - making sriracha deviled eggs with bacon adds some smokey-ness to the flavor! Gives it more of a summer grilling feel.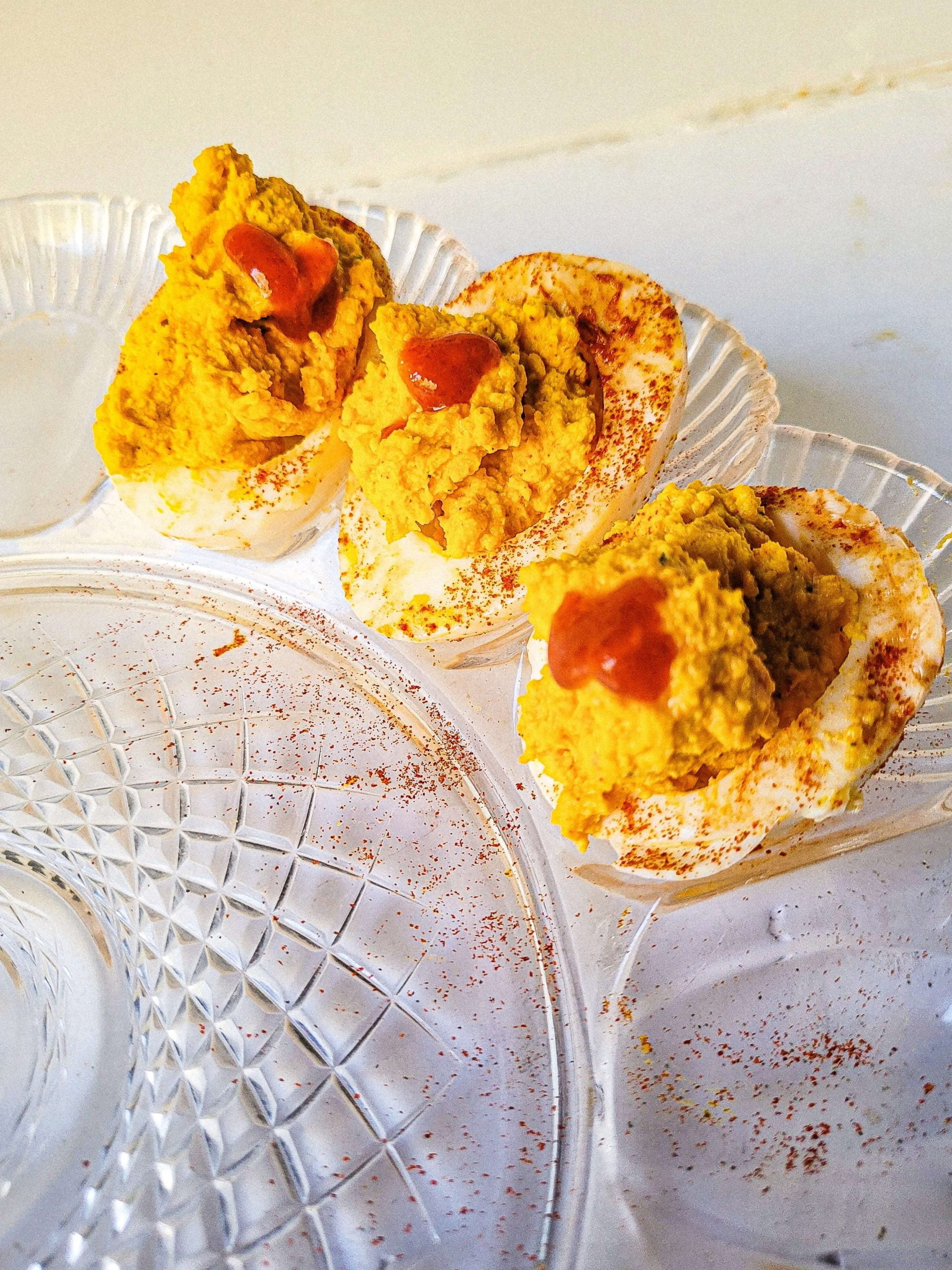 FAQs
Why are deviled eggs called deviled eggs?
From what research I have done, the term deviled used to mean fried or spicy food. It eventually got to be more popular calling these type of eggs, deviled eggs. If you think about it, mustard is a strong flavor so that could have been their term of spicy way back when.
Can I use fresh farm eggs?
Yes, you can. Some people add baking soda to the boiling water to make them easier to peel. I often forget to do that so I came up with my own peeling eggs hack. I typically just boil like normal but then let them cool and put them in the fridge for 24 hours with the shells on. This also helps them peel by being completely cooled.
Can I make these ahead of time?
You can boil the eggs ahead of time. I do not recommend cutting open the eggs and prepping the filling until you are a few hours away from serving them though.
How long do deviled eggs last?
Spicy deviled eggs last a few days! Store any leftovers in the fridge in an air tight container. I do not recommend freezing this recipe.
Recipe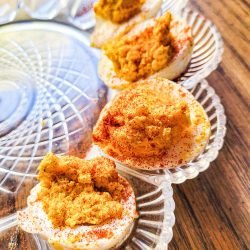 Sriracha Deviled Eggs
The spicy version of the best Thanksgiving side dish! This spicy deviled egg recipe is super quick to make and it a spicy food lovers dream.
Ingredients
12

boiled eggs

¼

cup

mayo

¼

cup

cottage cheese

3

tablespoon

mustard

½

tablespoon

salt, pepper, celery salt

2

tablespoon

hot sauce

paprika

topping
Instructions
In a large pot, gently place eggs. Cover eggs with enough water to submerge them. Bring water to a boil. Once boiling turn down to medium heat for 20 minutes.

After 20 minutes, remove pot from heat and drain out the water. Fill pot with cold water and leave in the sink until it is cooled. Once cooled, peel eggs. I just crack the eggs on the counter and roll them to break up the shells. I discard the shells and place the egg contents on a plate.

After eggs are peeled, cut each egg in half length wise. Place yoke into a medium sized bowl. Place the whites on a plate or a display tray.

In the yoke bowl, add remaining ingredients. Stir until well combined. Add about 1 tablespoon of the yoke mixture to the inside of each egg white half. Top off with paprika. Serve right away or place in the fridge for about 15 minutes to set.
Nutrition
Sodium:
471
mg
Calories:
100
kcal
Fat:
7
g
Protein:
7
g
Carbohydrates:
2.9
g
---
All information presented on this site is intended for informational purposes only. Nutritional facts listed are a rough estimate and should only be followed as a general idea.