A breakfast bagel sandwich is a great start to the day! The perfect breakfast sandwich combines three components: a protein (sausage), a grain (bagel), and cheese (cheddar). This is what makes it so easy to keep this breakfast recipe on hand for those busy mornings when you need to get out the door ASAP! 30 minutes of cooking for a weeks worth of breakfast sandwiches. In addition to being quick and easy to prepare, this breakfast sandwich also only requires two pans.
This post may contain affiliate links. This means if you click on a link and purchase something, I may earn a small commission from it. In the footer of this page is my full disclosure policy.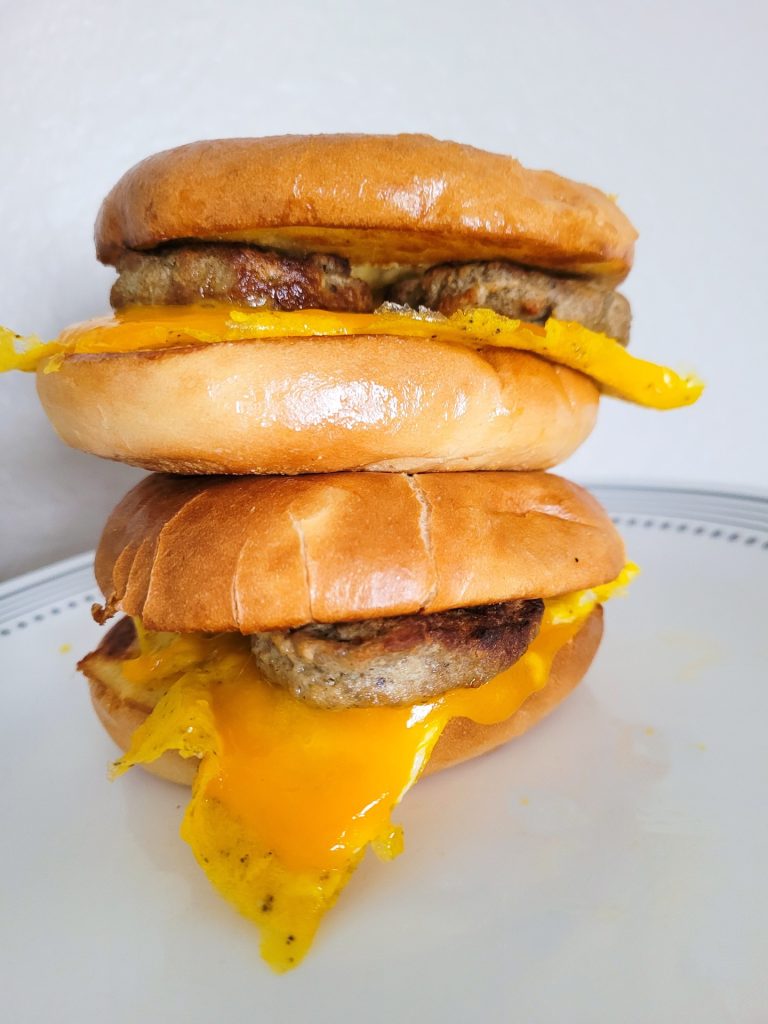 How to make a bagel breakfast sandwich
Toast your bagel-prepare the bagel by toasting it with butter in the oven. This will also help get that glazed buttery look. This step comes first so it has time to cool and to soak up the butter before touching to eat.
Cook the sausage-using pre shaped sausage patties helps cut down on time. Just cook according to directions whether that be in the oven or skillet.
make the egg-make egg like you would an omlette and let cook all the way through. Then, sprinkle cheese on top. Cut into 4 squares.
Assemble your sandwich- place one side of the bagel down, then add sausage, and egg with cheese on top. Place other bagel half on top. There you have the bagel breakfast sandwich recipe made!
Variations of bagel breakfast sandwich
vegetarian-you can take the meat out and make this breakfast bagel sandwich vegetarian!
utilize air fryer-air fryer breakfast bagel sandwich is a great way to make this meal quicker! Throw sausage in the air fryer while the eggs and bagel cook on the stove. You can even toast the bagel in the air fryer.
cream cheese-breakfast bagel sandwich with cream cheese is super yummy if you would like an additional cheese flavor
no egg-eggs are not for everyone. You can make this bagel breakfast sandwich without eggs if you choose. In that case, you can add extra meats to make up for missing egg.
more nutrients-you can make this breakfast bagel sandwich recipe with avocado if you are looking to add more nutrients to your diet.
other meats-in addition to sausage, you can make this breakfast sandwich with ham, spam, chicken, turkey, bacon, etc if you are looking to add more proteins.
How to make a Bagel Breakfast Sandwich ahead of time:
fridge-you can prep these perfect bagel breakfast sandwiches on the weekend and store the leftover sandwiches in the fridge so you have breakfast all week.
freezer-to put these sandwiches in the freezer, cook according to recipe, but let each part (bagel, egg, sausage) cool separately instead of assembling right away. On 2 sheet pans, place the cooked sausage patties and eggs in a single layer. Let freeze for about 30 minutes until solid. Then assemble with bagel. Wrap in tin foil and freeze together until ready to eat. When ready to eat, warm up bagel sandwich in microwave, without the tinfoil on. Wrap in a paper towel instead. If you find that some parts are more heated than others, you can warm up each part individually so that each part gets heated to your liking.
Recipe tips
don't forget to toast your bagel-this breakfast bagel sandwich should have the bagel toasted because it provides a crisp flavor
make your sandwich vegetarian-it is easy to make this bagel breakfast sandwich recipe vegetarian by taking out the meat. An egg and cheese breakfast sandwich tastes just as good!
use your favorite kind of bagel-there are an endless amount of bagel options, but your favorite kind should work for this egg and cheese breakfast recipe. Even if you use blueberry, it would provide a yummy sweet and savory flavor/
cut down on calories with an open-faced sandwich-you can double the recipe and cut down on the carbs by making one bagel side per sandwich. Assemble as normal, but the cheese would be the last ingredient on top to make your open faced sandwich.
Check out my other breakfast recipes
Recipe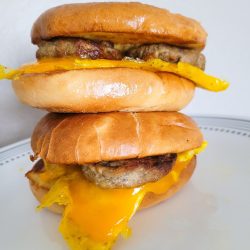 Breakfast Bagel Sandwich Recipe
Bagel breakfast sandwiches are perfect for any day of the week! A great way to make all your breakfasts for the week in 30 minutes.
Ingredients
3

tablespoon

butter

8

bagels

8

preshaped circular sausage patties

4

eggs

8

slices

cheddar cheese
Instructions
On 2 9 x 13 baking sheets, place each bagel half flat side up. Butter the flat side. Bake at 375 for about 10 minutes or until the flat side is slightly toasty.

During the 10 minutes, in a large skillet, cook sausage patties over medium heat until they are cooked throughout. Flip over about halfway through.

While both the bagels and sausage patties are cooking, in a small bowl, crack 2 eggs and beat them with a fork. Add any seasonings you want. Melt 1 tablespoon of butter in a medium sized skillet. Add in eggs. Do not scramble them just let them cook how they lay in the pan like you would an omlette. Put a lid on top to allow them to cook faster. Once the top is slightly hard, add 4 slices of cheese evenly spread throughout. Put lid back on to help cheese melt.

When cheese is melted and eggs are done, cut the eggs like a pizza into 4 pieces. Remove eggs from skillet and place on a plate. Repeat steps 3-4 with remaining 2 eggs.

Once bagels are toasty, remove them from oven. Place eggs and sausage on a flat side of the bagel. Assembly by putting other half of bagel on top. Serve bagel breakfast sandwiches hot!
---
All information presented on this site is intended for informational purposes only. Nutritional facts listed are a rough estimate and should only be followed as a general idea.