Pesto Tortellini is a quick and easy meal for those on the go. It's great for those days you need a quick and tasty dinner but don't want to break the bank by going out to eat for some gourmet pasta. How to make pesto tortellini is so simple when it is only 3 ingredients! Cheese tortellini is the ultimate, fuss-free pasta to make at home. Give it a try now!
This post may contain affiliate links. This means if you click on a link and purchase something, I may earn a small commission from it. In the footer of this page is my full disclosure policy.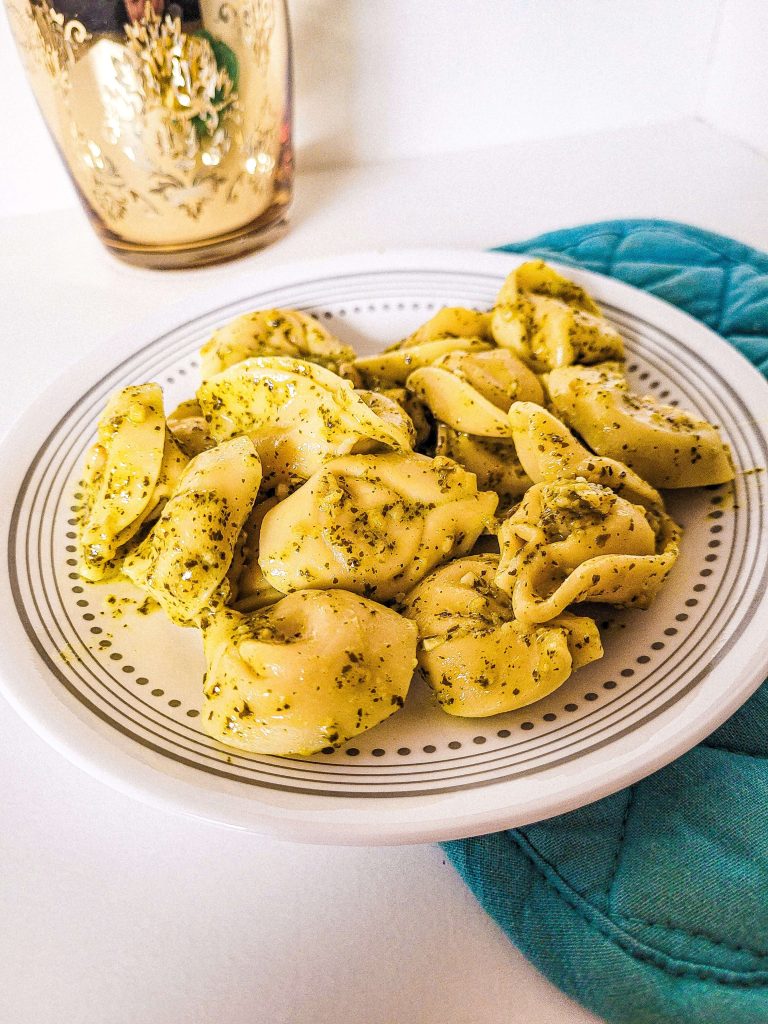 Pesto Tortellini Ingredients:
Pasta water - we reserve part of the pasta water to add liquid to the pesto. This helps the pesto not be so clumpy on the tortellini.
Cheese Tortellini - the pasta part of this recipe
Pesto - homemade or store bought works. I try to use one that is cheese flavored for pasta.
Cheese - adds cheese to the pesto sauce
Serving Pesto Tortellini:
If you are looking for a meat, pasta and meatballs go great together! If you need a carb side dish, cheesy pull apart bread makes a great side. Sometimes if eating carbs, people like to make a less carb-y side dish. If that is the case, then having a side salad would also be an ideal meal! You could even put it on the same plate since the pesto in this dish is more thick and will not run into your salad.
Additives and Variations:
Add meat - you can make this un-vegetarian by adding meats! Cheese tortellini with chicken can be quite yummy! Sausage and shrimp can also be added for extra flavor. Adding meats would make it more of a complete meal with more protein.
Veggies - adding vegetables to this pasta dish would also complete this meal by adding more nutrients. If you add more vegetables to the tortellini dish it allows you to not have to make a vegetable side dish when the vegetables are in the pasta! Add tomatoes, mushrooms, spinach, artichokes, etc.
Sauces - what sauces to add is up to you when pesto is already the sauce. Marinara can be added as well to make it taste a bit more like traditional pasta.
Different cheeses - instead of mozzarella, or in addition to mozzarella, you can add other cheeses! I recommend a white cheese like provolone or pepper jack if looking for another cheese besides mozzarella. A yellow cheese would throw off the color and leave it looking more like broccoli soup.
Seasonings - my pesto sauce had enough seasonings in it that I chose not to season this dish. If you find that your pesto is lacking flavor, definitely add any additional Italian seasonings you want to make it more flavorful.
FAQs
Why don't we cook pesto?
We take the pot off heat before adding the pesto since pesto looses color and flavor if heated. The cooked pasta will warm up the pesto and melt the cheese without needing to be on direct heat.
What kind of pasta should I use?
Shelf-stable or frozen cheese tortellini will work for this recipe.
How to pick pesto?
Homemade pesto has the most flavor. If using store bought, make sure you can see the ingredients through the jar (ex-garlic, basil, oil, etc). This means it is not blended to a pulp and still has a lot of flavor.
How to store vegetarian tortellini:
Fridge - store this recipe in an air tight container in the refrigerator for up to a week
Freezer - this recipe can be a freezer meal! Prepare as usual, and let dish cool off completely. Place in a freezer container and freeze. 24 hours before the meal, place container from the freezer to the fridge to allow thawing. When ready to eat, place in a 9 x 13 tray and bake at 400 degrees for about 20 minutes or until inside cheese of the tortellini is melted.
Check out my other pasta recipes
Recipe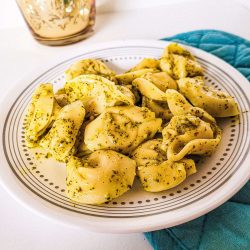 Stovetop Pesto Cheese Tortellini
Vegetarian pesto tortellini is a quick meal anyone can make no matter their skill level. Feel feel to add meats or vegetables if you want more flavor.
Ingredients
19

oz

cheese tortellini

4

tablespoon

pasta water

⅓

cup

pesto

½

cup

shredded mozzarella cheese
Instructions
Cook tortellini according to directions. Drain out all water besides 4 tbsp. Leave tortellini in same pot and place on the counter. Add pesto and stir until well mixed throughout. Then, add mozzarella cheese. Serve pesto tortellini pasta hot!
Nutrition
Sodium:
566
mg
Cholesterol:
34
mg
Calories:
517
kcal
Protein:
19.2
g
Carbohydrates:
71.5
g
---
All information presented on this site is intended for informational purposes only. Nutritional facts listed are a rough estimate and should only be followed as a general idea.