Creamy stovetop spinach artichoke dip is so easy to make and can be made in under 20 minutes. I like this recipe because not only is it a quick and easy to make, but also because it can be made in one skillet! This spinach artichoke dip recipe serves about 6 people and is 183 kcal per serving.
This post may contain affiliate links. This means if you click on a link and purchase something, I may earn a small commission from it.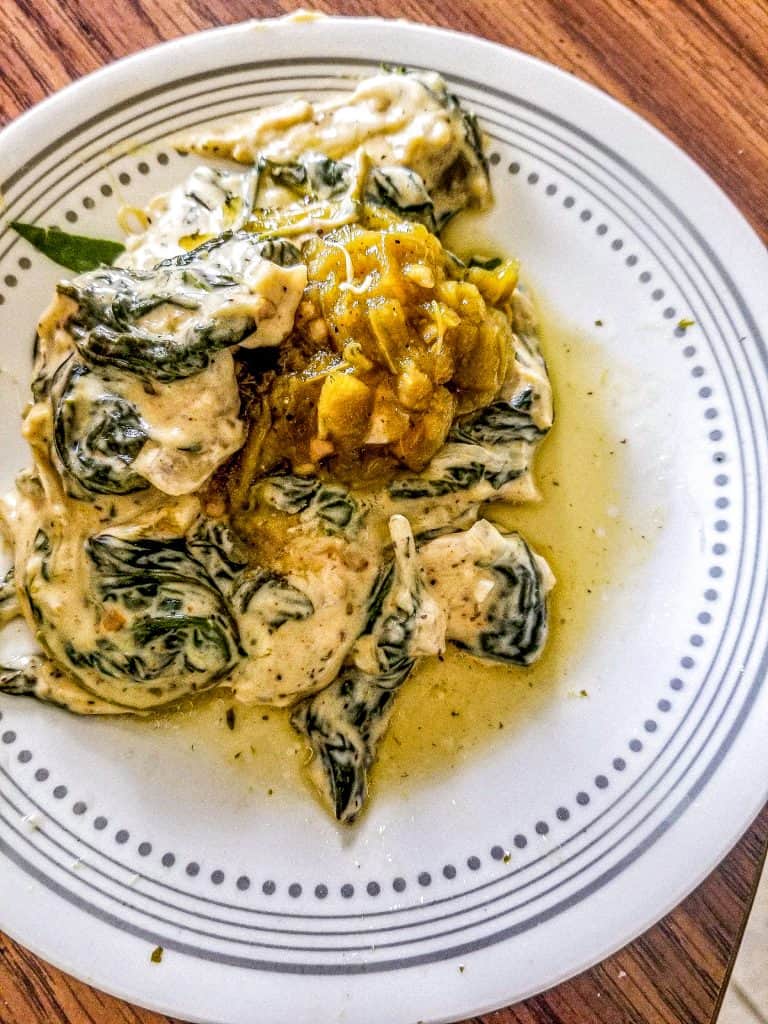 What to serve with artichoke cream cheese appetizer:
pasta-this dip is popular at Italian restaurants! It is wonderful to eat before pasta.
meat-I am always hungry for steak after eating this dip!
Check out my other spinach and artichoke recipes:
Variations of this skillet spinach artichoke dip
more creamy-If you wanted your spinach cheese dip to be more creamy, you can add more sour cream.
more cheesy-To make more cheesy, adding parmesan cheese also works! I tried to make this a somewhat healthy creamy artichoke dip, considering it is a spinach and artichoke recipe, so I cut down on the amount of cream cheese and sour cream. You can add more cream cheese and sour cream if you chose to do so!
additional spinach and/or artichokes-I love spinach and artichokes, so I always like to add in more than the recipe call. If you want more ideas on how to use spinach, click here.
omit spice-if you wanted to make this dip have less of a kick, you can omit the green chilies/hot sauce.
eat hot or cold-some people also like their spinach and artichoke dip cold! If eating this leftover, you do not have to reheat it.
Favorite ingredient brands to use for this Stovetop Spinach Artichoke Dip:
*artichoke hearts-Reeses, the kind in marinate is the one I usually use. If you do not have ones in marinate, then just use oil for step 1 like the directions state
*spinach-Organic Girl
*cream cheese-Philadelphia
*sour cream-Daisy, or any other sour cream works
*hot sauce-your favorite hot sauce would work here!
*green chili-hatch
Making spinach cheese dip:
fry garlic and onion in artichoke marinate-I like to use the marinate as much as possible while cooking with artichokes that way it does not go to waste
add in spinach and artichokes-cook until spinach starts to wilt
add in sour cream and cream cheese-this will give it the creamy texture
pour in hot sauce, and season to taste. Serve with chips!
How to store artichoke parmesan dip:
fridge-store this spinach recipe in an air tight container in the refrigerator for up to one week
freezer-I have not tried freezing this recipe. If you would like to try it, go for it! Let me know how it goes.
Nutrition facts for this fresh spinach artichoke dip recipe:
Fat 14.86g Carbs 9g Sugars 4g Protein 3.26g Sodium 725.22mg Fiber 2.46g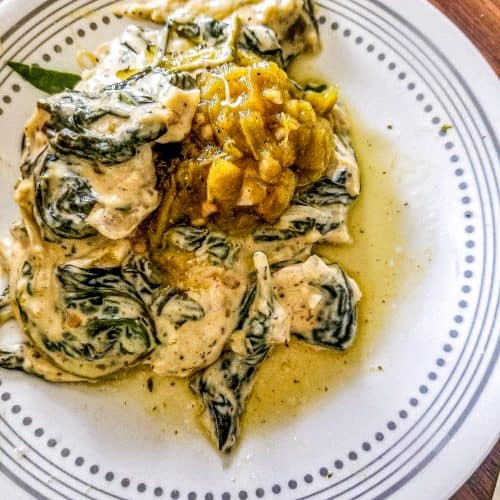 Stovetop Spinach Artichoke Dip
Fresh spinach artichoke dip is so easy to make and can be made in under 20 minutes. I like this recipe because it is quick easy stovetop spinach artichoke dip, but also because it can be made in one skillet! A cream cheese spinach dip recipe that anyone can make on the stovetop!
Ingredients
1/4

cup

chopped onion

3

tbsp

garlic

10

oz

quartered artichoke hearts in marinate

chopped

2

cups

spinach

4

oz

cream cheese

1/2

cup

sour cream

2

tbsp

hot sauce or green chili

salt and pepper to taste
Instructions
If the artichoke hearts come in a marinate, pour 2 tbsp of this into a large deep dish skillet over medium heat. If the artichokes you are using do not come in a marinate, pour 2 tbsp of olive oil into the skillet over medium heat instead.

Dump onion and garlic into the hot skillet. Stir. When they just start to turn a golden color, pour in artichokes and spinach. Stir. Cook until spinach wilts and turns a darker green color stirring occasionally.

When spinach is dark green, reduce heat to a low simmer. Add cream cheese and sour cream. Let this melt together for a few minutes, stir occasionally.

When cheeses are melted, dump in hot sauce or green chili, if using. Season with salt and pepper. Serve the stovetop spinach artichoke dip hot or cold with chips.
Nutrition
---
All information presented on this site is intended for informational purposes only. Nutritional facts listed are a rough estimate and should only be followed as a general idea.
(Visited 42 times, 1 visits today)